Phillipines Policemen Falsify Evidence in Duterte's War on Drugs: Human Rights Watch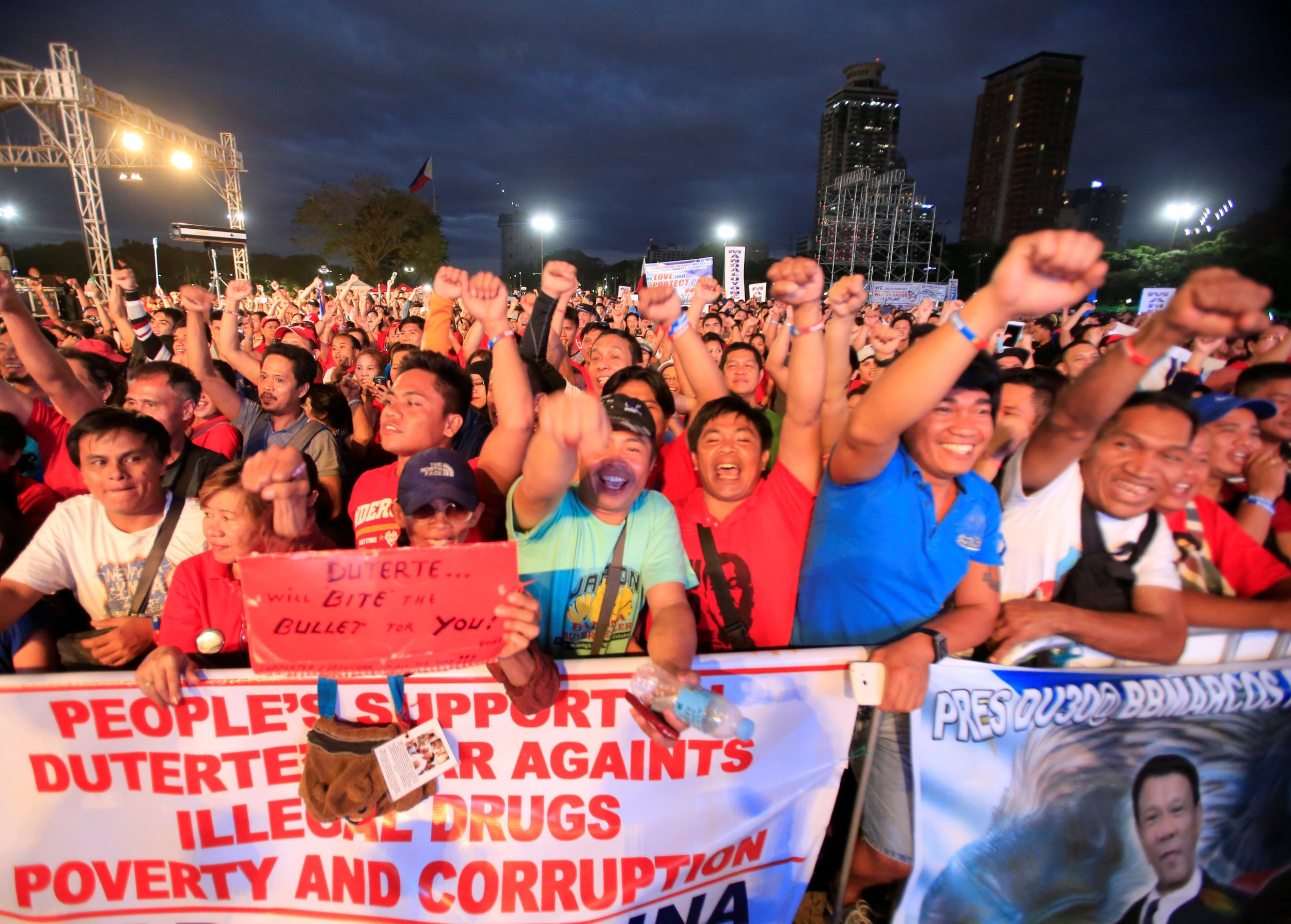 Police in the Philippines are falsifying evidence to justify "war on drugs" killings that have caused more than 7,000 deaths of mostly poor Filipinos, according to a new Human Rights Watch report. President Rodrigo Duterte has been accused of crimes against humanity for the deaths, and the human rights organization urged the United Nations to create an "independent, international investigation" into the killings.
The 117-page report found the Philippine National Police have been carrying out extrajudicial killings, claiming self defense. " They planted guns, spent ammunition, and drug packets on their victims' bodies to implicate them in drug activities," according to the rights group.
Duterte's war on drugs is meant to target drug pushers or "drug lords," but human rights charities—including Amnesty International—say those affected either had low-paying jobs or were unemployed and living in poor areas in big cities.
The war lost momentum in January when South Korean businessman Jee Ick- joo was murdered by rogue policemen and Duterte decided to halt the extrajudicial killings. Now, despite concern from international organizations, Duterte is committed to renewing the war on drugs.
At the groundbreaking ceremony for the Cebu-Cordova Link Expressway in Cordova town, Cebu on Thursday, Duterte announced that he is "committed to stopping drugs."
"This means there will be more killings because (criminals) really fight back. It won't end tomorrow," he said , according t o national newspaper PhilStar.
In the same speech, Duterte warned 6,000 policemen that he knew they were involved in the drugs trade. "You will die. Either you kill me or I kill you," the president said. Duterte told his police chief Ronald de la Rosa that he could restart his war on drugs as before, on the condition the policemen he used had integrity.
Duterte's drug war is a "widespread, systematic attack directed against any civilian population," says Dr. Pauline Eadie, an assistant professor of social sciences at Nottingham University. "Technically it is a crime against humanity. These killings are often cited as self-defense but that is just not credible. The police are at the very least complicit in these killings, and they have the remit to operate without sanction."
She adds that although drug dealers cause users misery, it is "not OK to ignore the rules of law when dealing with the problem. The answer to the problem is [dealing with] widespread poverty. Large sections of the community see Duterte's war as a necessary evil."
Edward Sentorias, a jobless father of three, was framed by the police, according to Human Rights Watch. A close relative saw the policeman place a gun and some sachets by Sentorias's body. "I went back to where I was, and was totally shocked," the relative said. "I couldn't even complain. If we go complain, what is our chance against the authorities?"