'Philly Fighting COVID' CEO Accused of Stealing Vaccines As City Ends Contract To Give Shots
The CEO of Philly Fighting COVID, a group that contracted with the city of Philadelphia to administer the COVID-19 vaccine, has been accused of stealing vaccine doses shortly after health officials ended their contract with the group.
On Tuesday, Katrina Lipinsky, a 29-year-old registered nurse-practitioner that volunteered with the group said that she saw the group's CEO Andrei Doroshin stealing doses of the vaccine.
"As an RN who volunteered to give vaccines for them I feel super sh***y about my complicity in this mess. I was there Saturday - Andrei Doroshin, the CEO at Philly Fighting COVID, took home a ziplock bag-full of vaccines. Stuffed them in his bag and left with them," Lipinsky wrote on Twitter.
In a subsequent tweet, Lipinsky wrote that she notified the group's chief medical staff about what she saw but was they responded by telling her that the Philadelphia Department of Health "supports that so we don't waste vaccines."
While speaking with WHYY news in Philadelphia, Lipinsky said, "They ended the day with a significant number of unused vaccines. Andrei walked pretty openly from the vaccine area over to his belongings and packed maybe 10 to 15 in his bag with CDC record cards."
Lipinsky also told the Philadelphia Inquirer that when she volunteered with the group, she was not asked to show a medical license or any documentation that verified her qualifications but eventually provided it after she asked the group if it was required.
Newsweek reached out to Lipinsky for comment.
The accusations from Lipinsky come just a day after the city's health department announced they were no longer working with Philly Fights COVID.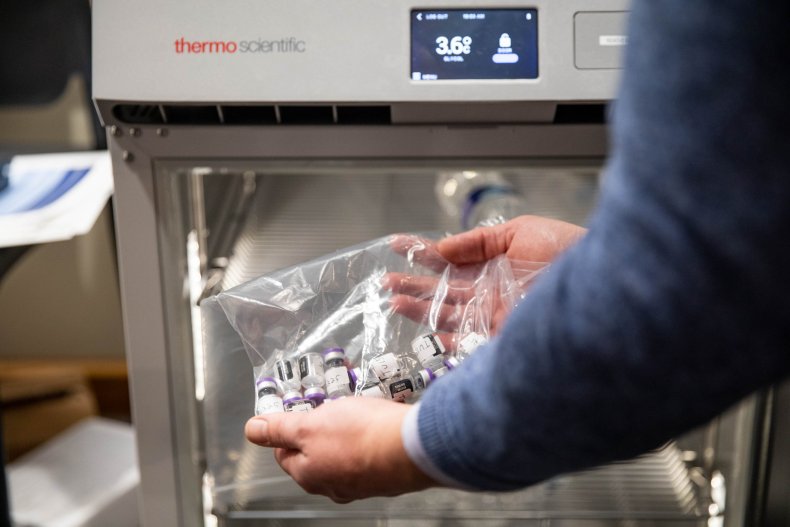 "The Philadelphia Department of Public Health will no longer work with Philly Fighting COVID to provide testing or vaccine, effective immediately. We have recently been made aware of a change in PFC's corporate status that took place without our knowledge, from nonprofit to for-profit," a spokesperson for the health department told Newsweek via email. "As part of this change, PFC updated its data privacy policy in a way that could allow the organization to sell data collected through PFC's pre-registration site."
"The City has not been notified of any of these data having been sold. But for PFC to have made these changes without discussion with the City is extremely troubling. As a result of these concerns, along with PFC's unexpected stoppage of testing operations, the Health Department has decided to stop providing vaccine to PFC," the email said.
According to the Inquirer, James Garrow, a spokesman for the city's health department said that Doroshin only informed one health official that the group was changing to a for-profit model, which was months after PFC filed paperwork with the state establishing it as a business.
Philly Fighting COVID's website privacy policy shows that the group is owned by a private company established by Doroshin in December, called Vax Populi, according to the Inquirer, which was able to share personal information "in connection with any merger or sale of the company."
While Garrow noted that the city's health department was unaware of the connection with Vax Populi and PFC, Doroshin told the Inquirer that the group identified themselves as Vax Populi after submitting their proposal to the city to help administer vaccines. Doroshin also told the Inquirer that he spoke with city officials about changing to a for-profit model and was told it was fine.
In early January, Philly Fighting COVID opened its first mass vaccination site and has since vaccinated roughly 7,000 residents, according to the Inquirer.
While speaking at a press conference on Tuesday, Philadelphia Health Commissioner Thomas Farley said that the city and Philly Fighting COVID had a contract agreement on data usage but not around the vaccination effort, stating that, "There was no money exchanged for them to run this clinic."
The Inquirer also reported that Philadelphia City Councilwoman Cindy Bass said that her office is in the process of drafting a resolution for a public hearing. The resolutions authorizes the Committee of Public Health and Human Services "to hold hearings to investigate the City's vaccine contracting process, including an examination of Philly Fighting COVID's contract with the City."
Newsweek reached out to Bass for comment.
Following the termination of the contract between the city and Philly Fighting COVID, the group released a statement which said, "We understand that there have been legitimate inquiries into our privacy policies. There was language in our privacy policy that was problematic and as soon as we became aware of it, we removed it. I apologize, for the mistake in our privacy policy. We never have and never would sell, share, or disseminate any data we collected as it would be in violation of HIPAA rules."
Philadelphia District Attorney Larry Krasner also released a statement on Tuesday, where he said "It is concerning that reportedly Philly Fighting COVID appears to have misrepresented its role in vaccine distribution and is reported to have failed to disclose information about a for-profit operation."
Krasner also noted in the statement that he was concerned about the group's privacy policy and said, "I encourage members of the public, including City employees, who have information about what they believe to be crimes related to this matter or other pandemic relief efforts, to contact our Special Investigations Unit directly."
Newsweek was directed to Krasner's statement after reaching out to his office for comment.
In an email sent to Newsweek Pennsylvania Attorney General Josh Shapiro wrote "Taking advantage of people and their privacy under the guise of serving as a nonprofit is not only unethical -- it can also be against Pennsylvania law. These allegations against Philly Fighting COVID are serious and any consumers who believe they have been misled should file a complaint with our office."
"We have been in touch with the City to obtain any information they can provide about these allegations. Our office oversees charitable organizations in the Commonwealth and we will ensure they are acting in good faith with the communities they serve," Shapiro wrote in his statement.
Newsweek reached out to Philly Fighting COVID for comment but did not receive a response in time for publication.