Phoebe Bridgers Likes Post Supporting Amber Heard After Document Release
Singer Phoebe Bridgers liked a tweet defending Amber Heard following the actress' high-profile trial against her ex-husband, Johnny Depp.
Bridgers, 27, clicked the heart icon on a tweet from August 2 that read: "When the tide turns for Amber, people will be too ashamed to admit that they partook in the mocking of an abuse victim. Instead they'll try to minimize the harm they caused to survivors. They'll say 'we were all manipulated' as if the information wasn't easily accessible."
The post was written by a woman named Kamilla, who, according to her bio, is a survivor of IPV (intimate partner violence). At the time of publication, the tweet had more than 73,400 likes and over 12,000 retweets.
The note came after more than 6,000 pages of unsealed court documents from the former couple's legal battle were made public.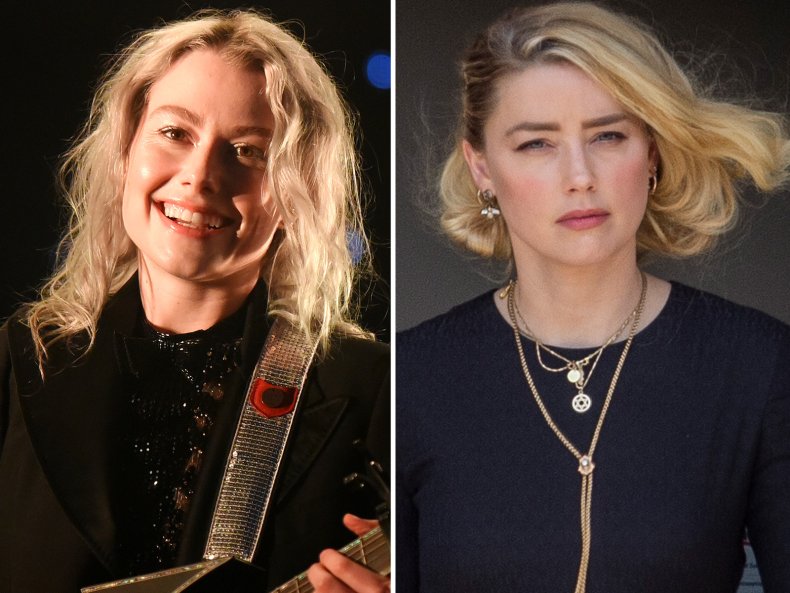 In 2020, the Pirates of the Caribbean star, 59, filed a $50 million defamation lawsuit against the Aquaman actress, 36, after she wrote in a 2018 op-ed for The Washington Post that she was a survivor of domestic violence. While Heard did not mention Depp by name, his legal team argued the implication impacted the actor's ability to be cast in movie roles. The following year, Heard filed a $100 million countersuit.
On June 1, a Fairfax County, Virginia jury found Heard guilty of defamation. Depp, who shares kids Lily-Rose and Jack Depp with ex Vanessa Paradis, was awarded $10 million in compensatory damages and $5 million in punitive damages. However, because state law limits punitive damages to $350,000 in Virginia, the actual amount the Kentucky native will receive is $10.35 million.
Heard received $2 million for her countersuit.
Bridgers previously vocalized her support for the women who came forward with abuse allegations against rocker Marilyn Manson. In February 2021, the "Motion Sickness" singer recounted her own experience with the now 53-year-old from when she was a teenager.
"TW [trigger warning]:" Bridgers tweeted. "I went to Marilyn Manson's house when I was a teenager with some friends. I was a big fan. He referred to a room in his house as the 'r*pe room,' I thought it was just his horrible frat boy sense of humor. I stopped being a fan. I stand with everyone who came forward."
In the reply chain below her post, she added, "The label knew, management knew, the band knew. Distancing themselves now, pretending to be shocked and horrified is f**king pathetic."
Manson had been accused of abuse by numerous people, including his ex-partner, actress Evan Rachel Wood. He denied all allegations against him on Instagram.
"Obviously, my art and my life have long been magnets for controversy, but these recent claims about me are horrible distortions of reality," he wrote in February 2021. "My intimate relationships have always been entirely consensual with like-minded partners. Regardless of how—and why—others are now choosing to misinterpret the past, that is the truth."
The unsealed court documents from Depp's defamation trial revealed text messages between the actor and Manson, in which the musician said that "I got an amber 2.0" in relation to his then-girlfriend, now wife, Lindsay Usich. He had also reportedly messaged Depp in 2016 that his wife was "pulling an Amber."
Depp and Heard met on the set of the 2011 film The Rum Diary. They were married in February 2015 and split just 15 months later. Their divorce was finalized in January 2017.
Newsweek reached out to Bridgers, Heard and Depp's representatives for comment.