Phoenix, Arizona is in the midst of an unprecedented heat wave, hitting its 50th day this year with temperatures reaching 110 degrees or higher on Friday.
Although scorchingly hot summer temperatures are common in the desert city, the current year has broken earlier records for consistently high temperatures by some distance. The previous record for the most days at 110 degrees or higher in one year was 33, which occurred in 2011.
"It's not like we barely broke this record," National Weather Service meteorologist Matthew Hirsch told The Arizona Republic. "We sort of obliterated it."
One key factor in the heat increase is the area consistently experiencing high pressure weather systems over the summer. Hirsch told the paper that the heat wave was also due in part to the city going through an unusually dry summer, with less than 4 inches of rain recorded during the entire season, although storms are expected over the weekend and a flash flood watch has been issued in some areas.
"When you don't have moisture to cool it down, excessive heat can persist," Hirsch said. "Essentially, we didn't get any relief from monsoon storms."
Extreme weather has been experienced in much of the country during 2020. A severe heat wave in California recently resulted in demand for electricity placing enough stress on the state's power grid that rolling blackouts became necessary. The heat may also play a role in hundreds of fires that continue to burn in the state.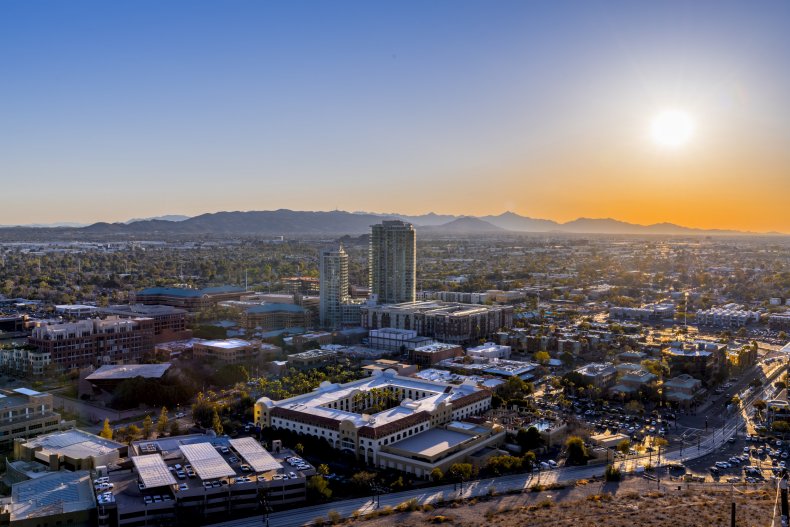 On August 16, a temperature of 130 degrees was recorded at California's Death Valley. The reading was the third-highest temperature ever recorded. The highest-ever temperature was also recorded at Death Valley, where a temperature of 134 degrees was observed on June 10, 1913, while 131 degrees was recorded in Tunisia on July 7, 1931.
However, some scientists dispute both the 1913 and the 1931 temperature readings, which would make this month's observance in Death Valley the hottest weather ever recorded on earth. The past decade has also include multiple highs of 129 degrees, observed in Death Valley in 2013, Kuwait in 2016 and Pakistan in 2017.
Climate scientists believe that accelerating climate change is a major factor in the excessive heat, heat waves and other extreme weather events that are currently being experienced, such as this year's record-breaking Atlantic hurricane season.
"Climate change is certainly increasing the frequency, severity and duration of extreme heat and warm nights," Flavio Lehner, a climate scientist at the National Center for Atmospheric Research, told The Los Angeles Times. "It is safe to assume that climate change contributed to the extreme nature of recent events."
Newsweek reached out to the National Weather Service for comment.