One Arizona water official said Phoenix won't require residents to conserve water yet, fearing that the action wouldn't actually benefit the Colorado River and instead would be diverted to other states struggling with drought.
Cynthia Campbell, the water resource management adviser for the city, told WBUR's Peter O'Dowd that the city won't mandate that its residents save water by initiating bans on watering lawns. Other Phoenix suburbs, like Mesa, opt instead to pay residents to kill their grass and replace it with a more drought-resistant landscaping option, like gravel.
"When you compel people to do something, they immediately kind of start to harden up," Campbell said. "If we were to compel them to do more right now and not use as much water, what would happen? That water would go to some other user in California, probably. So it's not like it's water that gets saved in Lake Mead and helps the reservoir in any way."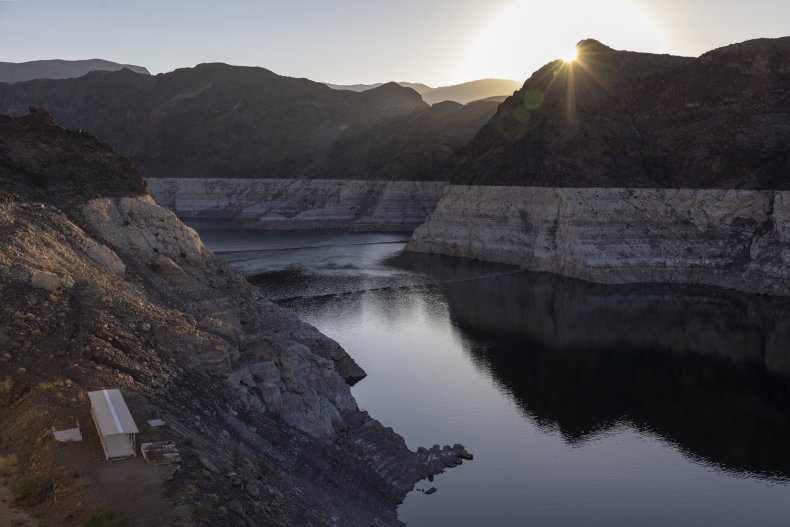 Drought on the Colorado River
The effort is the latest in a slew of attempts by various states to restrict water use, specifically water sourced from the Colorado River. Drought has been drying the river and its reservoirs for years. Lake Mead and Lake Powell, two of the river's main reservoirs, are reported to be only 25 percent full, according to WBUR's episode. The Salt Lake Tribune reported that they were at 95 percent capacity in 2000.
Arizona is one of several states that will see new mandates regarding Colorado River water usage in January, according to a CNN report. At the start of the new year, Arizona will lose 20 percent of its water supply from the Colorado River, the most drastic of the federally required cuts. Nevada and Mexico also must cut their usage.
California isn't yet required to cut its usage from the river, although Governor Gavin Newsom has requested that residents limit their water supply, and the state water board banned "wasteful water use practices," such as watering lawns within two days of a rain, according to the California Review.
Preservation effort in Phoenix
Phoenix sources 40 percent of its water from the Colorado River. Over time, conservation methods have impacted people in their daily lives in Arizona, with noticeable changes seen in their yards.
Residents have sacrificed their yards for decades in the name of conservation. WBUR reported that 80 percent of Arizona residents' front and back yards consisted of lush grass in the 1970s. More recently, that number has declined to 9 percent.
Campbell said mandates aren't yet needed to preserve water, and Arizona residents are already taking action on their own. Campbell called the lifestyle change a "metamorphosis."
"We showed them how to live a desert lifestyle," she told WBUR. "They adopted and adapted to the climate they live in instead of trying to bring the climate from where they came to Phoenix."
Newsweek reached out to the City of Phoenix Water Services for comment.