Should Phone Tracking Be Used to Punish People Breaking Coronavirus Quarantine?
Would you let your location be tracked if it saved lives? Would you be fine with your rights being limited if it slowed the spread of COVID-19? What if you could be fined or even imprisoned for the location data on your phone?
The global coronavirus pandemic has already led to unprecedented restrictions around the world. In Wuhan, China, residents were not allowed to leave their homes and health checks were conducted door-to-door, isolating those with symptoms away from their families.
Outside China, policies have been a little more open to interpretation. Italy has banned all public gatherings and initiated an "I stay home" policy without enforcing a quarantine.
In the U.K., all but essential travel for food, work or medical treatment has been banned and fines have been handed out for breach of these guidelines but exercising outdoors is still allowed. Similar measures are in places in certain U.S. states like Vermont.
How can a partial ban be enforced? How can it be checked? And what's to stop people flouting the rules without any clear way to check where they are going and for how long? It might sound like we're fully in Orwell's 1984 but, even before the coronavirus pandemic, location data gathered from mobile phones has been used in the U.S. without a warrant to arrest people.
In these times of crisis, those powers could extend further.
While a messy system and not quite as invasive as some reports have alleged, China has used location data to track down citizens at risk of passing on the virus. Israel passed emergency laws to allow location tracking of those suspected to have COVID-19 using their phone data. There are a number of similar initiatives in many countries but most Western democracies have only used anonymized data to map patterns rather than individual movements, at least for now.
But maybe not for long. U.K. Health Secretary Matt Hancock has warned that outdoor exercise might be banned alongside more draconian measures if people keep ignoring the rules around going outside. The U.K. government has already asked mobile phone operators O2, EE, Vodafone and Three to track mobile data to help with its response to the pandemic.
The U.S. is already using GPS data—more accurate and arguably more invasive than mobile data—to track movement during the coronavirus outbreak. It would be aggregated data and anonymous (at least in principle, more on that later) for now but could countries like the U.K. or the U.S. enforce mandatory location sharing with fines and/or criminal convictions given based on ignoring self-isolation guidelines?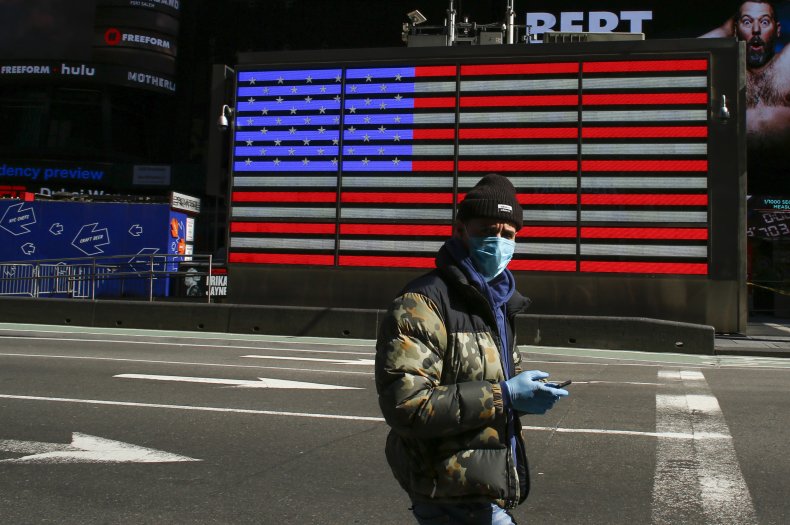 "I think it's going to happen," Neil Sweeney, CEO of data consent management platform Killi, tells Newsweek.
"Extreme times call for extreme measures. If you get to the end of April and the curve is not flattening and things are accelerating, then what are you supposed to do?
"Do we continue this casual conversation or do you have to take a more aggressive stance and say that if we don't do this [location tracking and more limitations], millions are going to die?
"If people aren't paying attention and listening to advice, my personal belief is that [location tracking] would be ok, I understand what they're trying to do here."
That might seem an unprecedented breach of privacy to some but we are in unprecedented times.
"Most people are being cautious and taking precautions," Sweeney says.
"But if 35 percent of the population is not being responsible, you're putting the entire population at risk. Is it not the job of the governments to protect all of its citizens? I think it is."
The U.K. government has not responded to questions about its location-tracking plans. At the moment, most location data avoids specifics.
Google is publishing details of places people are visiting and mapping movements around the world, all with the promise that the data maintains privacy and won't be used to highlight single people.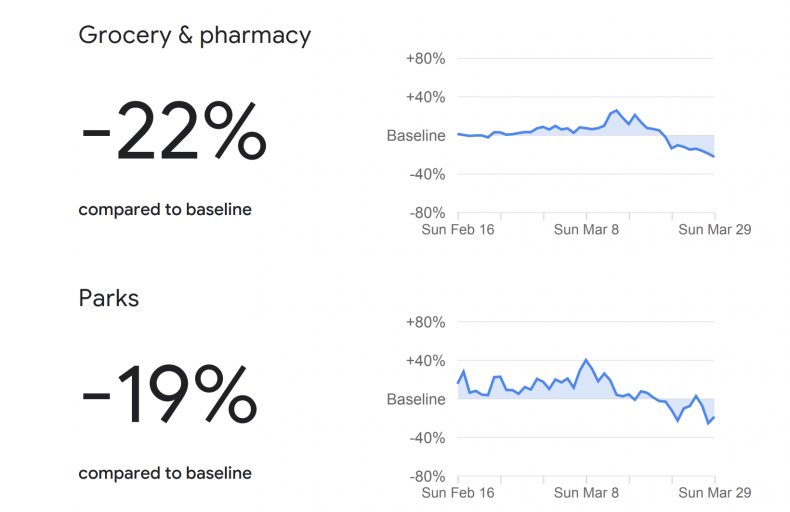 In the U.K., a phone app to track coronavirus cases using location—a "contact tracing app"—is being prepared for release. Developed within the NHS, it will send a notification to people after they came into contact with someone who tested positive for coronavirus.
It is individualized but anonymous and designed to help curb the spread of the virus with more of a carrot for people to avoid the infection and to recommend testing rather than the stick of punishment for breaking guidelines.
Similar apps were held up as successes in Singapore and South Korea, where infection rates slowed and the rise in deaths was slowed. In South Korea, the voluntary app was also used to track people to make sure they didn't break quarantine.
Data companies are already going further. Israeli spyware firm NSO group has demonstrated tracking individual phones of people with the infection, mapping their movements and giving them an anonymous ID number. The controversial company is already reportedly in conversations with governments around the world to open up phone data gathering.
But it being possible does not mean that it is going to become policy. "It's hard to imagine that being rolled out in the U.S.," Adrian Shahbaz, research director of technology and democracy at Freedom House, has told Newsweek when asked about apps like the ones used in China.
"It comes down to key differences between democratic and authoritarian regimes. In places like China, the state places less emphasis on individual rights.
"Authorities have far greater leeway for instituting harsh and intrusive restrictions. In the eyes of the Chinese Communist Party, the ends often justify the means.
"China isn't just a surveillance state—it's a model for digital authoritarianism... the government channels technology like biometrics, surveillance, and big data for controlling citizens' behavior."
But there already is precedent in the U.S. for public location data being used for law enforcement. The Trump administration bought access to millions of users' location data, according to the Wall Street Journal, aimed at finding undocumented migrants. Arrests using the data have reportedly already been made. And it's a controversial way of using data.
This graphic, provided by Statista, shows the number of confirmed coronavirus cases around the world.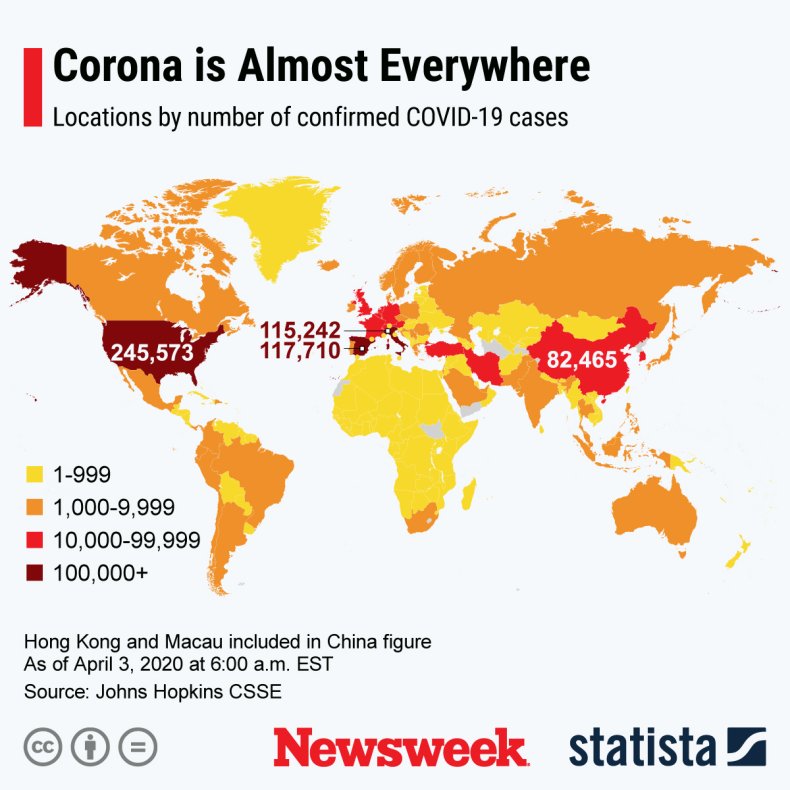 A 2018 U.S. Supreme Court decision ruled that phone location data was protected and would require a warrant for authorities to access. Purchasing data from private companies means this ruling is bypassed.
"A lot of knee-jerk responses to this crisis have turned to mass surveillance and even citizen surveillance approaches which often lack an evidence base, whilst creating a more monitored society in the long-term,' Silkie Carlo, director of anti-surveillance lobbyist Big Brother Watch, has said.
"It is exceptionally difficult to anonymize location data. Medical confidentiality is paramount to enable people to access services and protect both their own and public health."
The White House's Office of Science and Technology Policy did not respond to requests for comment. But there seems to be more public backing to give up ordinary privileges in these extraordinary times. Nearly nine in 10 people (86 percent) said in an ORB International survey they were willing to sacrifice their human rights to prevent the spread of the disease.
"There's heightened awareness around privacy but we were surprised when we first discovered this was it's not a catch-all," Sweeney says.
"There's a belief that it's a black and white [issue], when people say you can't use their data for anything. But when we talk to consumers, two things kind of became very clear.
"Consumers definitely hate when you use their data without consent. They hate that but if you actually tell the consumer that in exchange for this data—'we are going to give you X for giving us Y'—most consumers will do it.
"The other thing that we found is that is the fear of the unknown. If the tradeoff for the data has value, it will be accepted.
"If there's transparency on the use of that data, it will generally be accepted. And if you're to do both of those things, you remove the confusion around what the use of your data means."
So are you going to let your phone's location be tracked if it saves lives? With researchers saying a majority of people in any population (around 60 percent) must use these apps for them to be effective, it's likely we'll find the answer as apps roll out in the coming weeks.
The real question will then be whether the tracking remains optional or not.