This Photo of a 92-Year-Old Woman's Neck Is a Stark Reminder To Use SPF
A picture showing visual proof of the importance of UV protection has shaken the internet this week after it was shared on Twitter and gained thousands of likes and retweets.
While enjoying some sunshine is perfectly understandable, failing to protect your skin from UV rays can have serious implications. Improper sun protection can lead to increased skin cancer risk, skin discoloration including age spots, hyperpigmentation, freckles, wrinkles, and skin that appears leathery as a result of reduced elasticity.
The American Academy of Dermatology Association (ADD) says that skin cancer is the most common cancer in the United States, estimating that one in five Americans will develop skin cancer in their lifetime.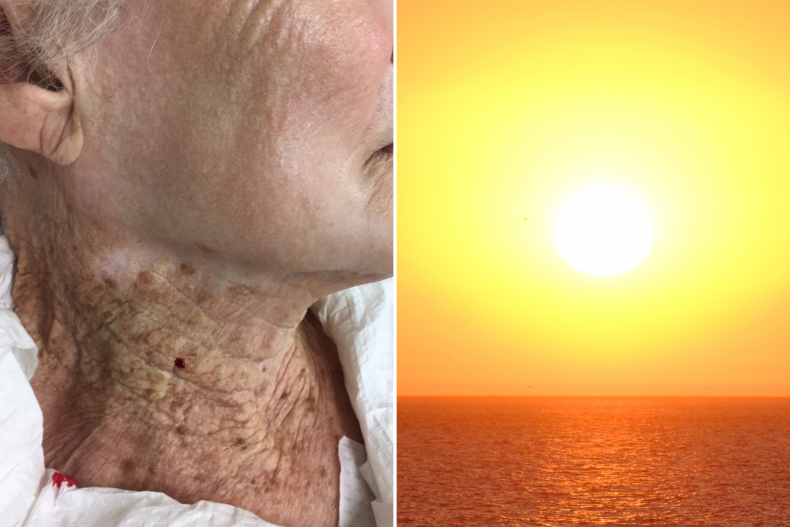 Protecting your skin from the sun is of daily importance, The Skin Cancer Foundation spokesperson and dermatologist Dr. Ramzi Saad told Newsweek: "The most important thing is choosing a sunscreen that is labeled broad-spectrum, with an SPF of at least 15 for daily use and at least 30 for extended time outdoors."
While understanding the importance of sun protection is more widespread than ever, the now-viral picture has left people reeling that they aren't doing enough.
The tweet was shared by Dr. Avi Bitterman, a dermatologist in Woodmere, New York.
The close-up image shows the face and neck of a 92-year-old woman used as a case study in the 2021 paper "Ageing research: rethinking primary prevention of skin cancer."
Written by Christian Posch for the Department of Dermatology and Allergy at the Technical University of Munich, Germany, the paper explores the links between UV exposure, cancer development, and aging.
In the picture, there is a clear distinction between where the woman has routinely used SPF on her face, and where she has missed her neck.
"That "no spf on neck pic" hit me harder than any D.A.R.E commercial ever did," said one Twitter user in response to the tweet. Another viewer wrote: "Thought about it today as I put on my facial spf down to my neck for the 1st time ever."
Posch, the author of the paper, is a board-certified dermatologist and the head of dermatology at the Vienna Healthcare Group. With more than 10 years in the field, he told Newsweek: "I am surprised by how many people there are who still question the importance of UV protection. What you can see in the image are two things: The effect of chronic UV radiation on the neck (called solar elastosis) and the effect of UV protection on the cheek/face."
"The picture highlights that the most effective measure of preventing a number of different skin cancers and skin aging today is UV protection," explained Posch: "However, UV protection alone it's not going to be enough for a combating the rising number of skin cancer cases in the future—we also need to learn how to repair and rejuvenate our skin. One important aspect is, to start understanding aging as a biological process that can be interfered with."
"I am aggressively applying SPF to my neck now," said one Twitter user after seeing the picture. Meanwhile, another viewer of the image said: "This has put the fear of God into me."