Photo Shows Asteroid That Narrowly Missed Earth Traveling at 18,000 MPH
An asteroid about the size of a house shot past the Earth on Tuesday at relatively close range, and an astronomer managed to snap a photo of it as it passed overhead.
The asteroid, called 2022 AC4, flew past at 12:19 a.m. ET on January 11, coming within just 58,000 miles of Earth. This may sound like a large distance compared to daily distances traveled by humans, but in fact it's less than one quarter of the distance to the moon.
According to NASA data, 2022 AC4 was the closest asteroid that passed by Earth for at least two months.
At its closest point to us, 2022 AC4 was traveling at over 18,700 miles per hour. It is estimated to be between 14 feet and 31 feet in diameter, making it roughly as large as a sizable house at the upper estimate.
The asteroid was photographed passing overhead by Gianluca Masi, manager of the Virtual Telescope Project in Italy.
The photo, below, shows 2022 AC4 as a dim point of light amidst streaks of light caused by blurred stars. It is marked by a small arrow in the center of the image.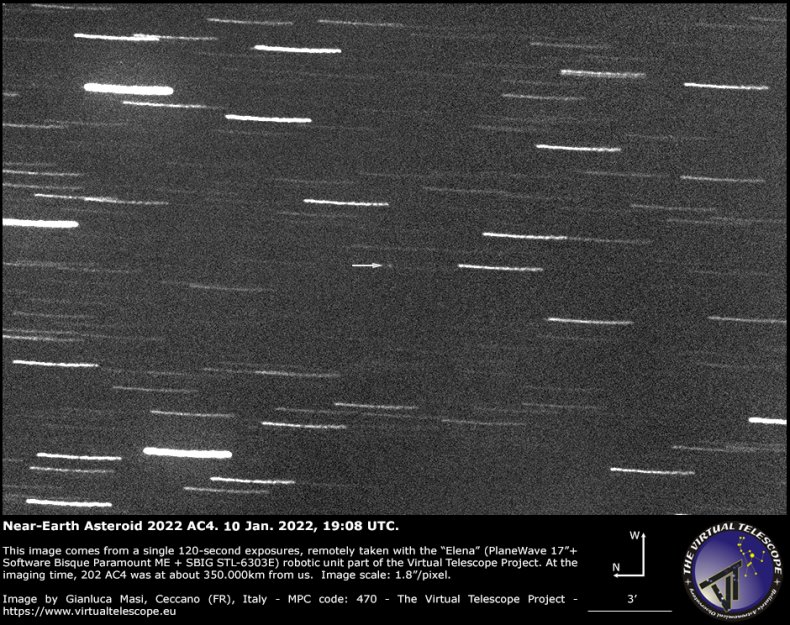 The telescope remotely tracked the asteroid across the sky and took a single 120-second exposure shot. At the time, the asteroid was around 217,000 miles away.
2022 AC4 was discovered by the Mt. Lemmon Survey on January 9, according to the Virtual Telescope Project, just a couple of days before it was due to fly past our planet.
Despite its relatively close pass, 2022 AC4 is not classed as a potentially hazardous asteroid (PHA) by NASA's Center for Near Earth Object Studies (CNEOS), and there were no risks posed to our planet.
CNEOS does not classify 2022 AC4 as potentially hazardous because it takes into account more than just how close an asteroid comes to Earth. For an asteroid to be classed as potentially hazardous, it must be expected to come sufficiently close to Earth but also be of sufficient size.
Specifically, if an asteroid can't get any closer to Earth than about 4.6 million miles or is smaller than 500 feet in diameter, it is not considered a PHA, CNEOS states.
2022 AC4 is not the only asteroid to catch some attention recently. Next week, on January 18, an asteroid nearly 3,500 feet wide is due to pass within 1.2 million miles of our planet.
Known as 7482 (1994 PC1), the asteroid is not expected to hit Earth, but it is classed as a PHA. It is not expected to come so close to Earth again until the next century, CNEOS data shows.
The Virtual Telescope Project is due to host a livestream of that close pass on its WebTV page on January 18 at 8 p.m. UTC (3 p.m. ET). The group has also recently spotted the James Webb Space Telescope from Earth.