Photo of Biden With Brett Kavanaugh at State of the Union Raises Questions
President Joe Biden has been criticised by some conservatives for failing to mention the apparent assassination plot against Supreme Court Associate Justice Brett Kavanaugh, during his State of the Union address. In it, he condemned "political violence" and the October 2022 attack on Paul Pelosi.
Biden was photographed greeting Kavanaugh on Tuesday, but did not mention the alleged assassination plot against him in his speech.
However, he did single out the attack on Paul Pelosi, the 82-year-old husband of former House Speaker Nancy Pelosi, who had been invited to watch as a special guest.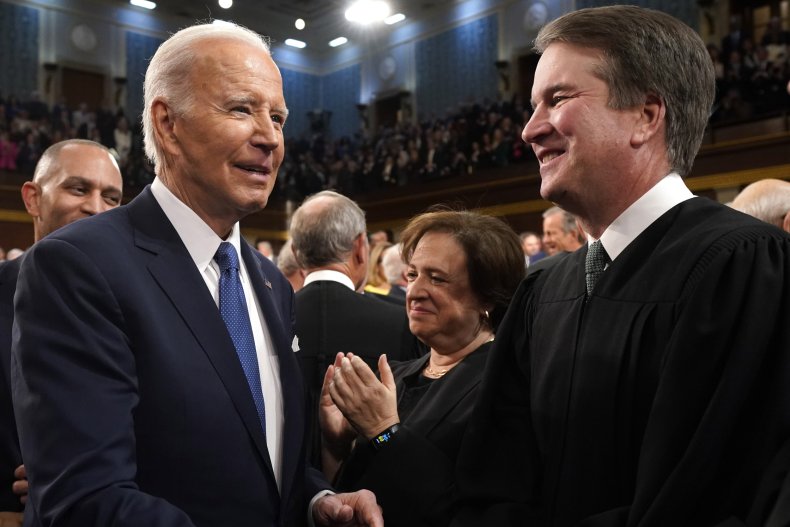 On June 8, 2022, armed 26-year-old Nicholas Roske was arrested outside Kavanaugh's home in Chevy Chase, Maryland. He had reportedly called 911 and said that he had made the journey "to kill a specific United States Supreme Court justice."
Roske, who later said he had been angered by Kavanaugh's positions on abortion and gun control, was persuaded to turn himself in after telling his sister about his intentions. He pleaded not guilty in June 2022 of attempting to assassinate a justice of the U.S. Supreme Court.
On October 28, 2022, Pelosi was attacked at his home in Pacific Heights, San Francisco, and suffered a fractured skull. During the incident, the assailant reportedly shouted "where is Nancy?", indicating his main target was the then-House speaker.
David DePape, a 42-year-old from Canada, was detained at the scene and later charged with attempted murder, to which he pleaded not guilty. Online posts reportedly from DePape later emerged, in which he appeared to question the 2020 presidential election result and promote right-wing conspiracy theories.
Biden addressed the attack directly: "For the last few years, our democracy has been threatened, attacked, and put at risk. Put to the test here, in this very room, on Jan. 6.
"And then, just a few months ago, unhinged by the Big Lie, an assailant unleashed political violence in the home of the then-Speaker of this House of Representatives. Using the very same language that insurrectionists who stalked these halls chanted on January 6."
At this point, Pelosi stood up, and was applauded by the audience.
However, Biden was later criticised on Twitter by Republican Senator Marco Rubio. He tweeted he had "honored Paul Pelosi but ignored the fact an assassin was arrested outside the Kavanaugh home."
Dan McLaughlin, a writer for the conservative National Review magazine, added: "This is the part where Biden talks about the attack on Paul Pelosi while conspicuously ignoring the assassin who showed up at Brett Kavanaugh's house. That, he cannot bear to mention."
Newsweek has contacted the White House for comment.
During his address, Biden insisted he had "made clear" that the U.S. will protect its sovereignty, after a Chinese spy balloon was shot down off the coast of South Carolina.