Photo of College Lecture on 'Right-Handed Privilege' Goes Viral
A photo of an activist giving a presentation about "right-handed privilege"—a theory that those who are right-handed have life advantages over those who are left-handed—at the University of North Carolina at Chapel Hill (UNC), has gone viral.
The image, which was shared on Twitter account Libs of TikTok on Tuesday, was liked 13,600 times and retweeted or quote-tweeted more than 2,600 times as of Thursday morning. On Instagram, the photo has more than 87,600 likes and spurred hundreds of comments.
Students at the university confirmed to Newsweek that the presentation was not satire, and was in fact part of a mandatory program by the university's Office of Fraternity & Sorority Life, which oversees the 51 fraternity and sorority organizations at the institution.
On the presentation screen, it lists the benefits of being right-handed as: "it's easier; makes life easier," "sense of belonging; to fit in," "the world is organized for Right-handers," "more access," "more opportunity" and "more advantage." The presentation called right-handed privilege "the system."
Christina Parle, a leftwing activist and an instructional designer for the company Social Responsibility Speaks, gave the presentation on October 18.
Also on the screen was a picture of a clenched left fist, the symbol of Social Responsibility Speaks, which according to its website, helps clients to "refocusing on equity and inclusion to achieve their goals related to representation and retention."
Parle was referencing a paper by organizational psychologist Dr. Steven Jones, CEO of Jones & Associates Consulting, a firm that specializes in diversity and organizational effectiveness consulting. The paper, called "The Right Hand of Privilege," sees Jones talk about the "unearned privilege" of being right-handed.
"We shake with our right hands. We pledge with our right hand. We salute with our right hand," the paper reads. "We take legal and governmental oaths with our right hand. School desks are set up for right-handed people," he says, before reeling off many other examples—such as guns being designed for right-handers to shoot and that "most coffee mugs" are designed for right-handed people.
The reason for this is likely because 90 percent of people are right-handed, according to a meta-analysis of human handedness, while only 10 percent are left-handed. Mixed handed people make up about 1 percent.
The paper later talks about the "disadvantages" of being left-handed. "Even though being left-handed has some positive aspects, most left-handed people have negative experiences associated with their dominant hand. We have heard stories of people having their hands painfully tied behind their back so they could learn to use their right hand."
"People have been hit on their hand with a ruler when they were younger every time they used their left hand. Many have been told that their child's life would be easier if they just learned to use their right hand. Some have been teased about being a south-paw or a lefty."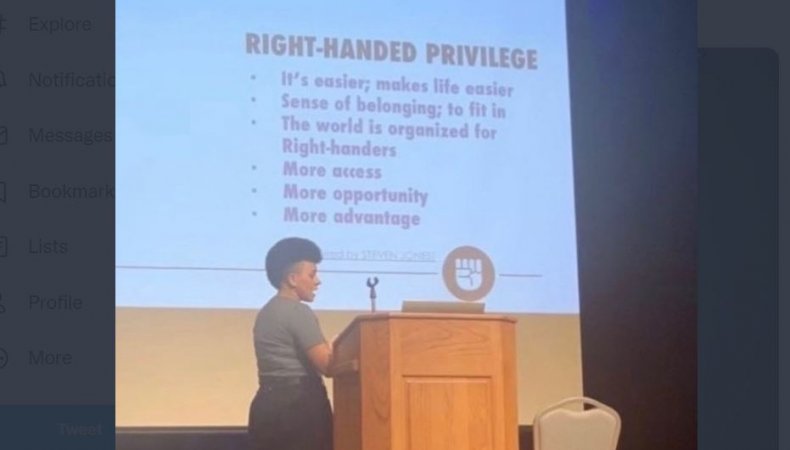 The hour-long presentation at UNC Chapel Hill also spoke about intersectionality, Indigenous land acknowledgement, identity politics, as well as privilege, social constructs and systems of oppression.
The Carolina Review reported that attendees were instructed to take notes and electronic devices were prohibited, and Greek organizations were threatened with fines if they didn't send chapter representatives to the lecture.
Cassie Hughes Thomas, assistant director of Fraternity and Sorority Life at UNC, told Newsweek: "Fraternity and Sorority Life is hosting an ongoing educational programming series based on eight dimensions of wellness, which range from financial skills to career building. Our recent meeting focused on intellectual wellness, and guest speaker Christina Parle presented on the topic of Diversity, Equity, and Inclusion."
Newsweek has contacted Parle for comment.
"There's no way the university should be funding [the event] in my opinion," one student told Carolina Review on the condition of anonymity.
Another described the presentation as "uncomfortable." "It seemed that the speaker was projecting her identity politics onto us," that student told the right-wing journal.
Update 10/22/21: This article has been updated to include comments from Cassie Hughes Thomas, assistant director of Fraternity and Sorority Life at UNC.