Photo of Crab With 'Human Teeth' Horrifies Internet
On Instagram, a deep-sea fisherman baffled the internet with a photograph of his latest catch: a crab that appears to have a full set of "human teeth."
Photographer Roman Fedortsov, who works on a fishing trawler in Western Russia, shares photos on his Instagram page of some of the strangest deep-sea catches. Last week, Fedortsov shared a photo that made his 652,000 followers cringe.
A photograph of a crab with what appears to be a set of human teeth amassed nearly 10,000 likes on Fedortsov's page. Along with the picture, Fedortsov wrote in Russian, which was translated by Instagram, "Crabs... Still, there is something attractive and repulsive about them. Mother nature did her best..."
Some users who commented on the post were terrified by the crustacean.
"That's human teeth. Tell me I'm wrong," one user wrote.
"OMG ! Human teeth," another comment read.
Another user said, "Yes, this is an alien from the 'predator'."
Others were quick to joke about the crab's human resemblances. One user commented, "Bro got better teeth than British people."
Another said, "Crab? That's my mother in law from New Jersey."
One user wrote, "Part of the ship, part of the crew," in reference to the Disney film Pirates of the Caribbean in which some cursed, crab-like pirates reside on Davy Jones' crew.
Several other viral crabs have horrified the internet recently. A video posted on TikTok by the account @wesdaisy in March showed the extraction of a tiny crab from a woman's ear, making TikTok users shriek in discomfort.
The text over the video said the woman was snorkeling in San Juan when the crab got into her ear, and the video shows someone with tweezers attempting to pull the crab out. Soon enough, the crab appears and scurries out of the woman's ear before jumping to the ground.
"Thanks for the warning," a viewer commented. "Earplugs when in the water while on vacation."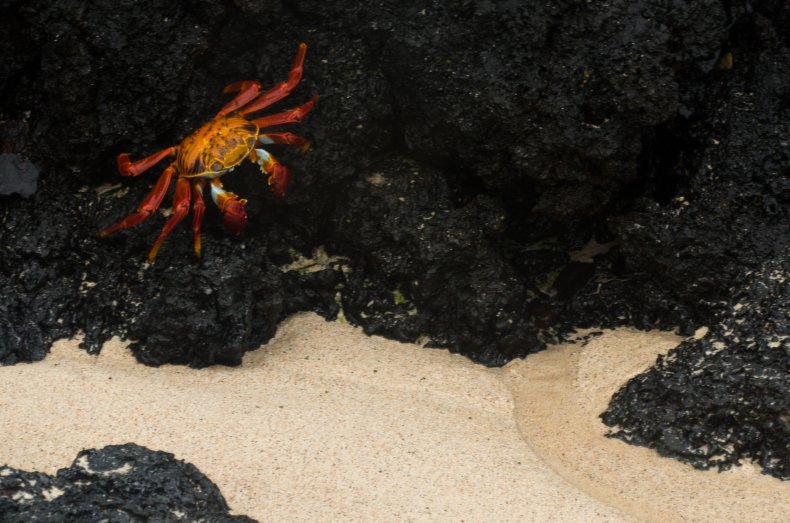 Another comment read, "Like I don't have enough issues with the ocean already...no thanks."
More recently, the discovery of a swarm of crab-like creatures living in a river found in a river 1,600 feet under ice shocked a team of researchers in Antarctica.
The team of scientists from New Zealand could not believe the river was teeming with life the way it was, and while researchers have been aware that freshwater lakes and rivers lay under the Antarctic ice, the discovery of the crab-like swarm in June was the first time one of those rivers and the life thriving within it had been observed.
In fact, things keep evolving into crabs, and it's bothering scientists so much that they've been given federal grants to get to the bottom of it.
These groups had one common ancestor, but over 300 million years ago. That means there's been a lot of time for evolution, but still, the crabs keep coming.
Newsweek reached out to Roman Fedortsov for comment.