Photo Shows Jeffrey Epstein, Ghislaine Maxwell Visited Queen Elizabeth II at Balmoral
A photo of Jeffrey Epstein and Ghislaine Maxwell reclining at a log cabin that belongs to Queen Elizabeth II has been shown to a sex trafficking jury in New York.
Maxwell is on trial accused of grooming underage girls for Epstein to abuse between 1994 and 2004. She has pleaded not guilty.
The U.S. Department of Justice released the photograph of the couple's visit to the queen's Balmoral estate in Scotland among a number of other images of the pair, as prosecutors sought to build a picture of their relationship.
The photo shows Epstein with his arm over Maxwell's shoulder, while she has a hand on his knee.
It is not clear who took the image at Balmoral, though both were friends of Prince Andrew, the queen's second son, who was known to have invited them there in 1999, the BBC reported.
The release of the image will heap new pressure on the Duke of York over his relationship with Epstein, a convicted pedophile, and how Andrew brought him into royal circles.
Andrew has been mentioned three times in the Maxwell trial, including by one of the alleged victims, "Jane," who says she saw the prince when she was 14. She did not accuse Andrew of abuse.
Laura Menninger, attorney for Maxwell, asked last week: "Do you remember Prince Andrew being on a flight with you?"
According to British newspaper the Daily Mirror, Jane replied: "Yes."
The duke is being sued separately by Virginia Giuffre, who has accused him of raping her when she was a 17-year-old sex trafficking victim. He denies the allegations.
Yesterday the Maxwell trial heard evidence from a man named only as Shawn, the boyfriend of another alleged victim, "Carolyn." He said Carolyn had "only had two jobs ever. She worked at Arby's and she worked for Jeffrey."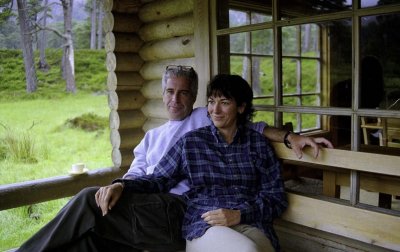 Shawn told jurors that he would drive Carolyn to Epstein's Florida mansion because she was too young to drive herself.
He described how Giuffre had told Carolyn she could make money working for the financier.
Shawn said: "Virginia said that she worked for a guy in Palm Beach and Carolyn could make money if she wanted to come give massages."
He added that Carolyn called Maxwell by her last name because "she couldn't pronounce" Ghislaine.
Quoted by the BBC, he said: "She didn't have the reading ability [or] it was foreign to her."
Earlier this week, another alleged victim, "Kate," testified that Maxwell had asked her to take Epstein tea dressed as a schoolgirl.
She said Maxwell told her: "I thought it would be fun for you to take Jeffrey his tea in this outfit."
Kate, who is also British, said Maxwell acted "almost like a schoolgirl."
She said: "Everything was fun. Everything seemed to be like a fun, silly joke."
Maxwell's lawyers say she is being made a scapegoat for the crimes of Epstein, who died in jail in 2019.