A Ukrainian beauty queen was quick to clarify that she had not joined the Ukrainian military after a photo of her holding a rifle and wearing a soldier's clothes made the rounds on social media.
Anastasiia Lenna was crowned Miss Ukraine during the 2015 Miss Grand International beauty contest. The beauty pageant is a Thailand-based contest that was founded in 2013.
Amidst the ongoing invasion of Ukraine, Lenna shared an Instagram post on February 22 with her 314,000 followers that showed her holding an assault rifle and wearing what appeared to be a combat jacket and military glasses. It was eventually revealed that this was a staged photograph and not representative of the Ukrainian military.
The post included the hashtags #standwithukraine and #handsoffukraine.
Another post similarly showed Lenna in combat outfits, with the caption: "The invaders will die on our land! All world see this! Wait and see what will happen."
Following the posts, numerous media outlets reported that Lenna had joined the Ukrainian military in an effort to fight against the Russian invasion. Many people on social media also highlighted Lenna's supposed joining of the Ukrainian army, praising her for fighting back against the Russians.
"Miss Ukraine, Anastasiia Lenna, has taken up arms to defend her country against Putin's army," tweeted Mike Sington, a former executive with NBCUniversal.
"Another example of female pride and protagonism," said Brazilian politician Júlia Lucy in a translated tweet. "Ukrainian Miss Anastasiia Lenna volunteered to fight alongside the military defending her country."
Lenna's post went viral, particularly in the United States, and was cited in numerous online articles regarding Ukraine's efforts against Russia.
In a post on Instagram a few days later, though, Lenna cleared up any ambiguity and revealed that she had not actually joined the Ukrainian military. Rather, Lenna said the photo in question was taken a number of years ago, and the weapon that she was holding was actually an airsoft rifle.
"I am not a military, just a woman, just normal human," Lenna wrote in the follow-up post. "Just a person, like all people of my country. I am also a airsoft player for years."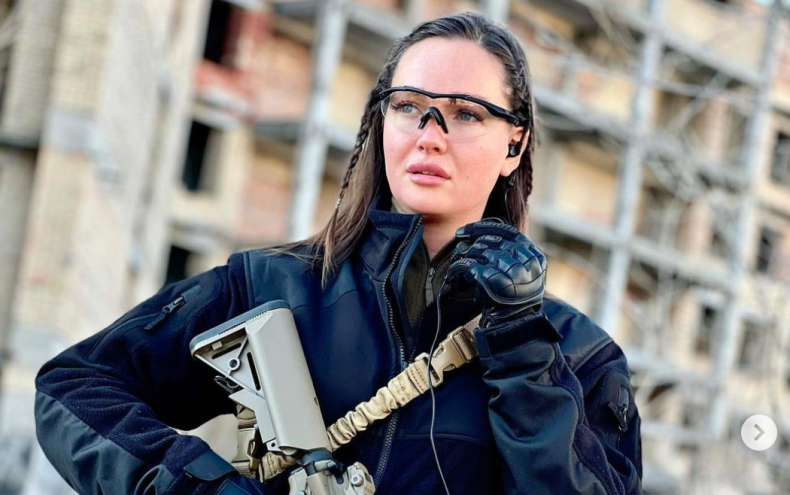 Lenna said that she had posted the photo on social media in order to "inspire people."
"I don't do any propaganda except showing that our woman of Ukraine—strong, confident and powerful," she said. "I appreciate all attention and support to my country, all people in Ukraine we fight every day against Russian aggression."
"I speak to all people of the World! Stop war in Ukraine! No people should die! We can stop all this together," Lenna said.
A Facebook post that similarly claimed that Lenna had joined the Ukrainian military was soon taken down and flagged for misinformation.
Lenna continued to post pro-Ukrainian sentiments on her Instagram account, but the internet was quick to clarify any confusion regarding her supposed military service. This included a number of fact-checking websites that reiterated that the post was not indicative of Lenna joining the army.
Another fact-checking website referred to the Instagram post as having been "miscaptioned."
Lenna has not said whether she'll decide to join the military in the future.
Newsweek has reached out to Miss Grand International and Lenna via Instagram for comment.