Photo Shows Chinese Rocket Falling Out of Orbit Before It Crashes to Earth
A telescope has captured an image of the Chinese Long March 5B rocket that is currently falling back to Earth from space.
The Italy-based Virtual Telescope Project snapped the image on Wednesday night using a PlaneWave 17-inch telescope.
The rocket was moving "extremely fast," according to the Virtual Telescope Project's founder Gianluca Masi.
The photo can be seen below. At the time, the rocket was around 700 kilometers from Earth.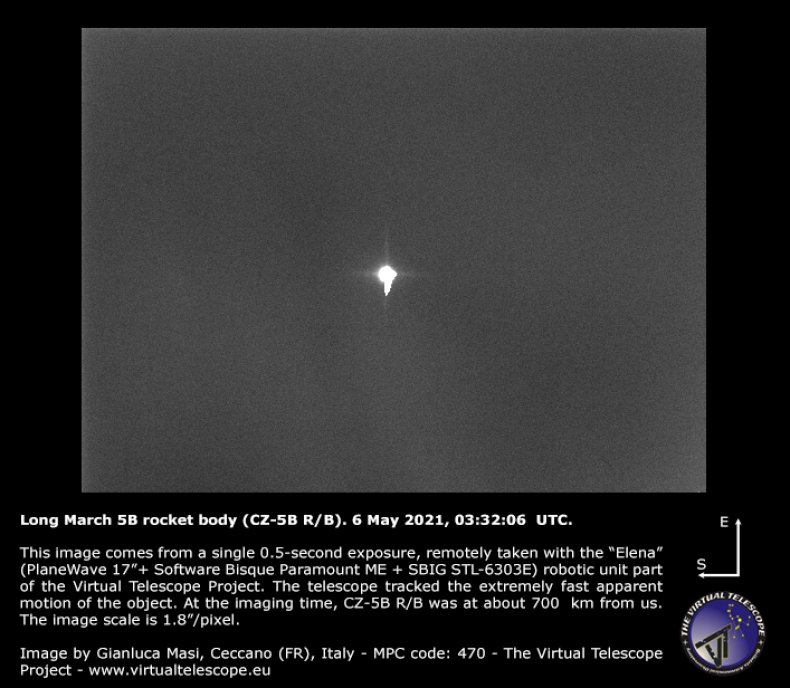 Masi said on the project's website that the photo was captured when the Sun was just below the horizon, "so the sky was incredibly bright."
He added: "These conditions made the imaging quite extreme, but our robotic telescope succeeded in capturing this huge debris."
Masi said the team would attempt to take a photo of the rocket again before it returns to Earth.
The Long March 5B rocket, which is around 100 feet in length, has attracted attention over the past few days after it emerged that scientists do not know exactly when or where it will fall back to Earth.
It is expected to happen some time around Saturday May 8.
It launched on April 29 on a mission to deliver the core module of China's upcoming Tianhe space station into orbit. Since then the rocket has been circling the Earth, getting lower and lower.
China's space agency has not yet confirmed whether or not the rocket is out of control, The Guardian reports. Newsweek contacted the Chinese government and the China National Space Administration for comment but has not yet received a response.
Some, such as Harvard astrophysicist Jonathan McDowell, believe that the rocket is indeed out of control, giving rise to concerns it could litter debris over a populated area.
McDowell told Newsweek on Tuesday: "I am basing my assessment on the fact that we are 2 for 2 on the Long March 5B not deorbiting itself," referring to the fact that in May 2020 another model of the same type of rocket also fell back to Earth in an uncontrolled way. There were reports that some parts of it landed in Côte d'Ivoire, West Africa.
Regarding the current situation, McDowell told CNN on Tuesday: "I don't think people should take precautions. The risk that there will be some damage or that it would hit someone is pretty small."
The U.S. 18th Space Control Squadron (18th SPCS) has confirmed that it is aware of and tracking the rocket's location in space.
18th SPCS said on Tuesday the rocket's "exact entry point into the Earth's atmosphere cannot be pinpointed until within hours of its re-entry, which is expected around May 8."