Astronomers have captured an image of a potentially hazardous asteroid shortly before it's set to make a close approach to the Earth.
Data from the NASA's Center for Near Earth Object studies shows that the asteroid—known as 2007 FF1—will come as close as around 4.6 million miles of our planet at 9:35 p.m. UTC (5:35 p.m. ET) on April 1, 2022.
While this may seem like a large distance, in astronomical terms it's relatively small. It's equivalent to around 19 times the average distance between the Earth and the moon.
On March 24, astronomer Gianluca Masi with the Virtual Telescope Project (VTP) snapped an image of 2007 FF1 using the 17-inch "Elena" remotely operated, robotic telescope in Ceccano, Italy—located around 60 miles south of Rome.
The image comes from a single 180-second exposure and shows the asteroid approaching the Earth when it was located around 7.2 million miles away from us. In the snap, the space rock appears as a tiny white dot against a background of stars.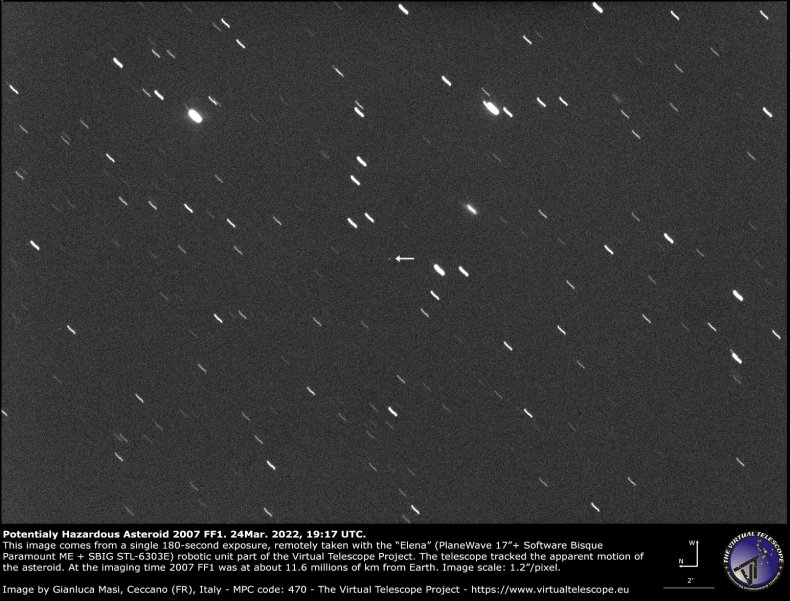 The asteroid was discovered on March 17, 2007, by the Catalina Sky Survey—a NASA-funded project based at the University of Arizona's Lunar and Planetary Lab in Tucson.
The goal of the survey is to discover and track near-Earth objects (NEOs)—such as comets and asteroids—in an effort to meet the congressional mandate to catalogue at least 90 percent of the estimated population of NEOs that are larger than 140 meters (459 feet) in diameter.
Astronomers have already identified more than 90 percent of NEOs that are larger than one kilometer (3,280 feet) in diameter.
According to the CNEOS, more than 28,000 NEOs have been identified to date. The vast majority of these NEOs are asteroids, although there are a handful of comets.
Some of these NEOs are classified as "potentially hazardous," meaning they have orbits that come within 4.6 million miles of Earth's own path around the sun, while also measuring more than 140 meters in diameter.
CNEOS director Paul Chodas has previously told Newsweek that objects are classified as potentially hazardous because they are in orbits that "come close enough to Earth's that it is possible over many centuries and millennia they might evolve into Earth-crossing orbits. So it is prudent to keep tracking these asteroids for decades to come and to study how their orbits might be evolving."
While 2007 FF1 is classified as "potentially hazardous," Masi said in a statement that there are "no risks at all for our planet" when it comes to its flyby.
He said the asteroid is estimated to measure around 200 meters in diameter, which would make it taller than the Space Needle in Seattle.