Photobombing Pigeon Scares Florida Meteorologist On Live TV
A pigeon has given a meteorologist a shock on live TV.
Chelsea Ambriz, a meteorologist on Florida TV station NBC6, was broadcasting on the morning of May 21 when the pigeon made an unexpected appearance.
Ambriz was showing viewers images of a beach from a live feed when the pigeon suddenly flew into view. As the pigeon flew straight into the live beach camera, Ambriz let out a shout of fright.
"The bird startled me," she said, laughing and then composing herself before continuing the newscast.
Ambriz was in a studio at the time, meaning the bird was actually nowhere near her.
"When you're on TV, you're always thinking about what's coming next, the next graphic," Ambriz later told NBC6. "I wasn't expecting the bird to come, and from my vantage point, I thought it was going to land on my head."
"My natural reaction was to duck. And then in a nanosecond you start thinking, you're on TV you're at work, keep going, so I just kept going and had to compose myself for a second," she said. "I think everyone can relate to that. When you see something flying across in your peripheral you duck or jump a little and everyone I'm getting feedback from are thinking its hilarious that was a natural reaction that happened on TV."
The moment was shared to Twitter by Ambriz, where it has now received over 109,000 views.
"Brain: bird is going to land on you! Reality: I'm in the studio and this is a live camera…" Ambriz said in a caption to the video.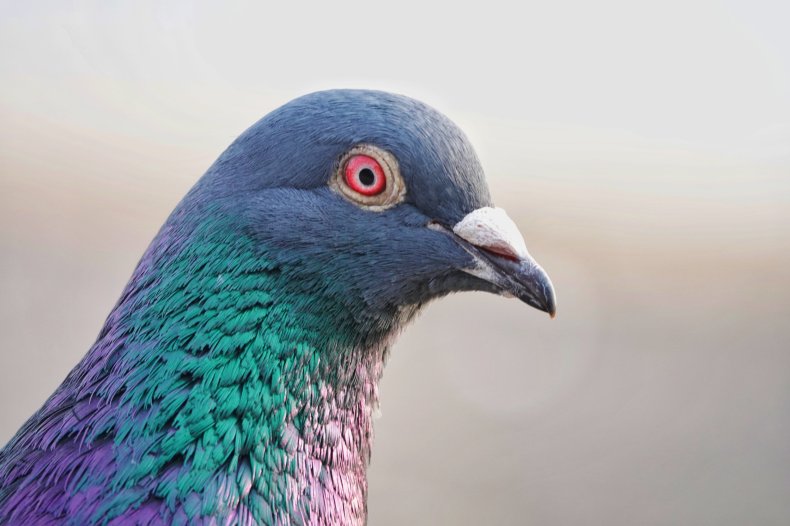 "LOL!! Is that your first 'close encounter'?" one Twitter user responded.
"I've had them chase me at the beach… new fear unlocked…" Ambriz replied.
Another Twitter user said: "Looked dead into the camera too, knew EXACTLY what he was doin' smh."
"You maintained your composure!" another person said.
"Ca caw!! Look out girl…the birds never rest," a different Twitter user said.
"People are chuckling along with me. I definitely did not think it was going to explode like it has. The retweets and the interaction on Twitter have been fun to see," Ambriz told NBC6.
The meteorologist said she thought the blooper would quickly be forgotten but it actually turned into a moment that "everyone can relate to and chuckle with."
Do you have an animal or nature story to share with Newsweek? Do you have a question about this story? Let us know via nature@newsweek.com.