Photographer Frank Relle Brings New Orleans to Moscow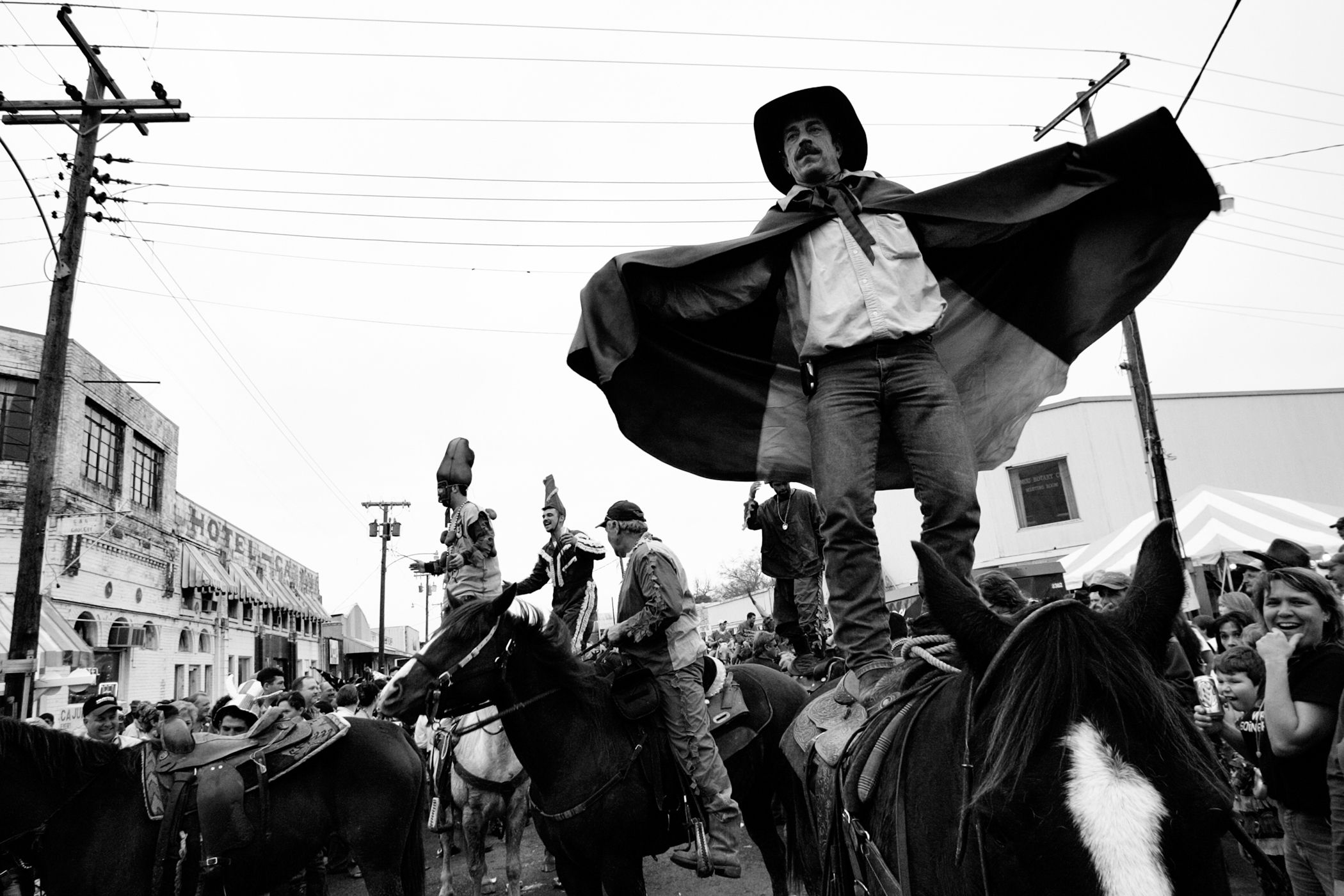 Let's say you're a cultural attaché working at an American embassy in a country whose relations with the United States have cooled of late. What better way to change the atmosphere—and spice things up—than to showcase a diverse American city whose unique traditions and outsized personality make it beloved worldwide?
Such was the thinking at the U.S. Embassy in Moscow when it decided to sponsor an exhibition called New Orleans in Photographs, which opens May 16 at the ultra-sleek Multi-Media Museum – Moscow House of Photography. Curated by New Orleans photographer Frank Relle, the show combines 100 large framed images by recognized photographers with another 1,000, smaller images culled from the photo-sharing social media app Instagram. Through New Orleans in Photographs, Russians get a chance to peek into the lives of everyday New Orleanians and people from southeast Louisiana, and to glimpse a more updated and complex view of a region known primarily by stereotypical images: Bourbon Street, Mardi Gras, the aftermath of Hurricane Katrina.
"Although we recognize our relationship with the government of Russia is not business as usual at this time, people-to-people engagement programs help build mutual understanding among the peoples of our countries," says Stacy Mactaggert, deputy press attaché at the U.S. Embassy in Moscow.
The idea for the exhibition emerged a couple of years ago during a discussion Tony Micocci had with a friend from the cultural office at the U.S. Embassy in Moscow about sharing American culture with Russia. Micocci, an independent performing-arts consultant who has been working with artists and facilitating cultural exchange with Russia since the 1970s, recently moved from New York City to New Orleans to join the faculty of the University of New Orleans Arts Administration Program. Like many newcomers, he was struck "by the vibrancy and uniqueness of the culture of New Orleans and Louisiana, and its visual power." After meeting Relle through a mutual friend at the city's Arts Council, Micocci was confident Relle could mount a world-class exhibition showing the city's "re-emergent vivacity."
New Orleans in Photographs is daring not only in scale (when is the last time you went to a photography exhibition with 1,100 images?) but also in its use of Instagram images. The free photo-sharing app is seen by many serious lovers of photography as a repository for the most banal detritus of visual culture: narcissistic selfies, cute animal photos and unappetizing-looking meals. But for Relle, whose haunting "Nightscapes" of New Orleans architecture put him on the radar (and in museums) as a photographer to watch, Instagram was a phenomenon that could not be ignored. When he started his own Instagram account in July 2012, he was amazed by the sheer number of photographs people shared with one another, as well as the often intimate nature of the images—"like a public family album," he says.
"There's a tone among the photographic elite," says Relle, "to look down on Instagram because it's quick, it's easy, it's dirty. So if you participate in that, you're bastardizing photography. Of course, if you look at a bad Instagram feed, you can get bored. But if you look at a good one, there's no denying there's great information there. To those who say Instagram's no good, I want to say, Have you been on?"
In curating New Orleans in Photographs, Relle replicated the formula he used for his first New Orleans-themed, mixed professional/social media photography show for the city's Octavia Gallery, Contemporary Antiques, in December 2012. He first chose the established photographers whose work he felt was primary. "Without the large, well-exposed, thoughtfully composed, sharp photos," he says, "the show [New Orleans in Photographs] has no anchor. A lot of the smaller images are camera phone images, and so printing them, even 6 by 6, is challenging. They don't hold up to being a larger view. The show would be a mess without the large-framed professional works."
Next came the daunting part. He and his assistant curator, Catie Sampson, waded through the social media images to find ones that represented a wide swath of Louisiana, organizing the images in such categories as family, food, landscape, music, religion, sport, festivals, Mardi Gras, industry and architecture.
Using a very 21st century curating method, Relle invited his followers on Instagram to submit their images for inclusion in the show by hashtagging them #LouisianaCulture. (Full disclosure: one of the author's Instagram photos was chosen for the exhibition.) This created a searchable database for Relle and Sampson to go through. The Octavia Gallery show in 2012 received 4,500 Instagram submissions that were winnowed down to 350; the Moscow show received more than 10,000 submissions.
But Relle and Sampson didn't stop there. Sampson dug further into Instagram, looking for hashtags related to Louisiana subjects such as festivals and hunting that she would then share with Relle, who estimates that in addition to the initial 10,000 hashtagged submissions, Sampson probably combed through another 10,000.
The results of their hard work are a cultural and photographic revelation. New Orleans in Photographs reflects as many sides and moods of the region as could be fit into one exhibition space. Images of well-heeled, genteel, uptown ladies-who-lunch mingle with Cajun hunters proudly displaying their squirrel, elk and snapping turtle bounty. Sleepy children are juxtaposed with sad-eyed bartenders. And masked and painted figures abound in images depicting the city's seemingly nonstop parades, balls, festivals and jazz funeral celebrations. New Orleans in Photographs, in its expansiveness, inclusiveness and democratic vision, is what Robert Frank's The Americans would have looked like if he had focused on New Orleans and had an Instagram account.
Curating the show was a revelation for both Sampson and Relle as well. "Looking through all these representations of our culture," Sampson says, "it's allowed me to see the kinds of things I'd like to photograph for myself and to see the importance of everyday moments in Louisiana that I might not have thought interesting or worth reporting."
Relle concurs, saying, "As a photographer, when you're at a Mardi Gras parade you might think, Oh … I should make an image of this parade. After doing this show, it helped our editing eye to say, No, what I should do is turn around to my friends and family."
New Orleans in Photographs attempts to mimic the way people consume images now. Larger, formal photos compete for the viewer's eye against a barrage of social media images. Relle wants visitors to the exhibition to get a sense of being constantly distracted by the Instagram photos, the way they probably are in everyday life, and he even imagines them checking their phones while viewing the exhibit.
This two-tiered viewing phenomenon also echoes, in photographic form, the New Orleans tradition of the second line parade. In this tradition, official members of a club and their brass band who parade—the "first line"—are joined by anyone who wants to parade with them—the "second line." As any visitor to New Orleans who has stumbled upon a second line can attest, anyone can join in. Hierarchies and boundaries created by differences (racial, sexual, regional, political, national) are momentarily blurred. In a way, New Orleans in Photographs is a photographic second line, and by seeking to blur the line between the first line and second line photographs, the exhibition temporarily removes the boundaries that separate the subjects of the photographs from each other—and, ideally, the Russian viewers from the photographs' American subjects.
Asked how he was going to celebrate the end of an intense period of nonstop activity, Relle was ever the photographer. "Originally," he says, "I was planning on leaving Moscow after the show was mounted. After spending time in the museum, I was, like, There's no place I can visit that I want to sink my teeth in more than this museum. I can spend 17 days there. It's like a graduate school in photography."