Photographer Searches for Cuba's Boat Refugees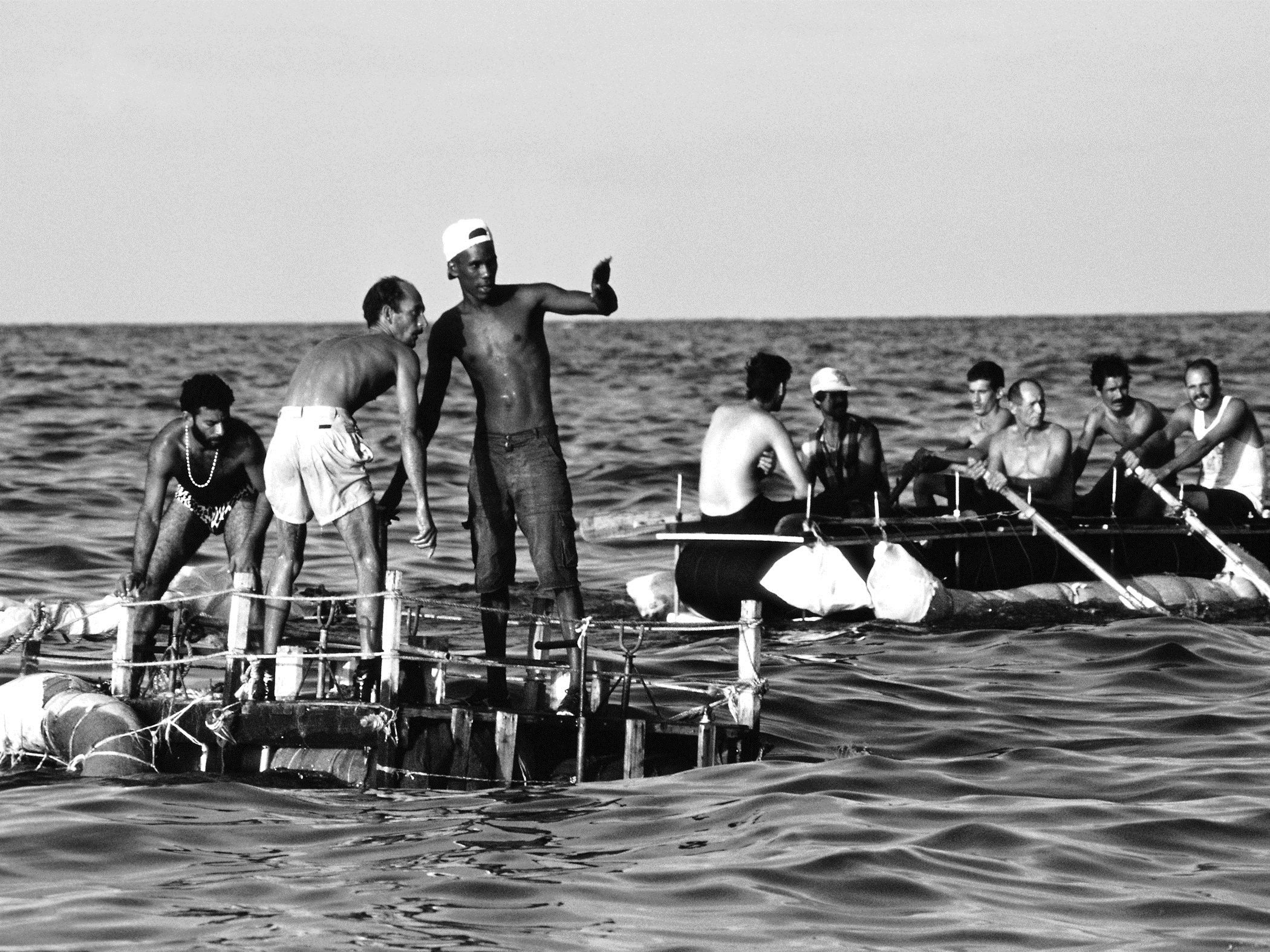 The black-and-white photographs show throngs of Cubans pushing rickety rafts onto sea, some climbing up on them, others circling around like sharks. Their loved ones wave them off from the shore, elation with hints of fear overwhelming their faces.
Who were these people and what became of them?
Cuban photojournalist Willy Castellanos, who captured the mass seaborne exodus from the island on August 1994, has launched a campaign to find out. He plans to make a documentary about their lives, as well as the fate of other rafters, to recover and expand the collective memory of this chapter of Cuban history.
So far, he has found about nine of the 85 people in his photographs, including the driver of a bus which ferried many of the rafts to the coast and a woman who sold peanuts to those departing on them. Several now live in Miami, others were caught and returned to Cuba and at least one ended up in Spain and another in Mexico.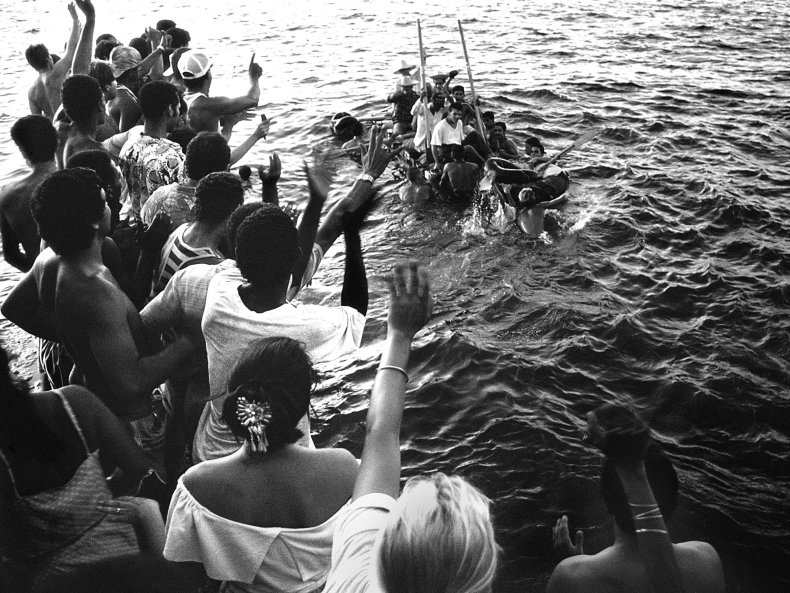 Cubans, fed up with the economic crisis, had been trickling out of the island on makeshift boats in the early 1990s. It was a risky endeavor, particularly for those that hijacked or stole vessels to take them across the Straits of Florida. On August 5, 1994, a confrontation between Cuban officers and a group of Cubans launching a raft left two policemen dead and a third one injured; riots ensued across Havana's malecon, its waterfront.
In response, Fidel Castro ordered the Cuban Coast Guard to stop apprehending those attempting to leave the country, except if they were doing so on a stolen boat. In the following weeks, some 30,000 Cubans piled into makeshift rafts and navigated the 90 miles north, to Florida.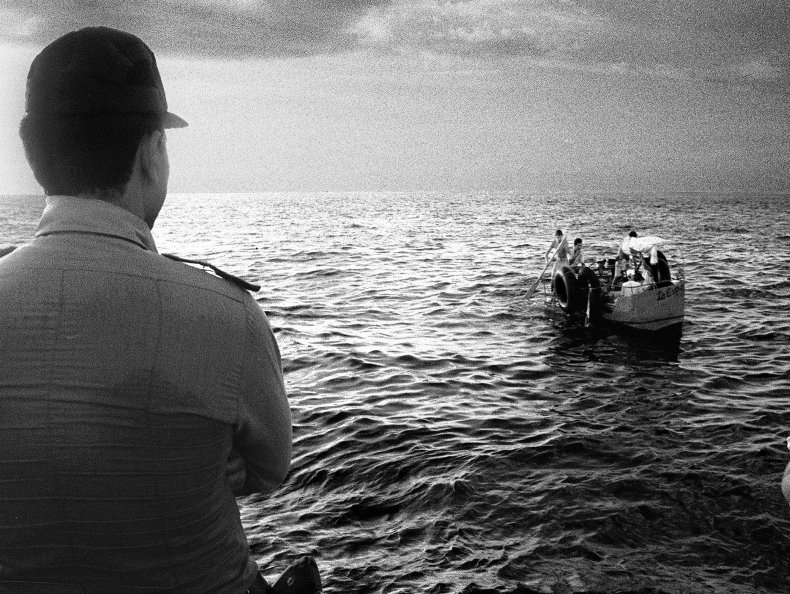 Castellanos lived in Havana at the time and worked as a freelance photographer. One day, walking by a nearby beach, he saw a group of people excitedly jump on a raft and sail into the horizon. He ran home to pick up his camera and spent the next two weeks capturing similar scenes.
The photographs are numbered on the Exodus: Alternative Documents website. In one, young men are seen building a raft using slabs of wood; in another, a finished raft is transported on the kind of vehicle that has become emblematic of the country's decay. A squinting woman wearing a headband and a striped shirt is seen biting her fingernails by the shore in a third photograph.
The overall mood was one of euphoria, hope and rashness, tinged with sad goodbyes, says Castellanos. "Very few of them had knowledge about navigation or awareness about what the sea can be like. They plunged in motivated by this desire of change without taking into account the possible consequences," he added.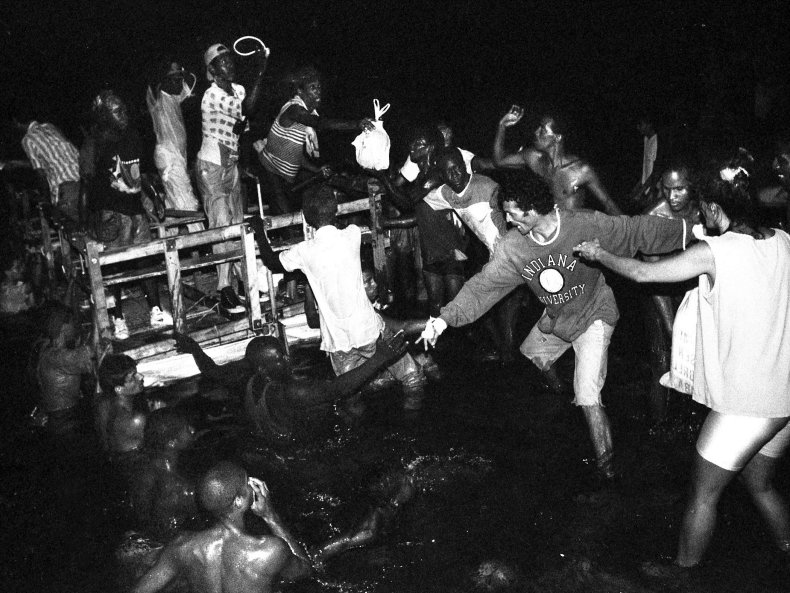 Castellanos, who says film was hard to get—the Soviet Union had collapsed, forcing its ally into a period of economic hardship known in Cuba as the Special Period—was gifted 12 rolls by foreign photographers working in Havana at the time.
Several of the people he has found remember seeing him two decades ago. "It has been very exciting to reunite with these people," said Castellanos, who didn't interact much with his subjects when he photographed them because things were moving so quickly. This time around, he has talked to them at length about their lives since that historic summer, whether it was worth it to leave or attempt to, and their thoughts on Cuba.
Castellanos plans to show his photographs during an exhibit next month at the Centro Cultural Espanol, or Spanish Cultural Center, in Miami, where he lives. Some of the people he has been able to identify in his photographs will be there and there will be cabins for rafters, known as balseros, to leave filmed testimonials as well as a place for them to handwrite the names of those who died at sea.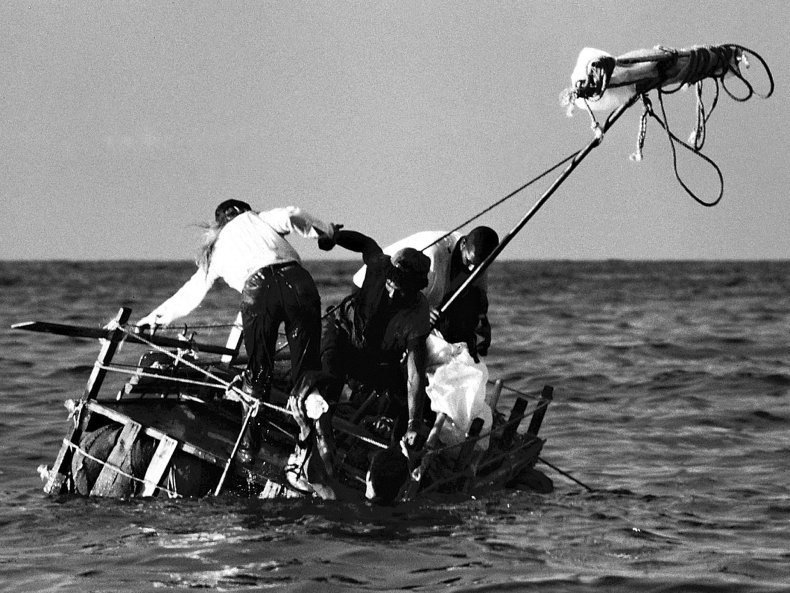 The largest exodus prior to the one captured by Castellanos had been in 1980, when a boatlift brought some 125,000 Cubans to the U.S.
A similar effort to identify people in decade-old photographs was spearheaded by Patrick Witty, whose images of New Yorkers watching the World Trade Center towers collapse on September 11, 2001, became emblematic. In 2012, Witty posted a black-and-white photo on social media. "I've identified 6 people in my 9/11 photos thanks to you all. Anthony, Rodger, Benjamin, Ramzy, Alfredo & Wanda…" tweeted Witty the following year.