Photographer Who Captured Migrant Photos Says Agents Didn't Use Whips on Anyone
A New Mexico photographer who captured images of Haitian migrants evacuating a U.S migrant camp is addressing the controversy surrounding Border Patrol agents using whips on the immigrants while on horseback.
On Friday, Paul Ratje of New Mexico spoke to KTSM and told the outlet that the photos, which were taken on September 19, aren't what they appear to be.
"Some of the Haitian men started running, trying to go around the horses," Ratje said.
Ratje said that he and his colleagues didn't witness Border Patrol agents using whips on any of the migrants.
"I've never seen them whip anyone," Ratje said. "He was swinging it...but it can be misconstrued when you're looking at the picture."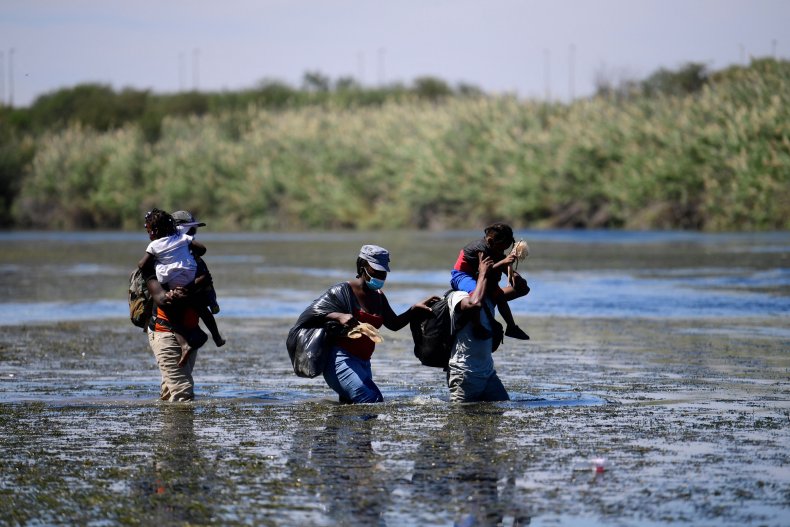 Ratje is a photographer based in Las Cruces. He's been in Del Rio since September 17 and has primarily taken photos on the Mexican side of the U.S. border.
After the photos surfaced online, U.S. officials said they plan to launch a full investigation into what has taken place at the border. On September 20, both Department of Homeland Security Secretary Alejandro Mayorkas and Border Patrol Chief Raul Ortiz stated that they didn't see anything wrong in the footage and photos of the alleged incident on September 17.
The Homeland Security Secretary stated that 600 Homeland Security employees were ordered to go to Del Rio to help remove migrants and refugees from the United States. Mayorkas also mentioned that the U.S. would expedite the process of continuous flights to Haiti and other adjacent countries.
According to Brandon Judd, who serves as President of the National Border Patrol Council, the number of migrants at the bridge is 14,872 as of September 16.
Mayorkas issued a stark warning to any migrants looking to seek asylum from their home base in the U.S.
"If you come to the United States illegally, you will be returned. Your journey will not succeed, and you will be endangering your life and your family's life," said Mayorkas via the Associated Press.
Meanwhile, Ortiz said that the U.S. is on pace to have the migrants removed in an acceptable amount of time.
"We're achieving our goals; we're getting there and getting to a point where we can manage the population here," Ortiz said to the Associated Press. "We are already seeing a quickly diminished [population] and will continue to see that over the coming days."
On Friday, President Joe Biden told reporters that "people will pay" as a result of Border Patrol using horses to block migrants from crossing the Rio Grande River.
"It was horrible, what you saw to see them treat people like they did," Biden told reporters. "Those people will pay, there's an investigation underway now and there will be consequences. ...It's an embarrassment, but it's beyond an embarrassment—it's dangerous, it's wrong, it sends the wrong message around the world and sends the wrong message at home. It's simply not who we are."
The Department of Homeland Security has since banned the use of horses in Del Rio.
As of September 24, Judge Lewis Owens told the Associated Press that the last group of 225 Haitian migrants at the Del Rio, Texas camp will be removed by the end of the day.