The photographer who took a picture of a group of Wisconsin high school students raising their arms in what appeared to be a Nazi salute said they were actually waving goodbye.
The picture showed about 60 students from Baraboo High School at a junior prom event making the gesture.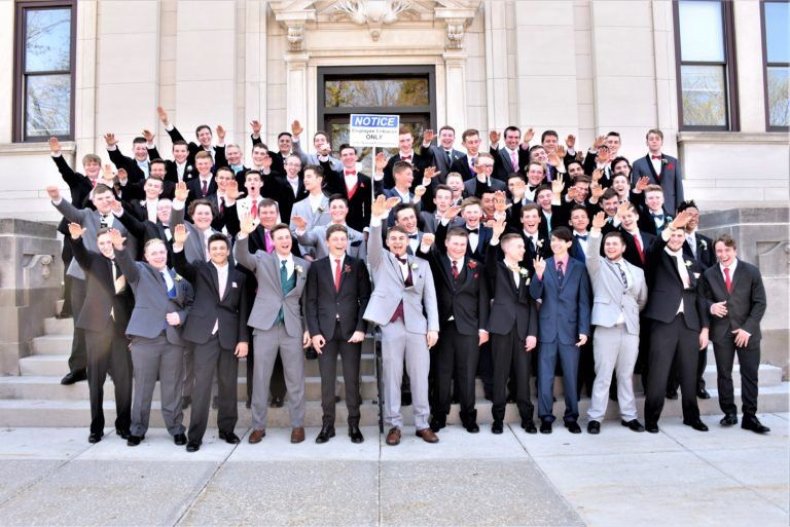 It was posted on Twitter Sunday, and by Monday had gone viral, with the Auschwitz Memorial among those criticizing the school and condemning the students for making the gesture.
The picture was traced to the website of photographer Peter Gust, who took the image and has been accused of telling students to make the gesture. He told local news website Madison 365 the the image was "taken out of context" and is "as innocent as the boys and girls going to the prom."
He said he simply told the boys to "wave goodbye, heading off to prom."
But student Jordan Blue, who was one of the only students in the picture who refused to make the gesture, disputed Gust's claim.
"No he didn't," said Blue, of Gust's claim that he had asked the students to wave. He said Gust had asked them to raise one hand.
"Which doesn't give a bunch of teenagers a lot of guidance on how to raise their hands," Blue said. "I felt upset, unsafe, disappointed and scared. I felt unsafe because I go to school with them. I don't believe in what they represented and the symbol they shared... They knew it was wrong, but they still did it."
Gust also posted a message on his photography website after removing the prom pictures, which read "due [to] malevolent behavior on the part of some in society, this page has been modified. It is too bad that there are those in society who can and do take the time to be jerks; knowingly and willingly to be jerks!… To anyone that was hurt I sincerely apologize."
The school said it was investigating the photograph in a statement Monday.
"The District is investigating at this time to determine who is all in the photo," wrote Baraboo Schools Superintendent Lori Mueller. "The photo is not endorsed by nor reflective of the educational values and beliefs of the School District of Baraboo. The District will pursue any and all available and appropriate actions, including legal, to address."
She wrote in a letter to parents on Monday that the picture was not taken on school grounds or at a school-sponsored event.