Photos: Annual Iditarod Dog-Sled Race Begins With Snow Shipped to Anchorage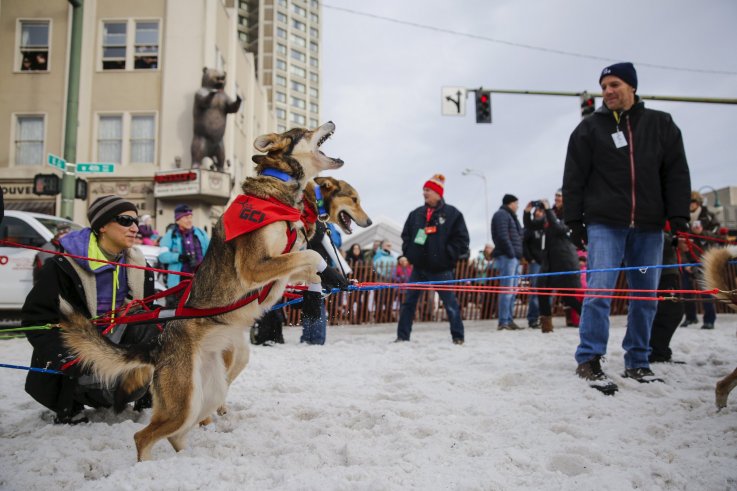 As dozens of teams prepared for the annual Iditarod Trail Sled Dog Race, the Alaska Railroad helped ready the ground for Saturday's ceremonial start in Anchorage by shipping in snow from Fairbanks.
The Anchorage area has gotten less than half the amount of snow it would usually expect since July—27 inches compared to 61—The New York Times reports. The city saw just 6.1 inches of snow this past December and January, compared to the 28-inch average for those two months. Fairbanks saw just 1.9 inches during the same period, making it the least snowy December-January stretch ever recorded, though September and the year up to November had approached records on the other end of the spectrum. Anchorage's average temperature of 29.9 degrees last month made it the fourth warmest February on record.
Alaskan climatologist Brian Brettschneider joked on Twitter Friday about Anchorage's lack of snow, just before the city was coated in a thin layer of it—a total of about 1.7 inches.
But the Iditarod goes on as it has each year since 1973, no matter what the weather. After the ceremonial opening in Anchorage—on a three-mile course instead of the traditional 11-mile one—the mushers and their dogs relocated north to Willow for the Sunday afternoon start. The teams will spend more than a week making their way through a list of checkpoints toward the finish line in Nome, 975 miles from the starting point.
The scarcity of snow is not the only concern that comes with warmer weather, the Times reports. This year's lack of "deep-freeze" conditions of 50 degrees below zero or lower means there might be open water on the route. In addition, higher temperatures can burden the more than 1,000 sled dogs who participate in the race, usually 16 per musher, and cause overheating or dehydration. Veterinarians will look at the dogs at every checkpoint to make sure they're able to continue on to the next.
Warmer weather has impinged on the annual race in past. Last year, for example, the organizers moved the starting point from Willow to Fairbanks. The decision was not unprecedented, with a similar change made in 2003, but it was only the second time the race had ever had to move north for its start.