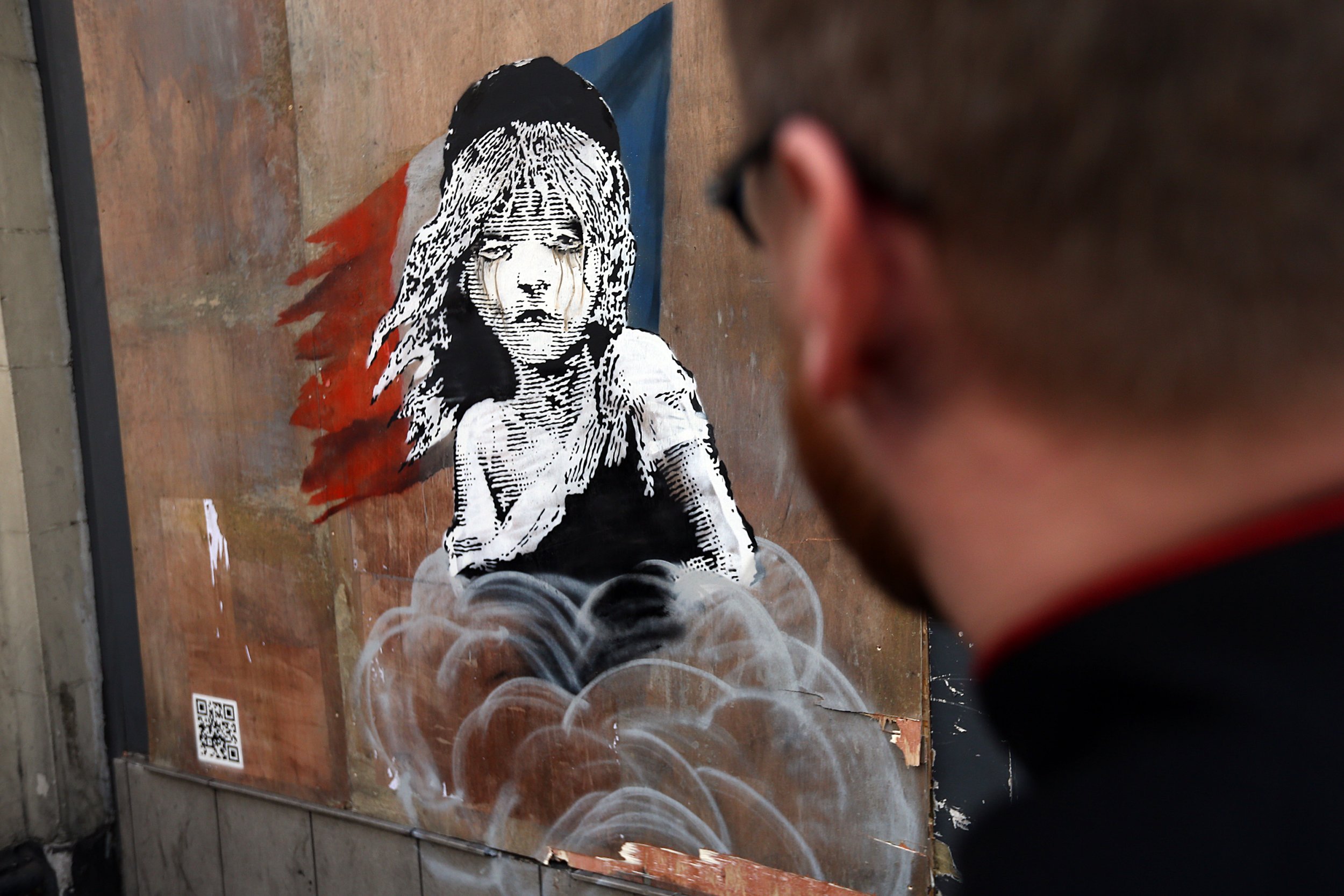 It's been a busy year for British street artist Banksy. The August 2015 opening of Dismaland, a collection of politically driven works in a sinister remake of the Disneyland theme park, was followed in January by a drawing of Steve Jobs carrying a 1980s Apple computer and a traveling sack. The accompanying caption—"The son of a migrant from Syria"—depicted him as a Syrian refugee.
Now the underground guerrilla artist is back with his latest mural depicting the Syrian refugee crisis. The artwork, which appeared overnight on Saturday opposite the French embassy in Knightsbridge, London, shows a young girl from the hugely successful film and musical Les Misérables crying as tear gas engulfs her.
Banksy's latest work is a direct comment on actions taken by authorities in the French port city of Calais to remove refugees from the camp. Since the beginning of January, French authorities have fired tear gas, let off concussion grenades, and shot rubber bullets, mainly at night. In a YouTube video posted on January 6 by charity Calais Migrant Solidarity, which is based in the French port city, refugees are being threatened by all of these tools.
In a first for Banksy, the painting of the young girl also includes a QR code—an interactive code that allows onlookers to view an online video—of a police raid on the Calais camp on January 5.
Some fear that Banksy's latest work will be ruined, after the Steve Jobs artwork was defaced by graffiti and torn down, The Guardian reports. One Twitter user tweeted a photograph of the recent efforts on the Les Misérables piece.
We take a look at Banksy's busy year of politically driven murals.