Photos: A Barrage of Snow in Buffalo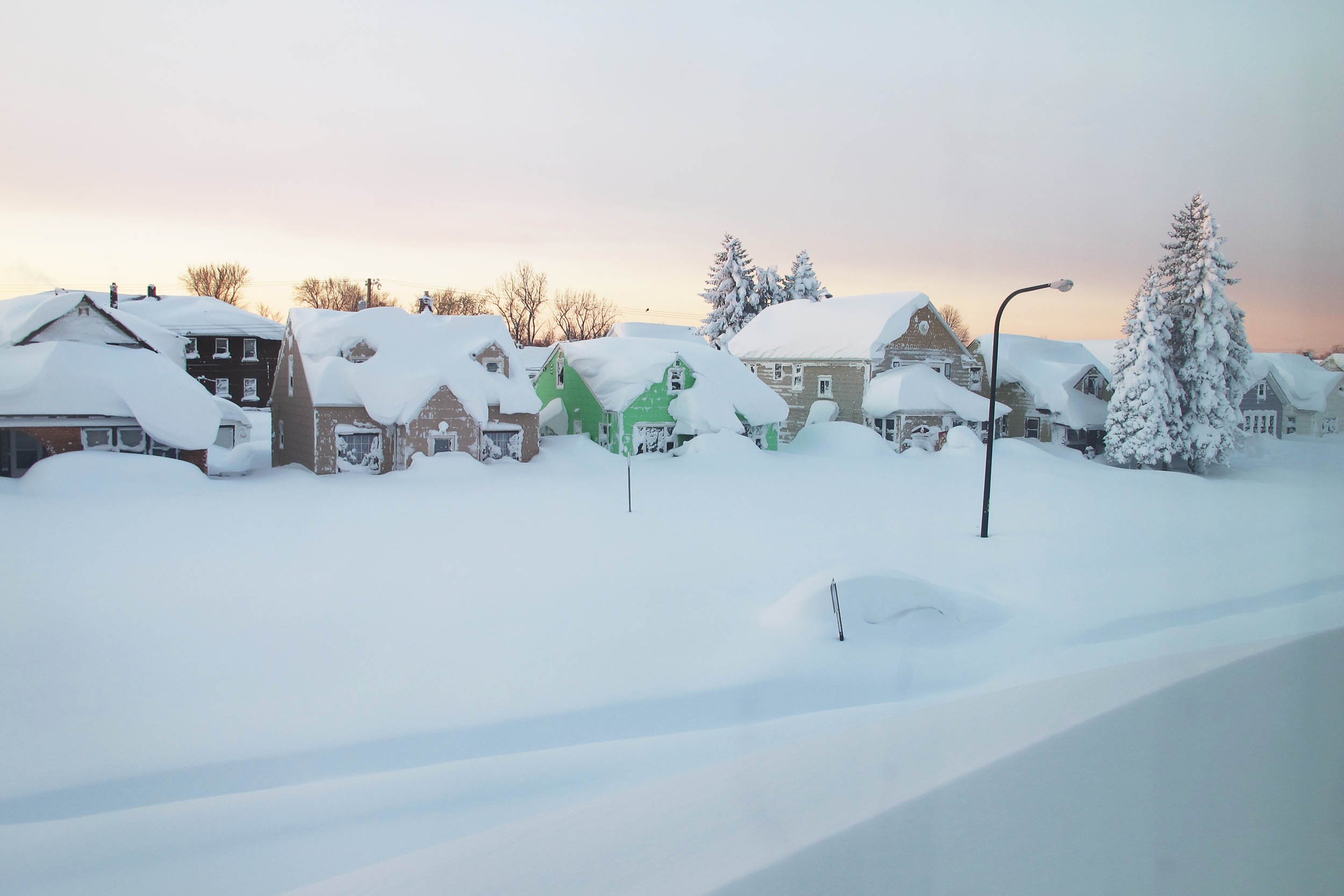 Parts of western New York got buried under a fast-falling snowstorm Tuesday that left some areas with 5 feet of snow in just one day.
"Yesterday's event was pretty dramatic," Bruce Terry, a meteorologist with the National Weather Service, tells Newsweek. "That's an amazing amount of snow."
The storm was caused by cold air moving across Lake Erie from west to east and setting up a snow band in the Buffalo area, Terry says. This type of "lake effect" snow tends to bring heavy snows in isolated areas, he says, which explains why places like Lancaster and Gardenville saw 60 inches, while Buffalo Niagara International Airport—where Governor Andrew Cuomo is scheduled to land Wednesday afternoon to see and address the effects of the storm—received only about 4 inches.
At least five people died as a result of the debilitating snow. Three people suffered from apparent heart attacks while shoveling, a 30-year-old man from Pennsylvania was pinned between two vehicles when he tried to help move a car that was stuck, and a 46-year-old man was found dead in his car, which was buried under a pile of snow.
A long list of roads in the area were still out of commission Wednesday morning, The Buffalo News reports, with more than 100 cars still stuck on I-90. Travel bans were put in place to prohibit driving in Lancaster, West Seneca, South Buffalo, Cheektowaga and Hamburg, according to Cuomo's office. In Erie and Genesee counties, travel advisories told people to avoid unnecessary trips.
Erie County Executive Mark C. Poloncarz declared a state of emergency Tuesday morning in parts of the county that were affected by the storm. Cuomo declared a state of emergency Tuesday in 10 counties—Cattaraugus, Chautauqua, Erie, Franklin, Genesee, Herkimer, Jefferson, Lewis, Oswego and Wyoming—and deployed the National Guard to hard-hit areas.
A low-pressure front is bringing lighter snow during the day Wednesday to a larger swath of the country, including New York, Wisconsin, Illinois and lower Michigan, according to Terry. The lake effect is expected to return Wednesday night and Thursday, but it "won't be nearly of the magnitude we saw on Tuesday," he says.
Tuesday's dramatic weather and its aftermath were captured and shared on social media.
While snow is likely to continue at a more measured rate over the next couple of days, the pre-Thanksgiving storm is expected to come to a close by the weekend.
"It's going to be a dramatic warm-up for the central and eastern U.S.," starting Saturday and into Sunday and Monday, Terry says. "It's going to feel like a different season almost by the time we get to the latter part of weekend."