Photos: Beirut's Streets Are Filled With Garbage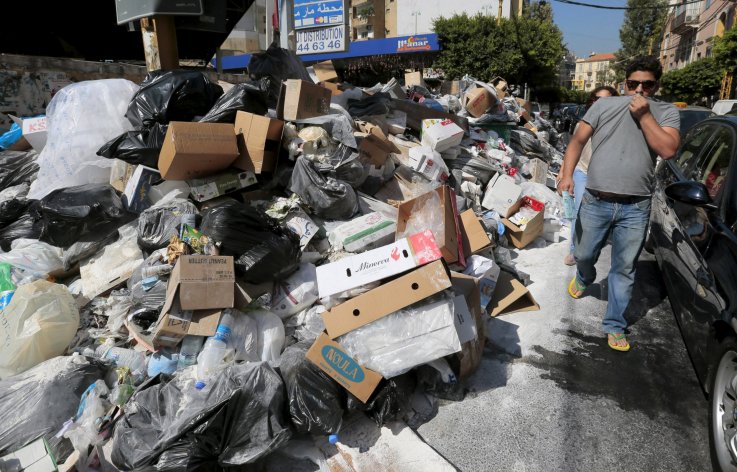 Residents of Beirut are staging protests over the Lebanese government's failure to collect trash for more than a week, setting Dumpsters on fire and complaining of the health impact of the uncollected trash, which has piled up in the city's homes and streets.
The waste collection crisis began when the Naameh landfill, just south of Beirut, closed after becoming full in mid-July. Despite knowing about the impending closure, the government was unable to agree on an alternative to using the landfill, the main dumping ground for Beirut's rubbish. Since its closure, mounds of garbage have piled up on city streets, causing unpleasant smells exacerbated by the summer heat.
An alternative plan to to dump garbage from Beirut at other locations around the country is being met with fierce resistance. On Sunday, the country's main Mediterranean coastal highway was blocked by protestors who disrupted travel between Beirut and the countryside. Lebanon's Daily Star reports that trash pickup by garbage collection company Sukleen resumed in some areas on Sunday after protesters in areas outside Beirut blocked trucks from dropping off rubbish in the vicinity of their homes.
Lebanese Prime Minister Tammam Salam leads a government of national unity that has struggled to reach consensus on issues. Salam threatened to resign last week if governing decisions such as the trash crisis cannot be resolved more quickly. Lebanon, home to 4.2 million people, in addition to more than 1 million Syrian refugees, has also been blamed by its citizens for a general failure to develop the country's services. In addition to government gridlock, the country regularly deals with blackouts and poor Internet service, The Christian Science Monitor reports.