Photos of Breonna Taylor, Ahmaud Arbery Found Hanging From Nooses in Park
Six laminated photos of Black Americans who died after interactions with law enforcement authorities and other Americans were discovered hanging from nooses inside a Milwaukee park on June 20.
The Milwaukee County Sheriff's Office said Monday it was conducting an investigation into the incident and seeking information from the public on who hung the photos from the branches of a tree in Riverside Park.
In a video posted June 20 on Facebook, members of the Original Black Panthers' Milwaukee chapter were seen removing the photos and nooses from the tree.
"Pictures of Black men and women with nooses attached is intolerable and unacceptable," the Original Black Panthers of Milwaukee wrote in the video caption. "Anyone who tries to justify this hateful act is the problem!"
One of the photos was of Breonna Taylor, a 26-year-old woman who was fatally shot by police officers inside her apartment in Louisville, Kentucky, in March. Another was of Ahmaud Arbery, a 25-year-old man who was shot to death by two white men while on an early afternoon run in a Glynn County, Georgia, neighborhood in late February.
Their violent deaths are just two of the many that have inspired the protest movement that began spreading across the U.S. after another Black man, 46-year-old George Floyd, died while in Minneapolis police custody on May 25.
The other four victims of racial violence whose photos were hung on the tree were Eric Garner, Michael Brown, Trayvon Martin and Botham Jean. Garner, Brown and Jean all died within the past six years at the hands of police officers, while Martin was fatally shot in 2012 by a neighborhood watch captain.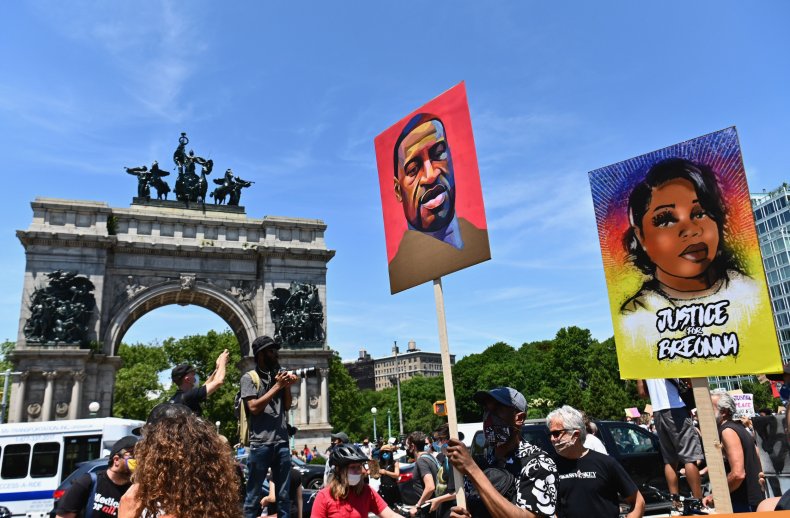 Milwaukee law enforcement officials confirmed their investigation into the incident as protesters continued gathering in cities across the country. While many demonstrators have demanded that statues depicting Confederate soldiers and other controversial historical figures be removed from display in public spaces, other symbols of hate and violence have been reported in increasing numbers throughout the U.S. Earlier this month, a 24-year-old Black man was found hanging from a tree in Palmdale, California, just 10 days after another Black man was found hanging less than 100 miles away.
Noose sightings have also been on the rise as demonstrators call for an end to violence against Black Americans. Earlier this week, NASCAR's only Black driver, Bubba Wallace, said a noose was found inside his garage stall at the Talladega Superspeedway track in Alabama. In Northern California, city leaders in Oakland announced their intention to launch a hate crime investigation after nooses were discovered hanging from trees near Lake Merritt last week.
Faithe Colas, the director of public affairs and community engagement with the Milwaukee County Sheriff's Office, told Newsweek no further details were immediately available regarding the investigation into the noose hangings in Riverside Park.