Photos Circulate of National Guard Members in Riot Gear Sleeping in Capitol
Photos circulated across social media on Tuesday and Wednesday show National Guard members sleeping on the floors of the U.S. Capitol, ahead of the House's debate on an article of impeachment against President Donald Trump.
"Right now [Monday], we have approximately 6,200 National Guard soldiers and airmen from six states and the District of Columbia on the ground in the NCR [National Capitol Region] supporting civilian authorities," Army General Daniel Hokanson, chief of the National Guard Bureau, said in a statement.
"We have received support requests from the Secret Service, Capitol Police, and Park Police, and have been authorized to provide up to 15,000 Guard members to meet current and future inauguration support requirements," he added.
National Guard members from New York, Pennsylvania, New Jersey, Delaware, Virginia and Maryland headed to the nation's capital to stop any potential violence. Many of them, dressed in riot gear, were seen sleeping on the floors of the Capitol.
"I spotted the National Guard sleeping in the hallways of the Capitol as I walked in this morning," Daniella Diaz of CNN wrote in a tweet, showing three pictures of National Guard members.
Erin Schaff, a photographer for The New York Times, posted a picture on Twitter showing them sleeping on the floors below a statue of Abraham Lincoln.
"What a shot by @ErinSchaff of the @NYTimes. Abraham Lincoln looks over National Guard troops sleeping this morning inside the Capitol that now needs their protection from American citizens," Willie Geist of NBC's Sunday Today wrote in response to the photo.
Representative Peter Welch of Vermont shared a similar photo and thanked the National Guard members for "working around the clock to protect the Capitol. Resting where just days ago rioters were attacking police."
Greg Miller of The Washington Post touched on Republican House members' complaining about being required to pass through metal detectors before entering the chamber. He wrote, "While some GOP House members complain about having to walk through metal detectors, National Guard troops spent night sleeping on marble floors of the Capitol."
In a statement issued Wednesday, Command Sergeant Major Joseph Leighton of the Delaware Army Guard's 721st Troop Command said, "I'm very proud of the Soldiers that have come out here and taken on this mission."
He added, "A few days ago they were at their jobs or attending classes, and they got the call that they were needed in D.C. and they stopped everything and left their families to support D.C. and their efforts."
Similarly, Major General Timothy Williams, the adjutant general of Virginia's National Guard, said in a statement, "I am incredibly proud of how quickly and safely our personnel responded, and they have effectively integrated into supporting the civilian law enforcement security plan. We owe a special thanks to our families and employers because we couldn't conduct our mission without their support."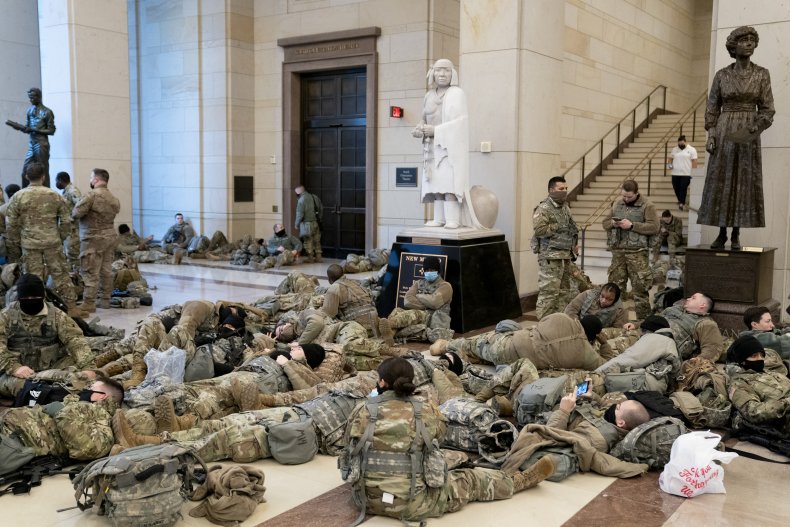 In an email Newsweek, Alfred Puryear, chief of public affairs for the Virginia National Guard, wrote that "areas of the Capitol have been designated as rest areas for National Guard personnel when they are on duty but between shifts, and this is not where they are lodging when they are off duty."
He continued, "Our security personnel work in shifts and rest when they can as others stand watch. Being present is the first step in ensuring the safety of our fellow citizens and our Nation's Capital."
Lieutenant Colonel Barbara Brown, public affairs officer for the New Jersey National Guard, and a D.C. National Guard official reiterated Puryear's comments. They told Newsweek that there is a designated rest area for National Guard members and "this is not where they are lodging when off-duty.
Newsweek reached out to the National Guard in New York, Pennsylvania and Delaware for comment but did not receive a response in time for publication.