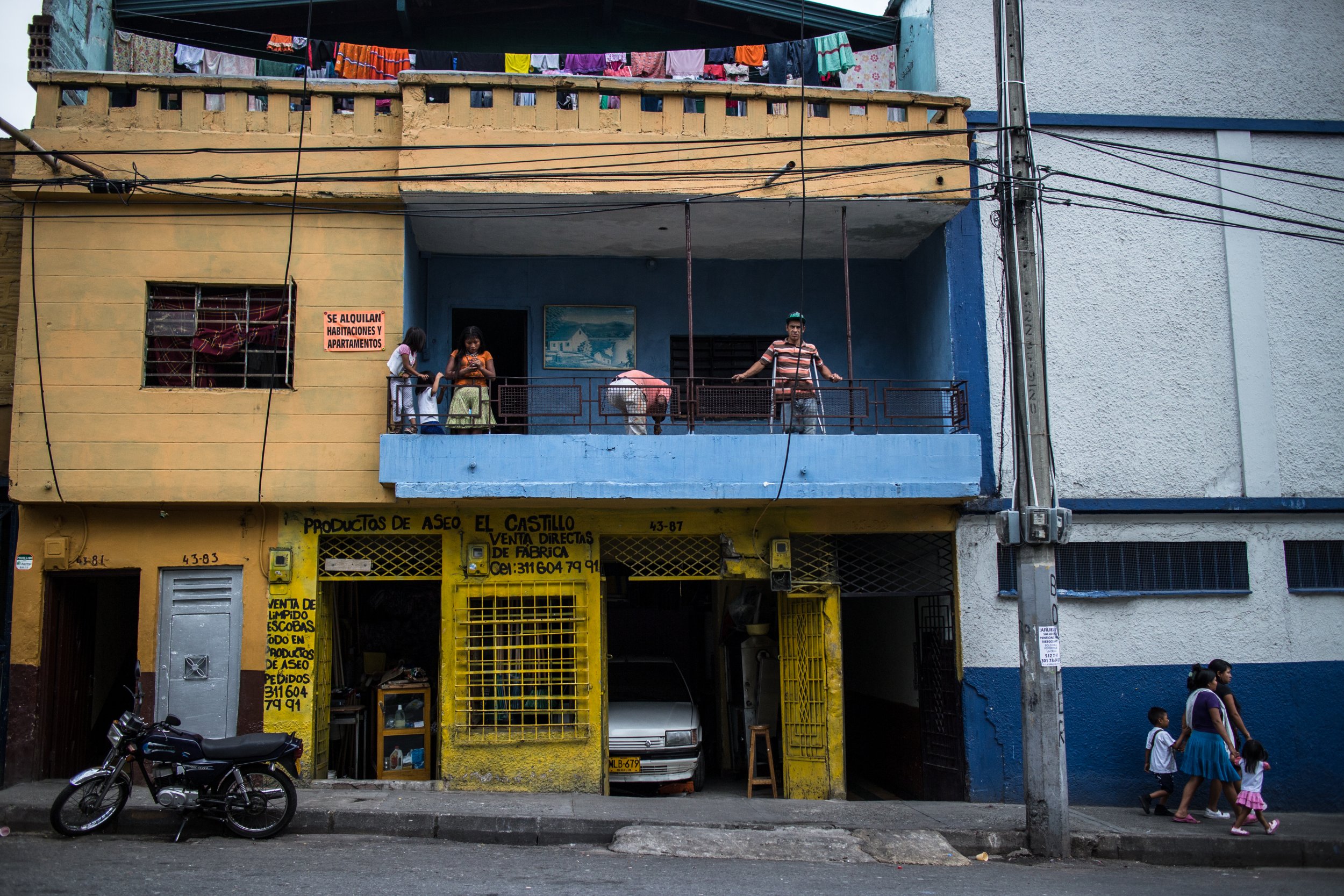 Once synonymous with drug cartels and kidnappings, Medellin is drawing tourists and investors to what is touted as the new, post-conflict Colombia. The New York Times wrote about its architectural renaissance, The Guardian praised the "symbols of defiance and resurgence" sprouting up throughout the city, and The Washington Post dubbed it "one of the safest, most dynamic cities in Latin America."
But just a few blocks from the Plaza Botero, named for the artist Fernando Botero, whose buxom statues adorn the square, it's clear that it will take years, if not decades, for Colombia to move on from the drug-fueled conflict with the Revolutionary Armed Forces of Colombia (FARC) and others that kept people away for so long.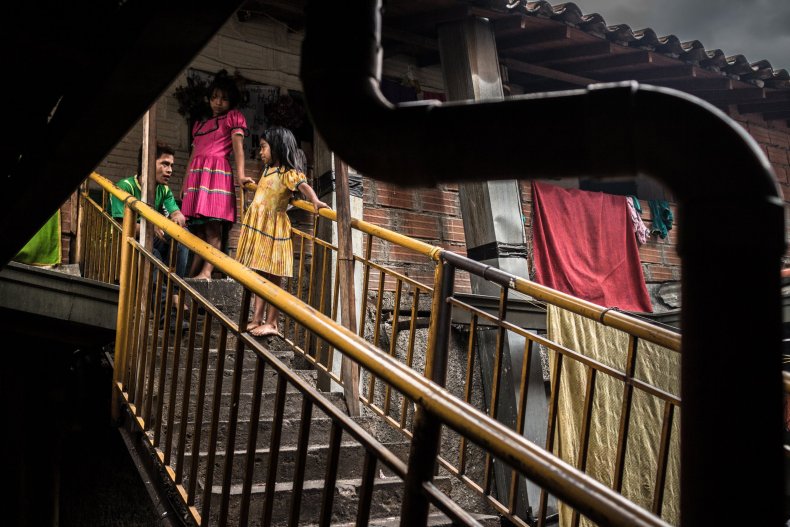 Peace talks are under way, though a ceasefire has proved elusive and sporadic violence continues. The latest round of talks between FARC, Colombia's largest guerrilla group, and the government, have been taking place in Cuba since 2012. Colombia is, after Syria, the country with the highest number of registered internally displaced people as of 2013—5.7 million, according to the United Nations Refugee Agency. Medellin has 362,000 registered IDPs out of a population of 2.5 million.
Many of them live in dilapidated hotels such as Los Andes. Inside, half-dressed children peek from behind doors that are ajar all along its dim hallway and a musty smell infuses the narrow corridor.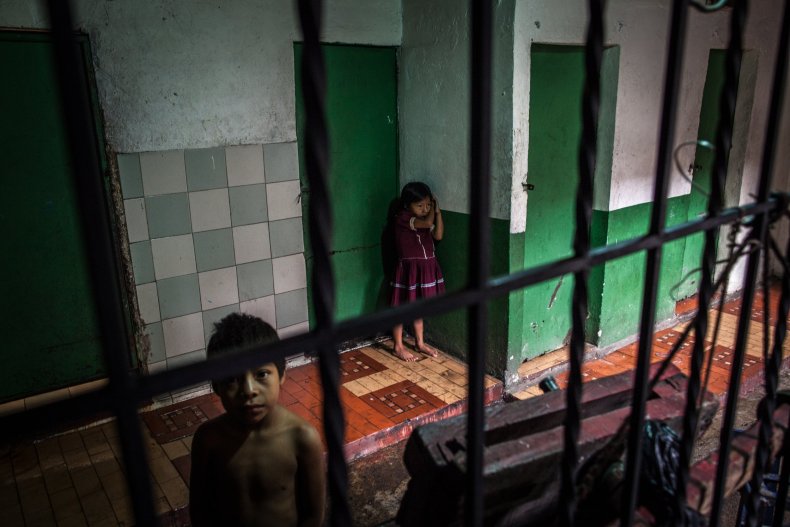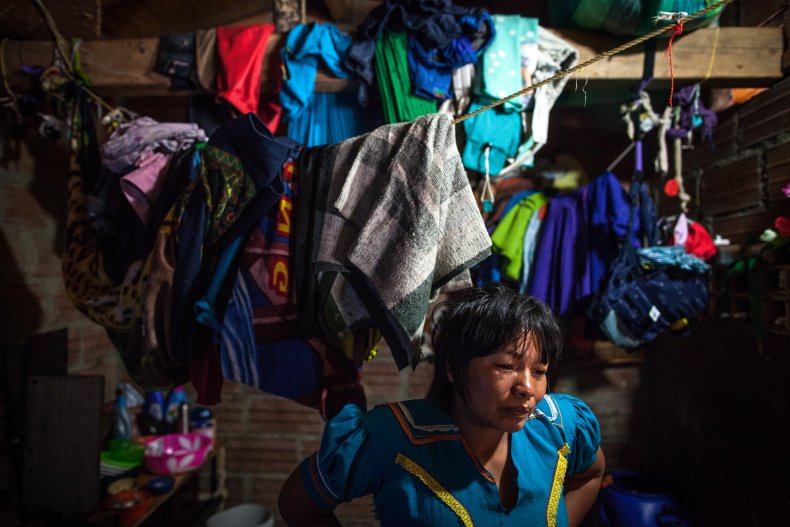 From his perch on a single plastic chair in Room 606—a cluttered, windowless home roughly the size of two standard office cubicles—a man who identifies himself only as Daniel gazes at the dirty dolls strewn on the floor and unwashed dishes on the corner table. His wife, Licia, sits on the only mattress—twin-sized and stained—with two of their six children. Old towels, blankets and small T-shirts hang from several clotheslines, making the low ceiling feel more so.
The family has been living here since guerrilla fighters overran their home in western Colombia sometime in 2010, they say. Their story is repeated by residents throughout the hotel, though some have arrived as recently as one month ago.
Wilson Rodallega, owner of Los Andes, sits in his front office at a desk that holds a knife, a crusty toothbrush and a bootleg porn DVD. He says approximately 200 tenants live here. But families of as many as eight live in each of the 100 rooms, which cost from around $3.70 a day. The bathrooms, laundry and kitchen are communal, the latter consisting of a single long outdoor metal slab.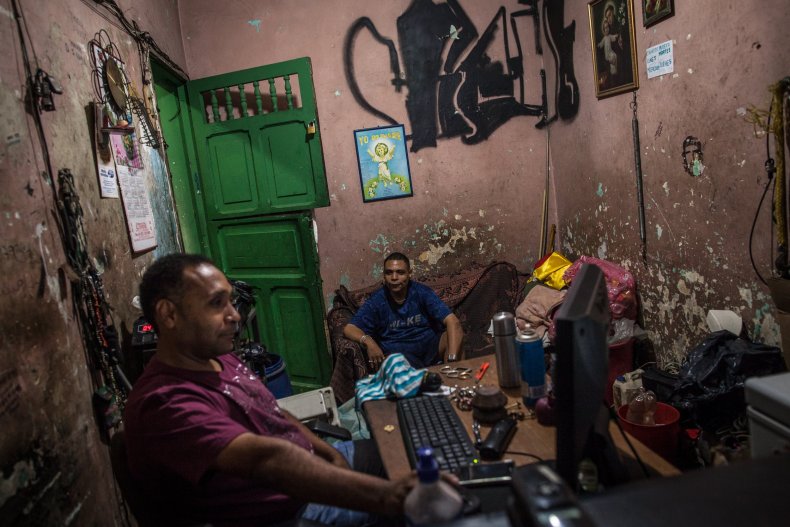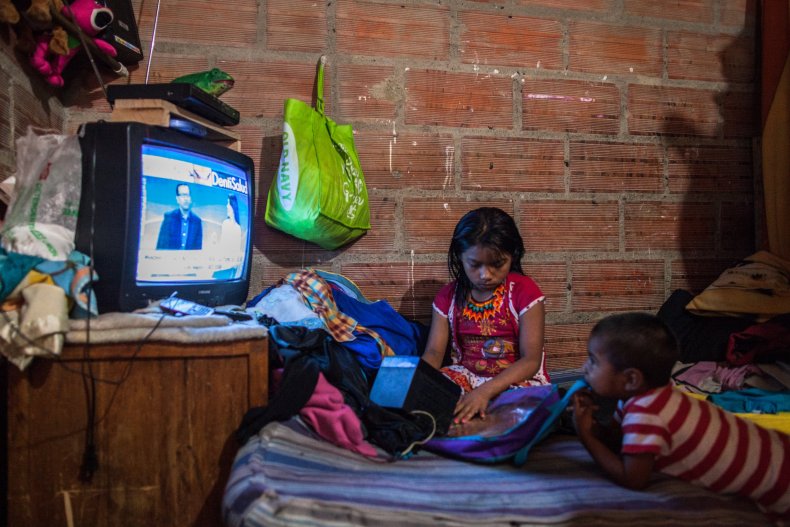 People struggle to communicate with some of their neighbors since each family speaks a slightly different dialect and most speak no more than a few basic words in Spanish. Daniel says he is 25 years old though he looks to be at least 40. His wife doesn't know how old she is, or perhaps she does but does not know the word in Spanish.
More than half a century old, the conflict that pitted the state against guerrilla fighters and paramilitary and drug-trafficking groups continues to buffet Colombia's population, particularly in rural areas.
For years, IDPs were at the center of conflict-related discussions. In 1997, the state passed a law aimed at protecting displaced persons; in 2004, the Colombian Constitutional Court declared that the rights of displaced people were not being protected and urged authorities to rectify the situation; in 2011, President Juan Manuel Santos approved a new Victim's Law, which broadened the definition of the term to include victims of sexual abuse, kidnapping and homicide. How to compensate the victims, including IDPs, is a key issue in the peace talks.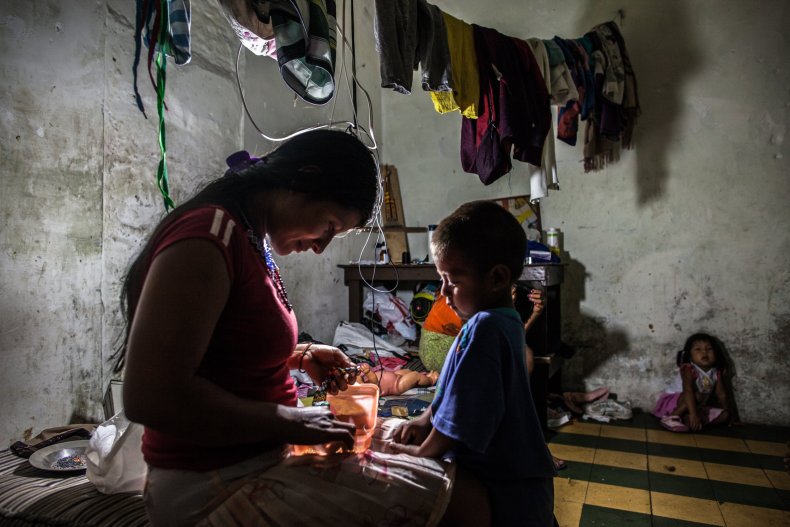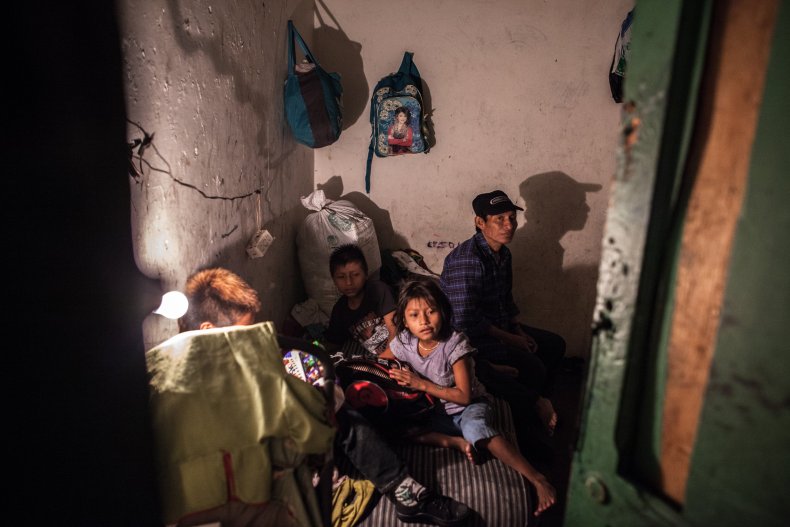 Back in Medellin, many of the displaced survive by begging for money or selling traditional indigenous jewelry in the busy downtown area. They face discrimination from neighbors, many of whom view them as criminals.
Up the hill from Los Andes and past a man selling drugs on a rickety cart, inside Residencia Mazo, Talira, a 35-year-old who fled her town with her husband and four children, breast-feeds her baby through a makeshift opening in her blue traditional dress. In broken Spanish pierced by quiet cries, she speaks of her murdered brother. She is barefoot.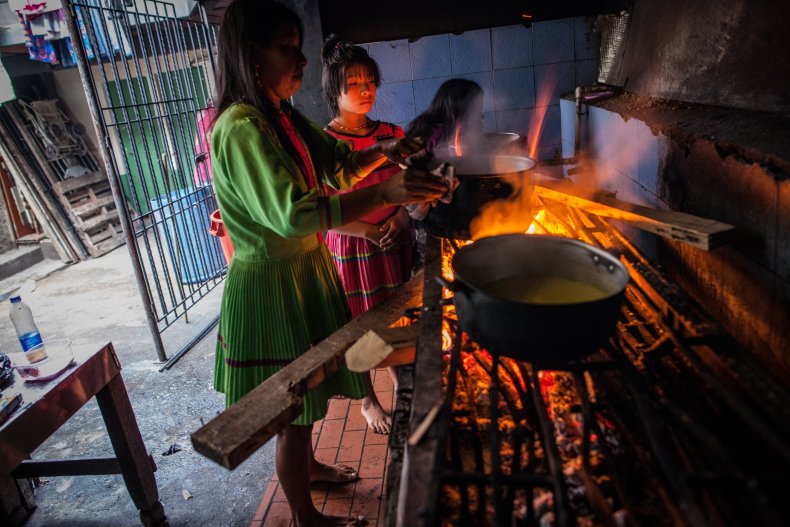 Across the hallway, in Room 2, three women sit in the corner, watching their children make beaded necklaces on the mattress. Maria, the eldest, says she arrived here two weeks earlier from Bogota, where she had fled six years ago. "A lot of guerrilla," said Maria of why she left her community. She said she wanted to return home but was afraid she might be killed.
A sheet covers the room's single window overlooking the dim hallway, in a futile attempt at privacy. A large sack takes up one corner of the small room and a pile of clothes dominates the other. A single light bulb hangs from a clothesline creating a halo around a toddler girl crying near a small table holding the family's pots and pans.
Soon, the women herd their children down the stairs and begin walking toward the city center to sell their crafts: Bracelets can sell for up to $5, necklaces for between $13 and $30.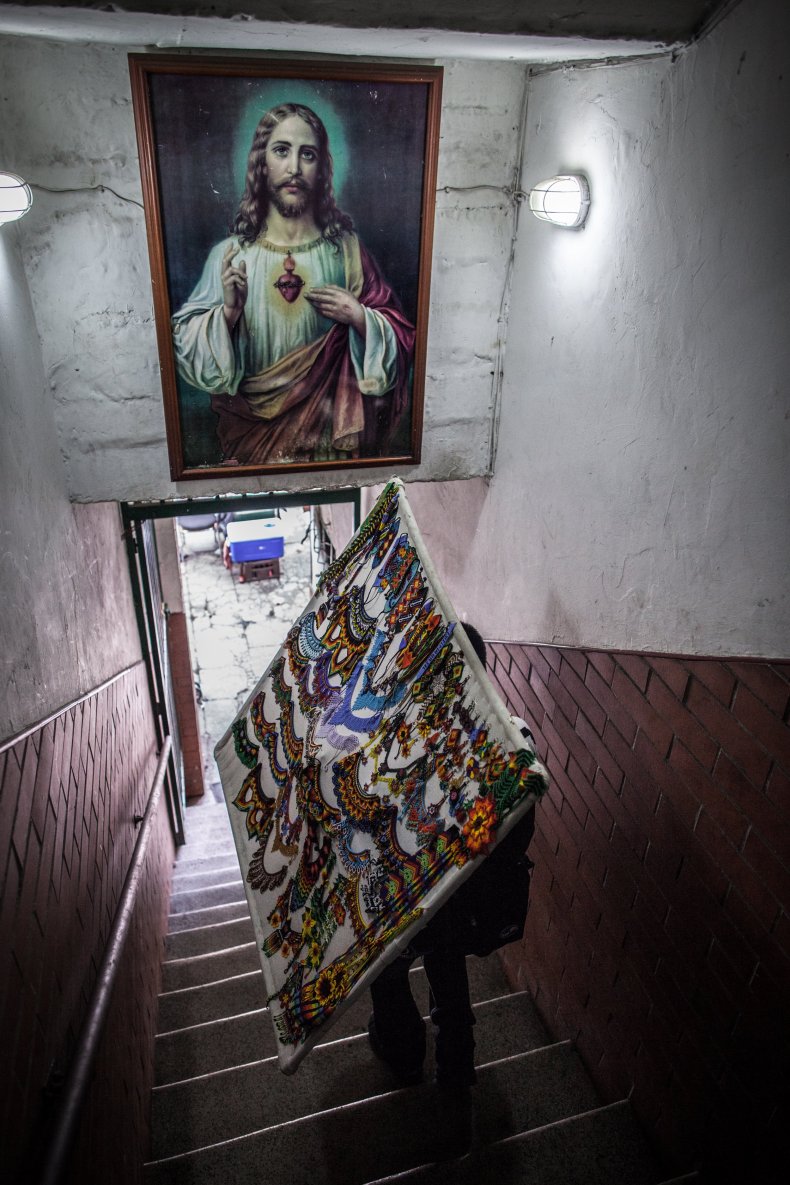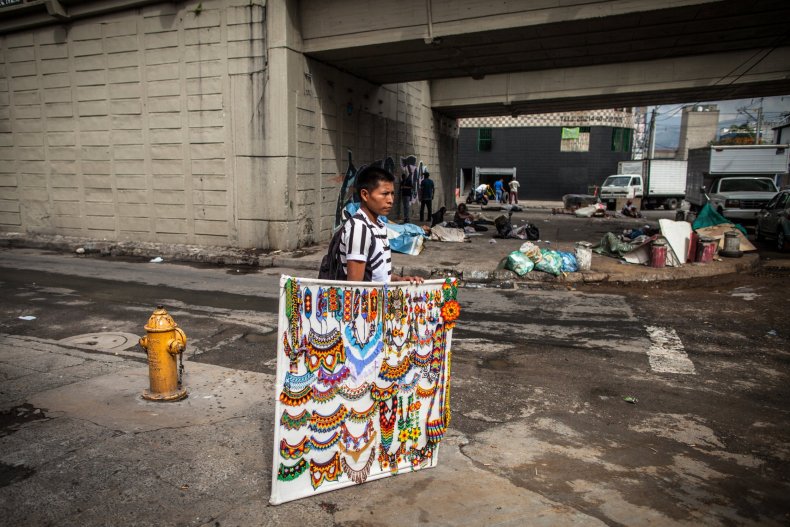 During a recent afternoon, Luz Dary sat on the steps of the Permanent Human Rights Legal Office in Medellin, awaiting her turn to give testimony in order to become registered as an IDP and receive certain benefits from the state, including about $400 in cash every four months. People who were displaced before 2011, when the Victim's Law was passed, will have until June 2015 to register as IDPs; those who were displaced after 2011 have two years from the moment they fled their homes to give their testimony and make their way into the database.
Dary said she had fled her home a month earlier, after a group of paramilitaries threatened to kill residents. She left behind two hectares of bananas and yucca and about 25 animals, she says.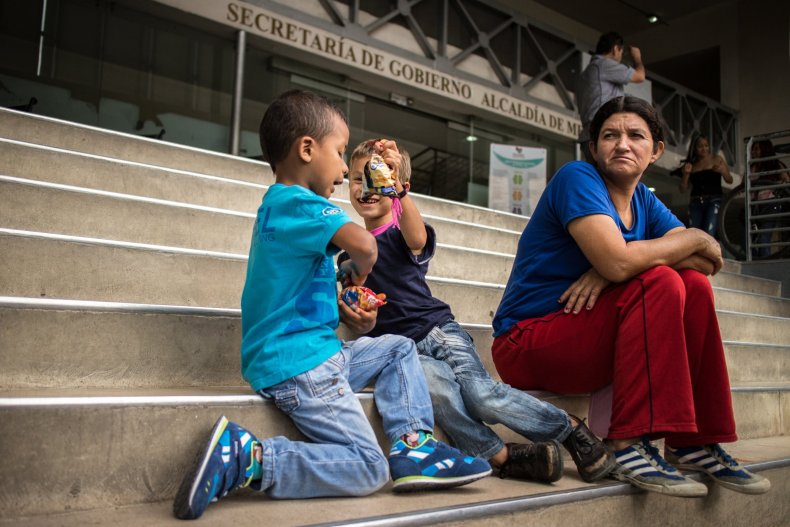 Inside the government office, Luisa Fernanda Ruiz, an administrative assistant, clears her Hello Kitty makeup case from her desk and opens the appropriate computer file. She waves in another 30-year-old woman who is seeking to register as an IDP. Office staff requested that the woman's name be kept confidential.
The questions, initially, are of a general nature—Where in Medellin are you living? Do you have children?—but when the woman revealed that she fled from her town after her partner was murdered, they quickly became pointed.
"Had he received threats before getting killed?" asks Ruiz.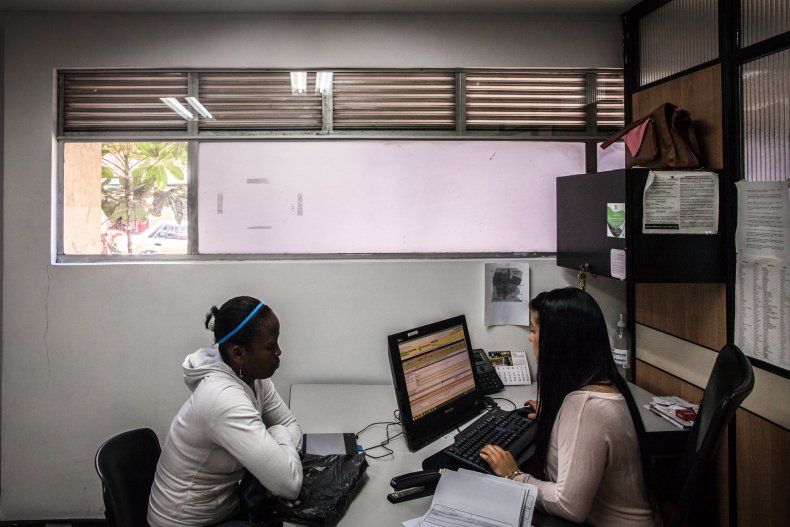 "No, but there are always many paramilitaries there," says the woman, who was dressed casually in jeans, sneakers and a blue headband and carried a yellow envelope filled with documents.
"Do you have their names? Is your community in fear? Who called you to say your partner was killed? When did you leave your community?"
The woman reveals that she waited a year to leave her town after the incident. As Ruiz types the answers, another member of staff looks up from her desk and says that too much time had passed between the woman's partner's murder and her displacement.
"It's because I was in the middle of psychological treatment," says the woman quietly. There was no immediate ruling on her petition.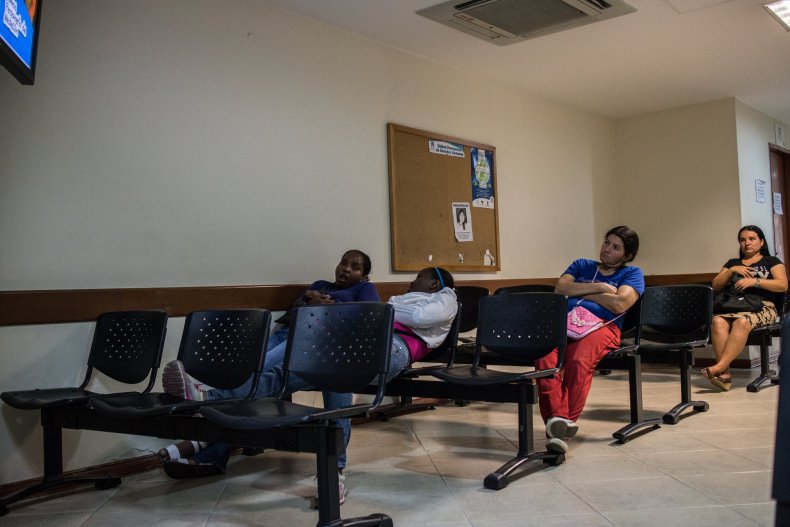 Paula Gaviria, director of the government department that handles reparations to victims, says more than 400,000 IDPs have been granted aid since the unit was founded in 2012. The Victims' Unit has a $29.3 million budget which will expire by 2021. Funding comes largely from state coffers, as well as from the Victims' Reparation Fund, which includes goods handed over from former fighters and donations.
"Colombia is not a millionaire state," says Gaviria from her office in Bogota, overlooking the mountain range which borders the city to the east. "The drama is that you have too many victims and you have a gradual application of resources," she adds. In any case, even as her team helps IDPs return safely to their homes or establish dignified ones in other places, the list of IDPs grows by the day, says Gaviria.