Democratic Convention Photos: Hillary Clinton Becomes First Woman to Lead a Major Presidential Ticket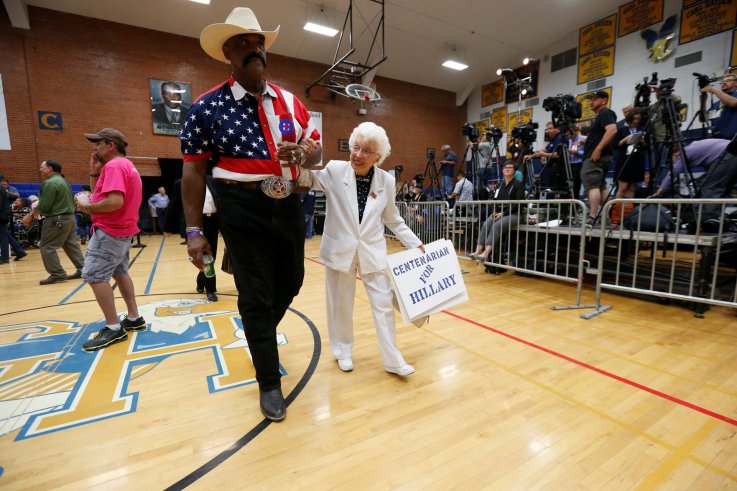 It's official—Hillary Clinton became the first woman in U.S. history to win a major party nomination at the Democratic National Convention on Tuesday night. The former first lady, senator and secretary of state was confirmed as the Democratic Party's nominee for president of the United States in a roll call vote. While more than 1,800 delegates cast their votes for Senator Bernie Sanders, the final delegate tally was 2,838 for Clinton, 1,843 Sanders and 55 abstentions.
Despite a few jeers and chants from Sanders supporters, the mood at the Wells Fargo Center in Philadelphia was uplifting as Clinton made history. The raucous crowd of Berners had simmered down since the previous day's protests with help from their fearless leader, who moved to end the vote early after receiving an emotional tribute from his brother. Larry Sanders cast the Democrats Abroad delegation's votes in favor of his brother Bernie, speaking about their parents, who "did not have easy lives and died young." "...They loved the New Deal of Franklin Roosevelt and would be especially proud that Bernard is renewing that vision. It is with enormous pride that I cast my vote for Bernie Sanders," he said.
But it was a 102-year-old delegate from Arizona who stole the show during the roll call. Jerry Emmett also made history last night when she gleefully cast Arizona's votes for Clinton. When she was born, women did not even have the right to vote.
Later in the evening, Bill Clinton was the featured speaker for the night. His love letter to his wife shed a humanizing light on the potential president, and was just what the skeptical audience needed. "I married my best friend," he said, and spoke about her propensity to effect change. "She's the best darn change-maker I've met in my entire life," he added. Read the full transcript of his speech here.
The night ended with two uplifting videos—one in which Hillary Clinton addressed the audience after an animated pane of glass was shattered: "I can't believe we just put the biggest crack in that glass ceiling yet," she said. Then, actress/director Elizabeth Banks, who had been emceeing the events of the night, shared a special, a cappella video gift she had produced for Clinton with many of her friends.
President Barack Obama and Vice President Joe Biden are the featured speakers for Wednesday night. We've got you covered here at Newsweek.