Photos of Devastation in Japan After Floods and Landslides Triggered by 'historic' Rain Killed at Least 112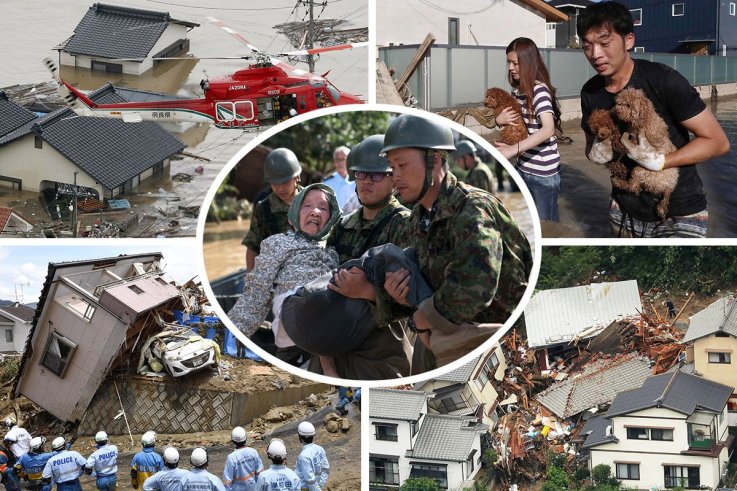 Rescuers in Japan are digging through mud and rubble, racing to find survivors after torrential rain unleashed floods and landslides that killed at least 112 people. Around 78 more are still missing.
Some 54,000 rescuers from the military, police and fire departments were dispatched across a wide swath of western and southwestern Japan. Photos of the massive rescue operation show emergency services and military personnel using helicopters and boats to save people from flooded homes and buildings, including a hospital.
Aerial photos of an area of Hiroshima hit by flash flooding and landslides show homes that have been tossed upside down, and others that have been reduced to shattered piles of lumber and roof tiles.
The city of Kurashiki, with a population of just under 500,000, was among the hardest hit by rains that pounded many parts of western Japan, with the death toll exceeding the 77 killed in heavy rains and landslides in 2014 and the highest since a typhoon killed 98 people in 2004.
Rain tapered off across the western region on Monday to reveal blue skies and a scorching sun that pushed temperatures well above 30 C (86 F), fueling fears of heat-stroke in areas cut off from power or water.
Prime Minister Shinzo Abe canceled an overseas trip to deal with Japan's worst flood disaster since 1983, with several million people forced from their homes.
Though the persistent rain has ended, officials warned of sudden showers and thunderstorms as well as of more landslides on steep mountainsides saturated over the weekend.
The rain appeared to have been touched off by warm, humid air flowing up from the Pacific Ocean and intensifying the activity of a seasonal rain front. Remnants of a now-dissipated typhoon that brushed Japan this week also contributed, officials said.
The Japan Meteorological Agency (JMA) had issued its strongest possible warning, referring to "historic" rainfall. Japan monitors weather conditions and issues warnings early, but its dense population means every bit of usable land is built on in the mostly mountainous country, leaving it prone to disasters.
—Reuters contributed to this report.