Photos: German Anti-Islamisation Rally Draws Thousands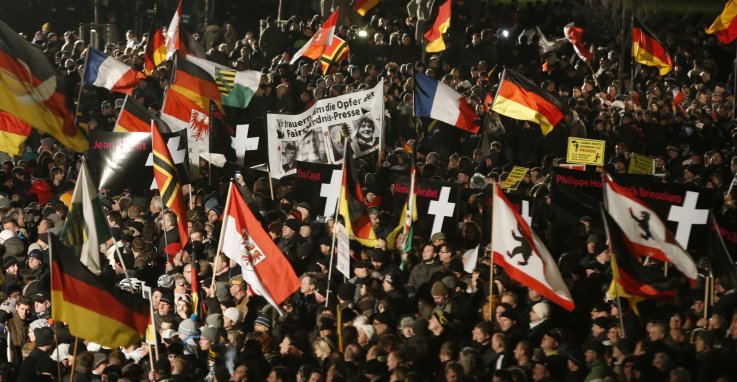 An anti-Islamisation rally in Germany drew a record 25,000 people to the streets of Dresden on Monday night, five days after deadly terrorist attacks in Paris resulted in 20 people dead, including three gunmen.
The rally in Dresden was organized by anti-immigration group Patriotische Europaer Gegen die Islamisierung des Abendlandes (Patriotic Europeans Against the Islamisation of the West, or PEGIDA).
A week ago, 18,000 people attended a similar march in the east German city, the BBC reports. Since October, PEGIDA has held weekly protests that have gradually grown in size; the first one, held on October 20, drew 350 people, CNN reports.
Marchers held signs declaring "Je Suis Charlie," a slogan that became a rallying cry for peaceful demonstrators showing their solidarity with the victims of last week's attack in Paris.
Gunmen claiming to be affiliated with terrorist group Al-Qaeda killed 10 staff members and two police officers at the headquarters of Charlie Hebdo, a satirical magazine, in Paris Wednesday. After an extensive manhunt, the suspected gunmen, who were brothers, were killed by police in a standoff Friday. On Thursday, one gunman killed a policewoman and a day later joined a second gunmen in a holdup at a kosher supermarket, where they killed four hostages. French police stormed the building, killing one of the attackers. The other, a woman, is still at-large.
The PEGIDA marchers were described by Reuters as "mostly men over 50." Marches were also held Monday night in Dusseldorf and Berlin by local factions of PEGIDA.
Despite being told by police to stay away from the rallies, anti-PEGIDA protesters came out in force across Germany, holding signs reading "Never Again" and "Refugees Welcome." Around 30,000 people marched against PEGIDA in Leipzig, 20,000 in Munich, 19,000 in Hanover and 7,000 in Dresden, the BBC estimated.
German Chancellor Angela Merkel said she would join a march in Berlin on Tuesday organized by Muslim groups to remember the victims of the Paris attacks. "Islam belongs in Germany," Merkel said on Monday after meeting with Turkish Prime Minister Ahmet Davutoglu on Monday. "I am the chancellor of all Germans, this includes those who live here permanently, regardless of their origin or where they were born." She has said the PEGIDA marchers have "hatred in their hearts."
PEGIDA was founded in October 2014 by activist Lutz Bachmann, a former cook who has owned a small advertising agency since the early 1990s. His demands for the German government include barring reentry for Islamists who leave Germany to fight in the Middle East and forced integration of immigrants into German society. The group's co-founder, Kathrin Oertel, told Reuters that PEGIDA is getting "more support each week."