Heartbreaking Photos of Grieving Koala on Kangaroo Island Highlights Devastation Caused by Australian Bushfires
Photos have emerged of an injured koala sitting, head bowed, next to a dead koala—apparently in mourning.
The images were taken on Kangaroo Island in South Australia, a short ferry ride from Adelaide, where extensive rescue efforts are underway to save surviving wildlife in an area wrecked by the Australian bushfires.
In the series of photos, taken on Wednesday, Humane Society International (HSI) crisis response specialist Kelly Donithan is pictured approaching the koala and scooping it up in a towel.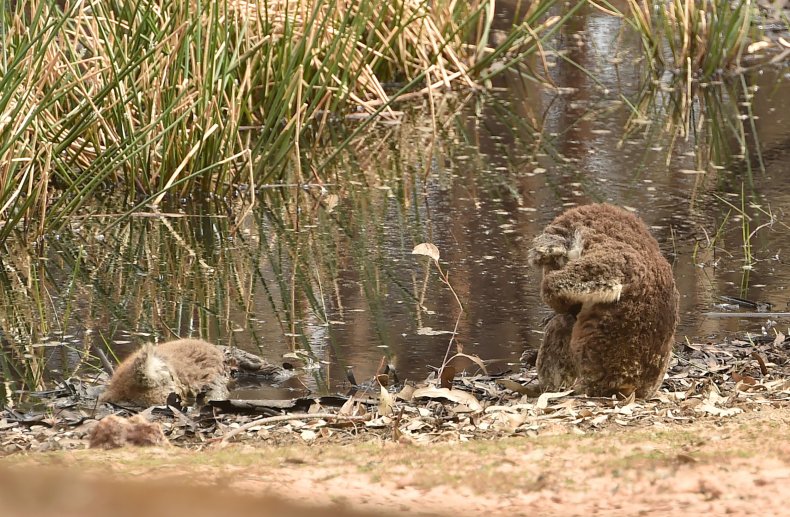 "Each one we get in is one that at least has a chance of survival," said Donithan in a HSI video, adding the animals on Kangaroo Island have no chance of survival if left on their own.
According to scientists writing for The Conversation, most animals either died in the flames or, if they survived the fire by fleeing or by hiding out underground, from a lack of food and shelter. Others may fall prey to predators such as feral cats that are introduced after the event, Professor Chris Dickman from the School of Life and Environmental Sciences at the University of Sydney, told NPR.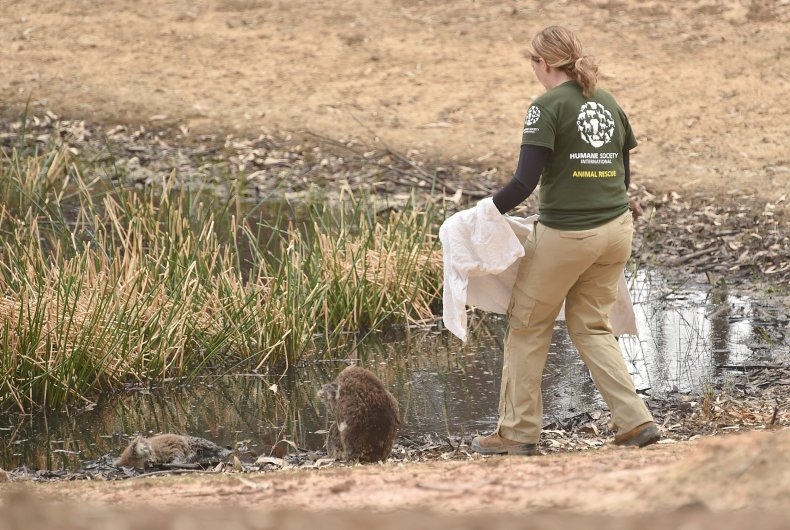 "These are some of the toughest scenes I've ever witnessed as an animal rescuer: the bodies of charred animals as far as the eye can see," Donithan said in a statement. "But as we set out each day on search and rescue, we're still finding animals alive, injured, dazed or traumatised, and it's such a relief to be able to give them immediate life-saving assistance."
"Amidst all this death, every time we find an animal alive it feels like a miracle," said Donithan.
Kangaroo Island, frequently dubbed "Australia's Galapagos," is home to a diverse range of species, including the tammar wallaby, short-beaked echidna and the Kangaroo Island kangaroo. It's a unique environment with many animals native to the island, like the glossy black cockatoo and southern brown bandicoot.
Organizations like HSI have erected food and water stations to attend to animals that have survived the fire, while building rehabilitation centers with money raised through donations to support wildlife carers for the "long haul," said Evan Quartermain, HSI Australia's head of programs.
"It is extremely emotional. I can barely describe it," Quartermain said in a statement. "In some places you can't walk 10 metres without coming across another carcass."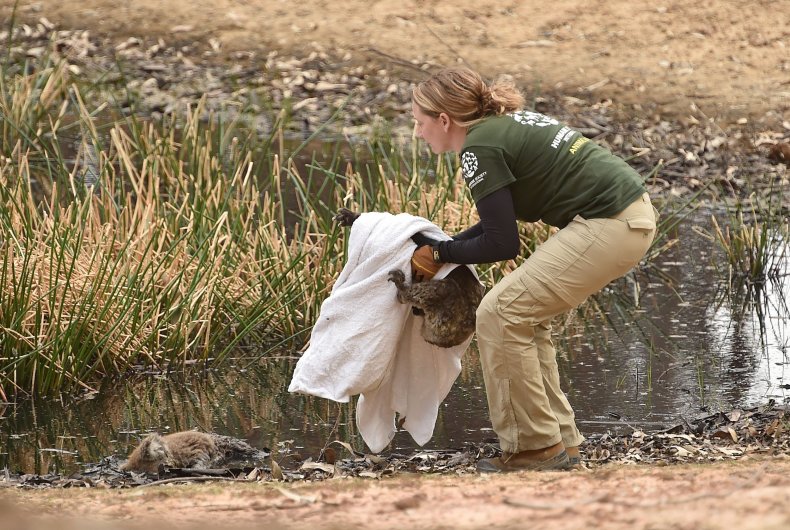 Experts believe one billion animals have been killed in the fires since the season started, with 800 million deaths in the state of New South Wales alone.
In The Conversation piece, scientists say 20 to 100 species that are already under threat are vulnerable to extinction after the bulk of their habitat was destroyed in the fires—including the long-footed potoroo, a mouse-like marsupial, and the glossy black cockatoo in Kangaroo Island. If insects are considered, that number could be far higher—700, by some estimates.
The scale of this year's fire season was predicted more than a decade ago. A report published by Professor Ross Garnaut, a professor of economics at the University of Australia, in 2008 contained projections fire seasons would start earlier, end later and be more intense—changes that "should be directly observable by 2020."
"What we're seeing are the effects of climate change. Sometimes, it's said that Australia is the canary in the coal mine with the effects of climate change being seen here most severely and earliest," Dickman told NPR. "We're probably looking at what climate change may look like for other parts of the world in the first stages in Australia at the moment."