Photos: Hundreds of Columbia Students Carry Mattresses in Sexual Assault Protest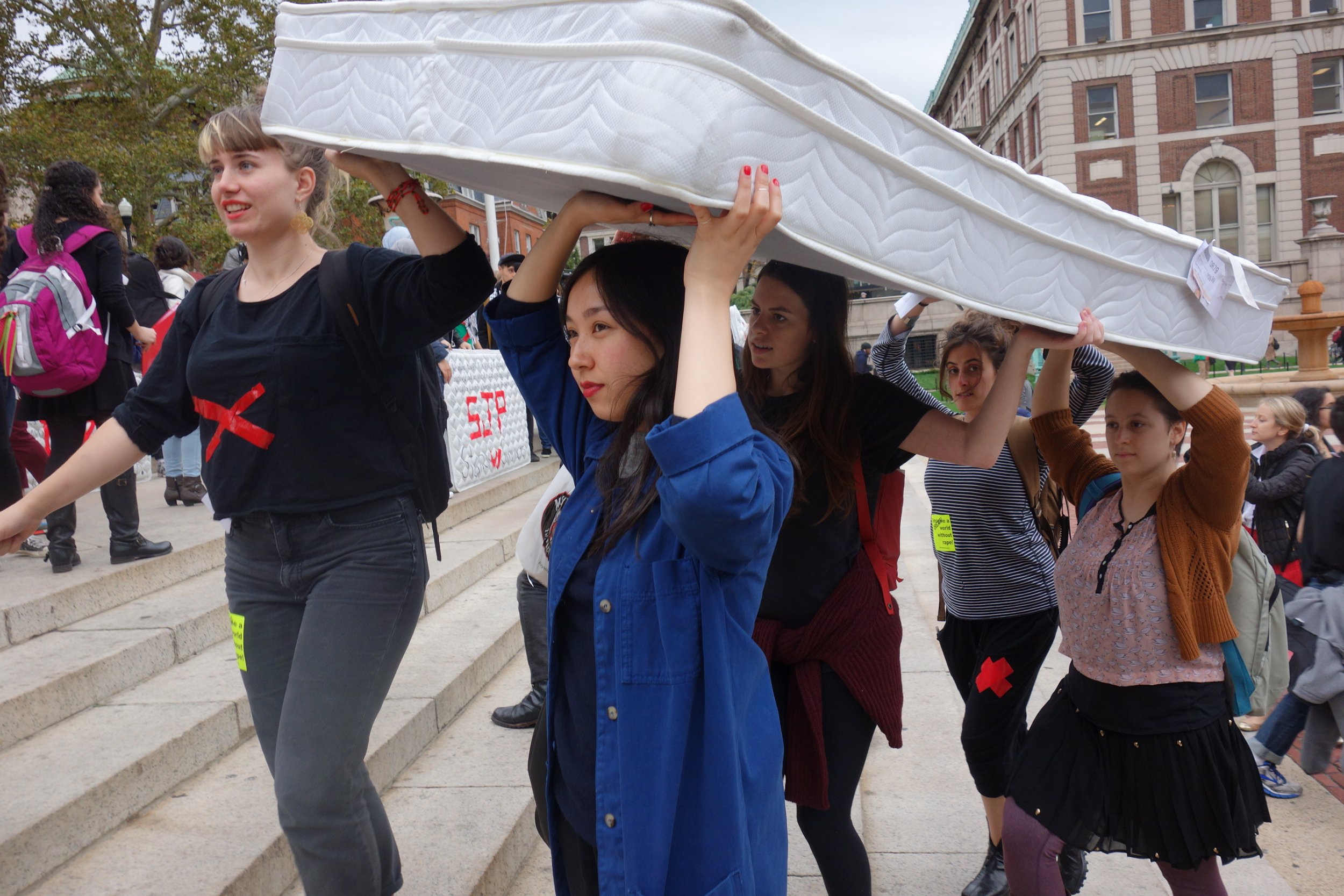 To a casual observer, the scene at Columbia University's Morningside Heights campus Wednesday afternoon would have been baffling: dozens if not hundreds of students, lugging decorated mattresses across 116th Street and shouting slogans as if they were particularly enthusiastic extras in a Sleepy's commercial.
But the students were chanting anti-rape slogans, not advertisements, and in the campus movement against sexual assault, the mattress has become an emblem of resistance, not slumber. That began in September, when senior Emma Sulkowicz pledged to carry her mattress around campus until her rapist is expelled, and in this latest action, 27 other mattresses joined hers in protest—one to represent each of the 28 students who have to date filed a federal complaint against the university, which is alleged to have mishandled assault cases.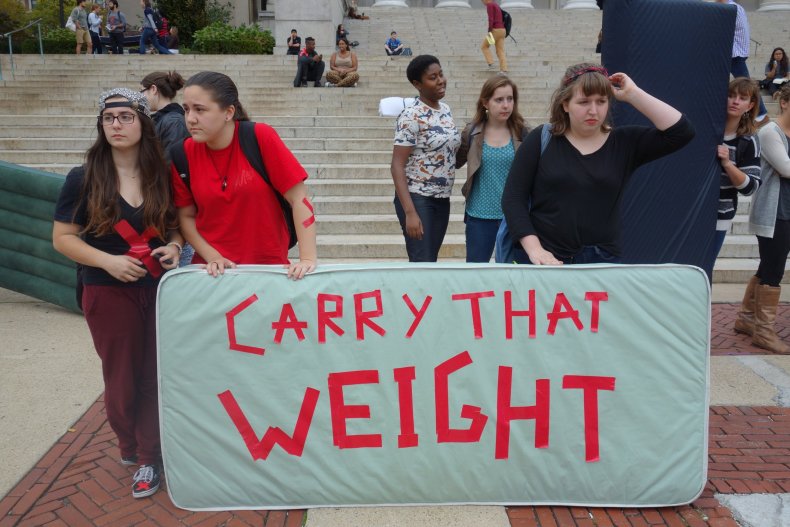 But the movement has spread well outside the boundaries of Columbia's uptown campus: students at a reported 130 campuses around the country (and outside of it, in some instances) carried mattresses or pillows in solidarity, as part of a national network that's been coined #CarryThatWeight.
The Columbia protest—likely the biggest—was largely engineered by No Red Tape, an anti-rape campus group whose media-savvy members wore red X's and stickers urging passersby to "Imagine a world without rape," with the word "Imagine" crossed out and replaced with "Create."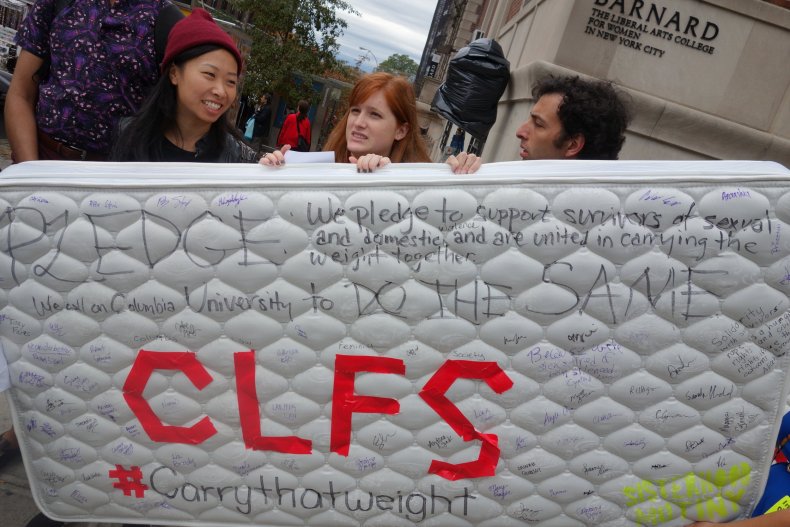 As they marched and put finishing touches on their mattresses, which bore slogans like "NO MORE" and "CARRY THAT WEIGHT," students spoke bitterly of the university's response to demands, which include comprehensive prevention education and a removal of all deans from decision-making roles in the assault disciplinary process.
"The administration isn't really paying attention to what's important," said Rowan Hepps Keeney, a first-year Barnard student who carried a mattress reading "QUEER ARMY" in support of queer students. "They're dancing around the issue, saying it's not really Columbia's problem but society in general's. Though they're the people who are not expelling the rapists." A fellow freshman, Zack Barone, and several others shared the queer-themed mattress. "As a trans man, I feel sometimes that … I need to be involved in the male part of it," Barone told Newsweek. "The entire reason that assault happens is because of the attacker, not the victim."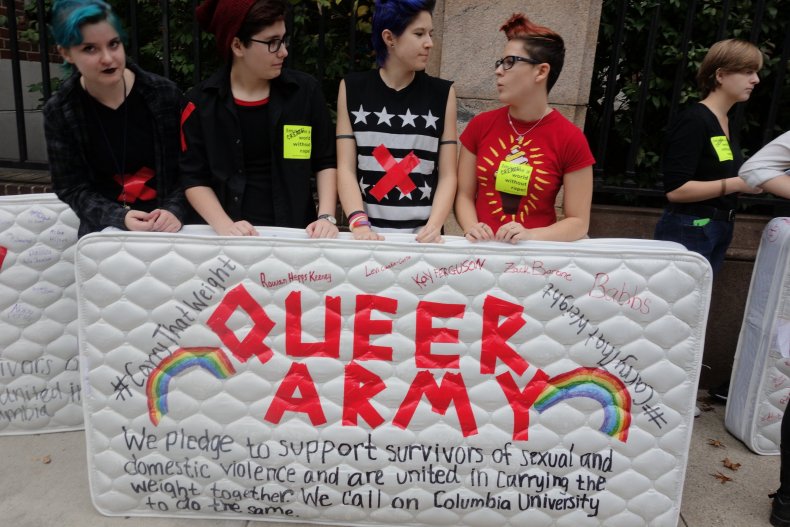 And these attackers, students claim, are not being held accountable. Elizabeth Wrigley-Field, a post-doctoral student, shared a story about a male student who admitted to an assault but received just a one-semester suspension. His parents allegedly made a major donation to the university the semester he was suspended, "and he came back with a slap on the wrist," Wrigley-Field said. "Doesn't that create a conflict of interest for wealthy students to be able to act with impunity?"
"The way that the adjudication process works needs to change," echoed Lily Moebes, a Barnard senior whose visual arts thesis will consist of a quilt made from donated clothing and bedding that has traumatic, rape-related associations. "We're getting together and tearing them apart. I'm taking the scraps of that and making it into a quilt that Barnard is going to display at the end of the year."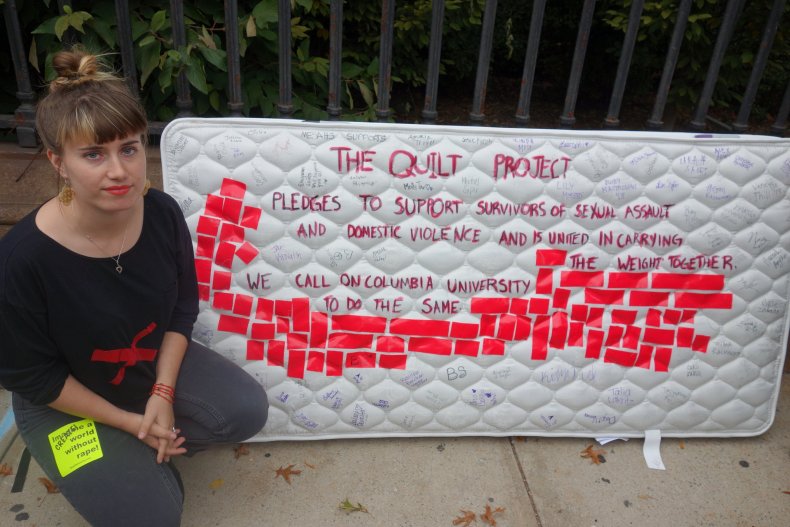 President Lee Bollinger and other campus administrators have responded to this climate, both in a New Republic piece and an emailed statement, which argues that "the people and policies dedicated to addressing gender-based misconduct at Columbia are unsurpassed among the nation's colleges and universities." That statement goes on to cite 10 employees at the school's Sexual Violence Response & Rape Crisis/Anti-Violence Support Center, as well as an August policy overhaul that met a less enthusiastic response from activists.
Still, Bollinger's nickname, "PrezBo," rang out in chants on Columbia's main quad, where huge throngs of student supporters and media personnel gathered on the steps of Low Memorial Library amidst cheers of "Rape culture is contagious! Come on, PrezBo, be courageous!"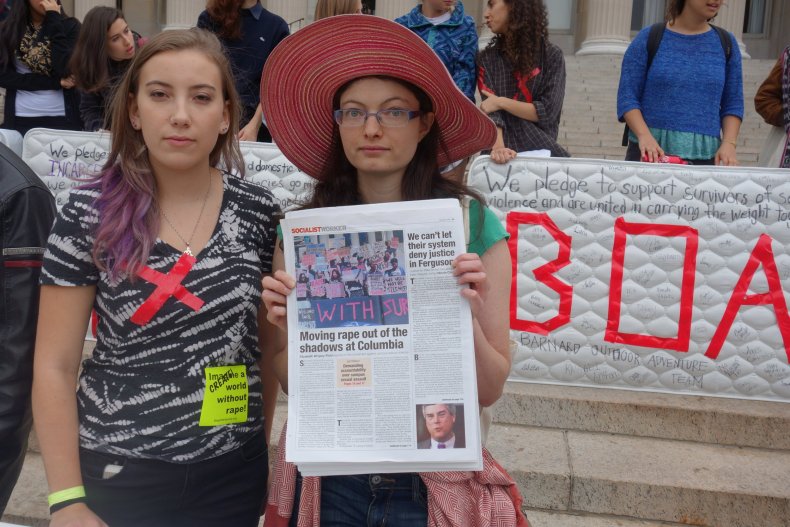 There, senior Zoe Ridolfi-Starr, a prominent activist and lead complainant, wielded a megaphone and described how she had been assault by two men at a fraternity house when she was a freshman. Standing next to Sulkowicz, she choked up while remembering how she had remained silent for months after that incident and then a subsequent assault.
After reading Sulkowicz's own account, things changed. "I saw my pain and my experiences and my reality and finally I felt like I wasn't alone. Like what happened to me made sense because it's part of a bigger problem. It was not a private, isolated, personal incident," Ridolfi-Starr said.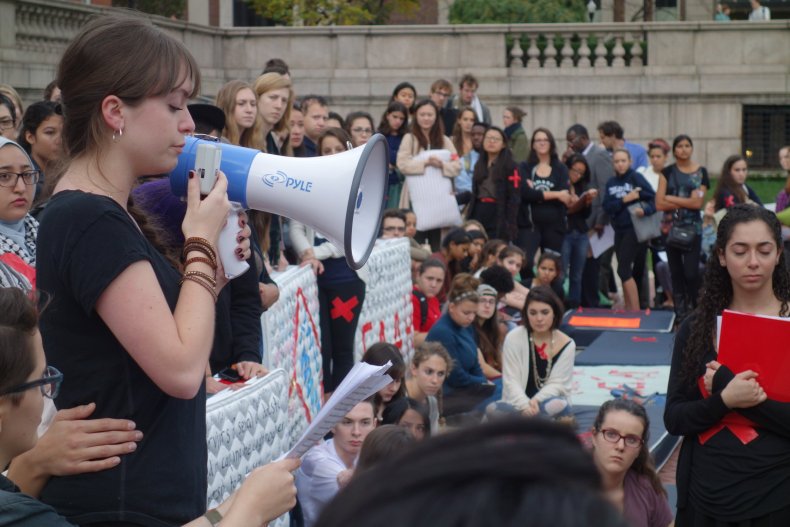 "To have somebody look at you in the eyes and say, 'Your experience matters. It counts. It was not your fault. And you deserve better' means so much," she added. "I challenge all of you listening, supporting, reporting—whatever you're doing here today—to be that person for somebody."