Photos: Hundreds of Refugees Begin Long March From Hungary Towards Germany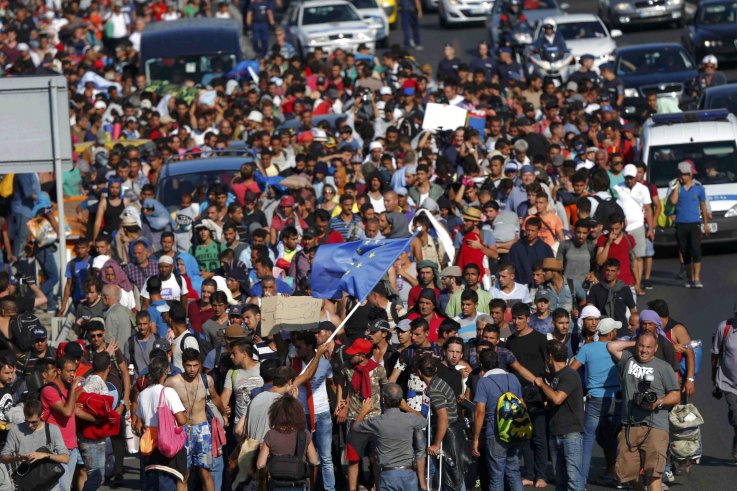 After days of being stranded at Budapest's main Keleti train station, hundreds of refugees have set off on what they're undoubtedly hoping is the final leg of their journey: another long walk, this time hundreds of miles from Hungary to Austria, where they hope to board trains to Germany.
As many as 1,000 people, including the elderly, babies, amputees and people in wheelchairs, are making the trek west to Austria, seeing no end in sight from the situation at Keleti train station. Around 2,000 refugees and migrants remain at the train station, The Guardian reports. Along the highway, where migrants and refugees were accompanied by police, volunteers passed out food and water in the stifling heat. Some held up posters of German Chancellor Angela Merkel, the red, yellow and black flag of Germany behind her.
The reception for thousands of refugees and their families, many of whom have fled war and human rights abuses in Syria, Iraq and Afghanistan, has been particularly hostile and chaotic in Hungary. Earlier this week, Hungary closed Keliti train station, leaving thousands of people stranded. After it reopened on Thursday morning, many people pushed onto a train believing it was heading to Germany, despite being told no international trains were leaving the station. The train instead took them to Biscke, a town 25 miles west of Budapest, where riot police were waiting. Some 500 passengers refused to get off the train as they didn't want to go to a reception center.
Those stuck in front of their train in Biscke held signs saying, "Where is human rights," "Freedom no Hungary" and "We want Germany."
"Today we are talking about tens of thousands, but next year we will be talking about millions and this has no end," Viktor Orbán, Hungary's hard-line right-wing prime minister, said on Friday. Hungary is currently building a 110-mile razor-wire fence along its border with Serbia in an attempt to keep migrants and refugees out of the country.
"We have to make it clear that we can't allow everyone in, because if we allow everyone in, Europe is finished. If you are rich and attractive to others, you also have to be strong because if not, they will take away what you have worked for and you will be poor, too."
Police used tear gas on hundreds of refugees who broke down metal fences at the Roszke migrant center in Hungary, near the Serbian border, on Friday, ITV News reports. They are reluctant to be registered in Hungary as it means they would have to stay, preferring to continue north to Germany.