Photos: Hundreds of Volunteers Stage Die-In For Besieged Syrian Healthcare Workers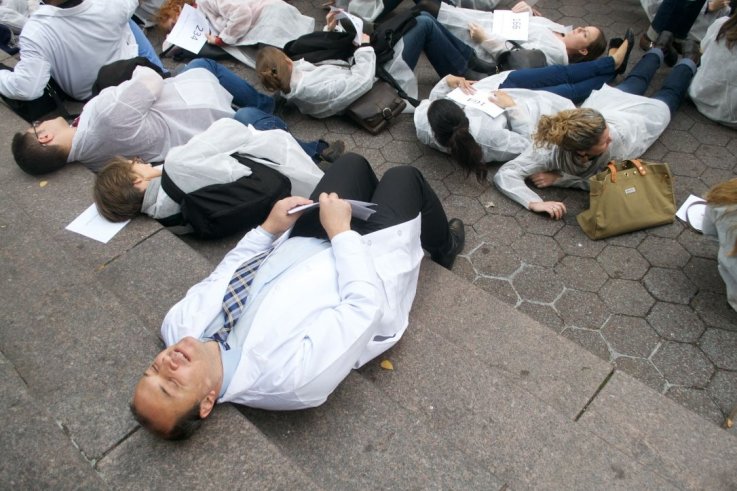 For three minutes on Thursday afternoon, hundreds of volunteers lay silent and still in Dag Hammarskjold Plaza, across from the United Nations headquarters in New York. Wearing white coats, they represented the nearly 700 medical workers who have been shot, bombed and killed in Syria since civil war broke out in 2011. Among the roughly 200 people who took part in the "die-in" were Syrian doctors with first-hand experience of being targeted.
"When you're in a hospital, you have to expect that you will maybe be targeted more than other places," a Syrian dentist, who asked to be identified only as Dr. Majed, told Newsweek on Thursday. Nine people were killed at the hospital where he used to work after it was hit by an airstrike on Thursday, he said.
Since 2011, 679 health care workers in Syria have died and 313 medical facilities have been targeted, according to Physicians for Human Rights, one of the event's organizers. Doctors Without Borders/Médecins Sans Frontières (MSF) said on Thursday that since late September, 35 Syrian patients and medical staff have been killed in airstrikes. Two MSF-run hospitals in Afghanistan and Yemen have recently been hit by airstrikes, prompting international outcry.