Faroe Islands to Review Dolphin Hunt Polices After Massacre Sparks Outrage
The Faroe Islands government has said they will review the country's dolphin hunt policies after photos and videos of nearly 1,500 dolphins being slaughtered on Sunday sparked global outrage since the incident was first reported by Newsweek.
The massacre is believed to be the largest single hunt of cetaceans—a group comprising whales, dolphins and porpoises—ever recorded worldwide.
The hunt, known locally as the "grindadráp," (often referred to as an opportunistic and non-commercial hunt) saw whalers target a massive pod of white-sided dolphins, herding the animals into Danish waters where they were cornered and stabbed to death.
A total of 1,428 dolphins were killed in just over one hour in an event many on social media have since condemned as cruel, archaic and barbaric. The graphic images have sparked anger directed towards Faroese and Danish authorities, who are under pressure to end the practice.
Prime Minister Bárður á Steig Nielsen said in a statement: "We take this matter very seriously. Although these hunts are considered sustainable, we will be looking closely at the dolphin hunts, and what part they should play in Faroese society. The government has decided to start an evaluation of the regulations on the catching of Atlantic white-sided dolphins.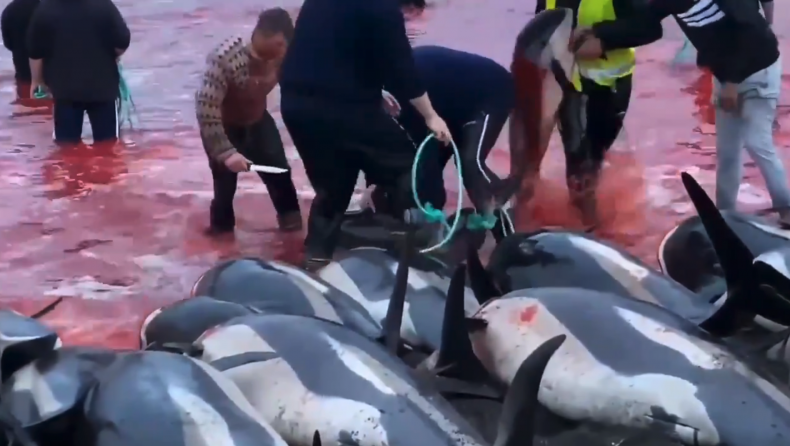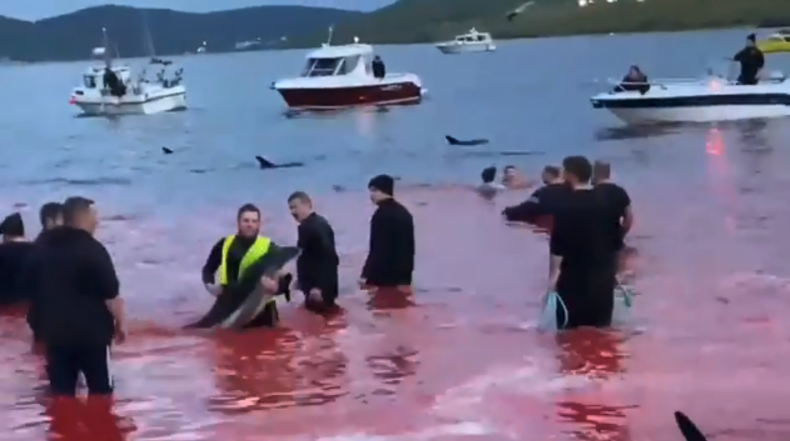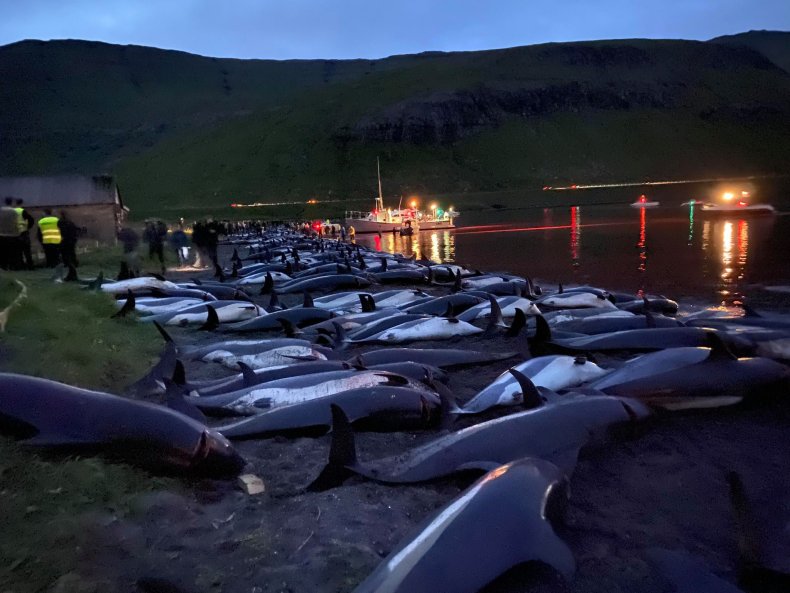 Herding the animals
Norwegian Sea Shepherd volunteer and activist, Samuel Rostøl, shared graphic footage of the event with Newsweek, showing the dolphins being herded towards their deaths.
Boats can be seen surrounding the animals while they thrash helplessly against the spears and propellers of the boats.The bloodshed caused the sea to turn red as dolphin carcasses washed to the shore and piled up on the sand.
"You'll see dolphins who have been partially stabbed, bleeding to death while shivering in pain," he described. "You'll see dolphins not stunned, but cut open via their necks to bleed them out. Some of them get their spine severed, which renders them immobilized but not unconscious. You'll hear people laughing. You'll see kids playing. You'll see blood splashing as the dolphins fight for their lives. You'll see young dolphin calves dead on the beach."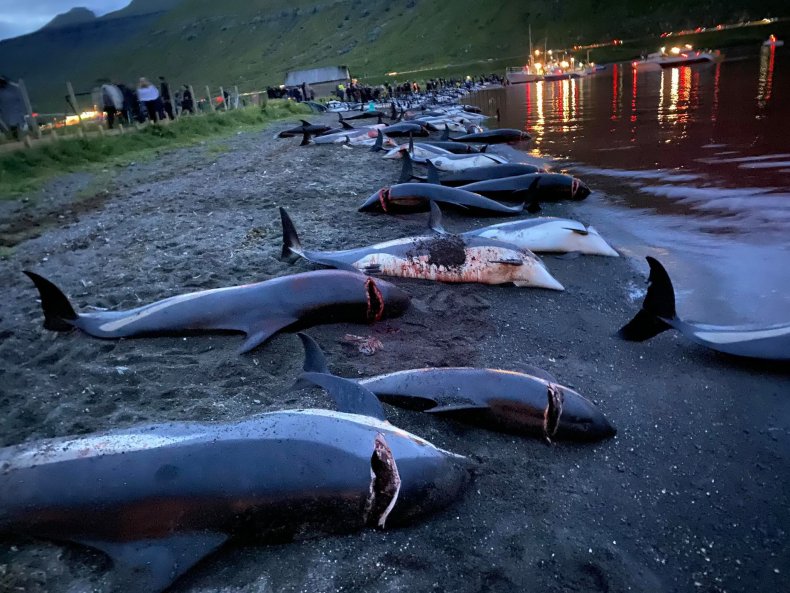 At various points in the footage, men can be heard laughing while dolphins scream in pain.
"This is, we believe, the largest ever single hunt of dolphins or pilot whales in Faroese history and is possibly the largest single hunt of cetaceans ever recorded worldwide," Sea Shepherd U.K. Ambassador Helen Taylor, told Newsweek.
"To get a sense of scale: this massacre at Skálabotnur approaches the quota for the entire 6-month dolphin killing/capture at Taiji in Japan, and actually exceeds the numbers killed in any recent years of the Japanese 6 month dolphin killing/capture season," Taylor added.
"For such a hunt to take place in 2021 in a very wealthy island community just 230 miles from the UK with no need or use for such a vast quantity of contaminated meat is outrageous."
An unsustainable slaughter?
Under Faroese law, the hunt—a long-lasting tradition in the region—is deemed legal, although many dispute the practice as unsustainable slaughter and unnecessary suffering.
Sea Shepherd, which runts he campaign 'Operation Bloody Fjords' in a bid to end the tradition described the modern grindadráp as "little more than a community sport" continued "under the misguided sense of national pride."
"There is cheering, laughter and there can be no denying the bizarre festival-like atmosphere among men armed with lances, knives, ropes, and hooks," the group explained.
"The younger Faroese men are often seen smiling and posing for photographs while drenched in the blood of the whales or dolphins they have killed in an outrageous display of disrespect for the animals whose lives they have taken."
Blue Planet Society, a group campaigning to end the over-exploitation of the world's ocean, similarly described the massacre as a "population level slaughter."
"In sheer numbers it's comparable to the mass slaughter of the North American bison and we all know what happened then," volunteer for Blue Planet Society, John Hourston, told Newsweek.
In the aftermath of the hunt, the Blue Planet Society shared one particularly gruesome image of dead dolphins lining the shore.
"Piled up like trash and soon to be dumped," the group wrote. "It's unlikely they will be able to process 1,428 dolphins ... There is absolutely no excuse for a modern, wealthy country to be continuing with such archaic and barbaric animal cruelty in the 21st century."
An example of 'indigenous whaling'
Many justify the hunt as a cultural tradition and an example of "indigenous whaling" as the mammals were traditionally hunted as a food source for the local population.
In fact, the mayor of Tórshavn (the capital and largest city of the Faroe Islands) is reportedly an enthusiastic proponent of the grindadráp.
"A fine innløgumaður is a man who gets the food on the table," Heðin Mortensen reportedly told the Dolphin Project, an advocacy group dedicated to ending dolphin exploitation and slaughter, back in July. "He takes pride in his responsibility as a provider and lives up to it by participating in the pilot whale kill," Mortensen added.
A man who regularly participates in the hunt also told the organization: "Standing waist deep in the reddening water reminds me of my background, and of my value as a man."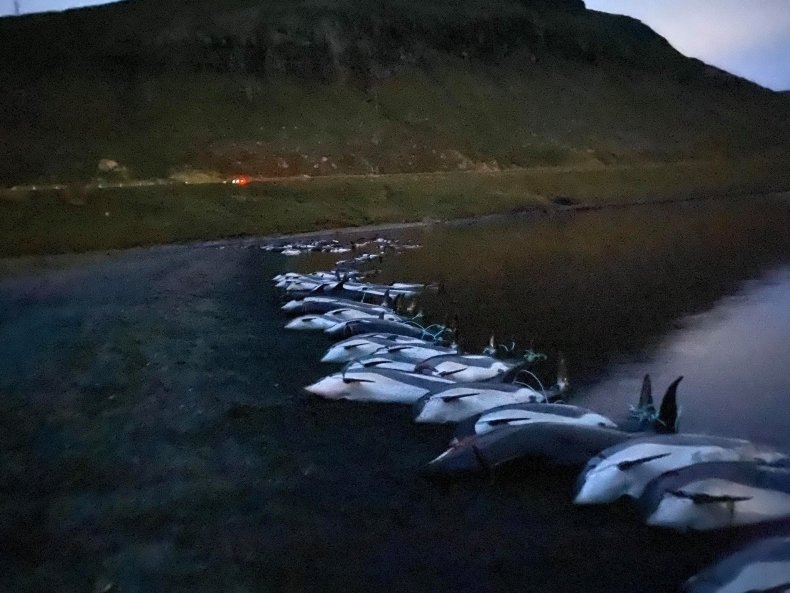 'No season and no quota'
The grindadráp, unlike most regulated hunts, has "no season and no quota" Sea Shepherd says.
"After a pod is located and a hunt is authorised, the Faroese drive the pod using sports/recreational boats, fishing boats, jet-skis and any other watercraft they have available," the group explained.
"For many miles and over several hours, the Faroese use a 'wall of sound' from their boat engines to force the increasingly stressed and panicking pod towards the nearest designated killing bay and into its shallow waters, where waiting Faroese men rush into the water to kill the animals or drag them further ashore with ropes and a blásturongul before the men attempt to sever the whale's spinal cord with a mønustingari and then use a grindaknívur to cut through the whale's neck.
"Grindadráp hunts can turn into drawn-out, often disorganised massacres. The pilot whales and dolphins can be killed over long periods in front of their relatives while beached on sand, rocks or just struggling in shallow water with Faroese boats blocking their escape, until not a single pilot whale or dolphin is left alive."
Newsweek has contacted Faroe Islands Minister of Fisheries, Jacob Vestergaard, for comment.