Photos: Ukraine's Orthodox Christians Celebrate Epiphany With Icy Plunge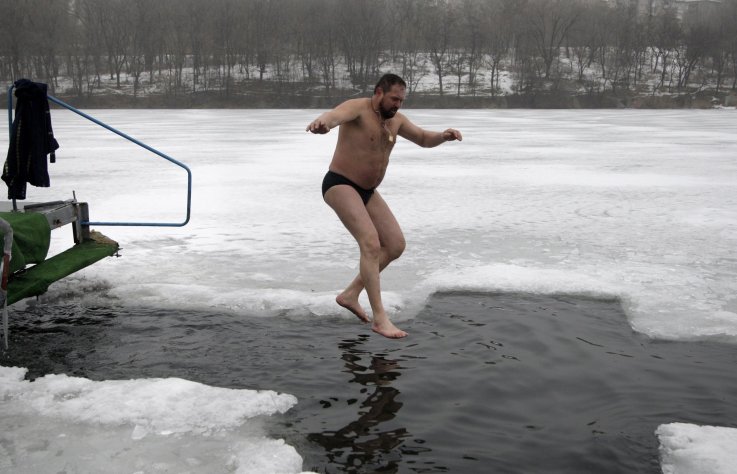 Orthodox Christians across Eastern Europe, including conflict-plagued Ukraine, celebrated the feast of the Epiphany on Monday by taking a dip in freezing cold water, regardless of the subzero temperatures outside.
The feast of the Epiphany is traditionally dated January 6 when using the more generally-used Gregorian Calendar. However, according to the Julian Calendar used by most Eastern Churches, the date translates to January 19, The Daily Telegraph reports. The feast of the Epiphany, also known as the Theophany, marks the day God manifested himself in the human form of Jesus, according to the Orthodox Church in America.
The celebration comes amidst continued fighting between Ukrainian government forces and pro-Russian seperatists, centered around Donetsk airport. In the past 24 hours, three soldiers have been killed and 66 wounded, according to Ukrainian officials. EU foreign ministers said Monday they are not yet ready to lift the economic sanctions against Russia as violence continues in eastern Ukraine.
Fighting between the Ukrainian military and rebels supported by Russia is causing refugees to flee the country and has trapped more than 275,000 internally displaced people inside Ukraine, according to the UN Refugee Agency (UNCHR). 4,800 have been killed in the conflict, according to the World Health Organization (WHO).
Epiphany celebrations and the traditional jolt of icy water may have provided a welcome distraction for some Orthodox Christians in Ukraine after months of conflict. According to believers, the water spiritually becomes the river Jordan where Jesus was baptised by John on the day of the Epiphany; people hope their plunge into the water will bring them health and happiness, the Kyiv Post reports.