Inside the Vegas Sniper's Lair: Guns, Blood and Bullet Casings Fill Stephen Paddock's Hotel Room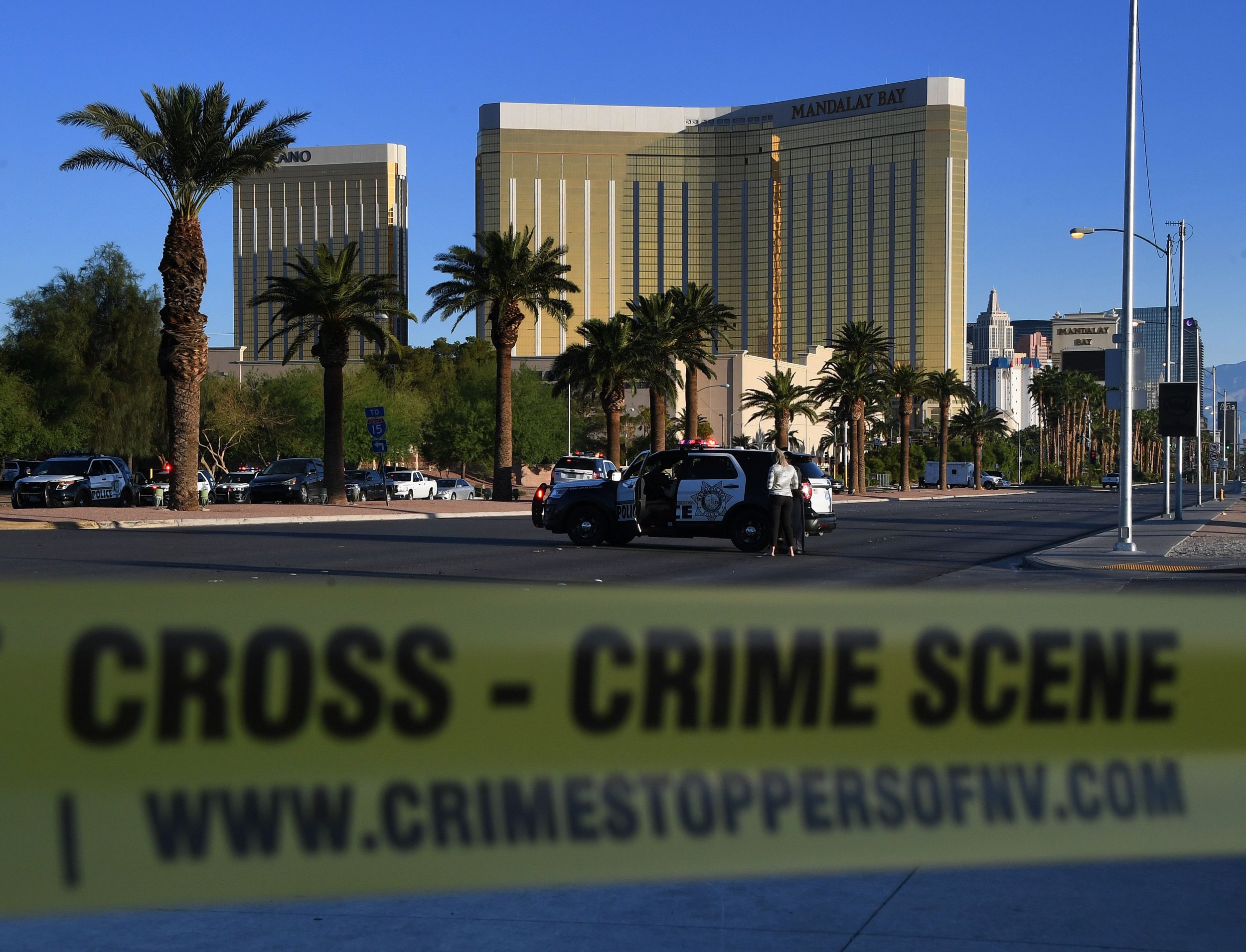 Stephen Paddock transformed a 32nd floor room at the Mandalay Bay Resort and Casino into a lair littered with high-powered firearms, mounds of bullet casings, a possible note and, in the end, his own dead body after his rampage left 59 people — and himself — dead.
Photos from the room have leaked to the media, which is publishing them because of the high public interest in the worst mass murder in recent years. Clark County Sheriff Joseph Lombardo declined to confirm their legitimacy, citing his ongoing investigation, but a video of the crime scene raises little doubt about their authenticity.
The images give heretofore unknown details about Paddock's attack and his last moments inside the room — and how police responded to it. The Daily Mail ran its copies of the photos under the headline, "The Grisly End."
WARNING: GRAPHIC CONTENT
One photo shows the lower-portion of a lifeless body, likely Paddock, lying on the floor of the room, a rifle tucked under his legs.
The person is wearing long black pants, a long-sleeved shirt, black gloves and is surrounded by two other high-powered guns with what appear to be scopes and bipods, which are used to stabilize weapons being shot from a distance.
The image also shows what appears to be a piece of paper left on a side table. It's unclear whether anything was written on the paper. Another image shows two chairs pushed together to create a cubby for more weapons. Other long guns littered the gun, along with more ammo.
Another photo shows the spot where the gunman perched his weapons as he fired indiscriminately at innocent concertgoers over the ledge of a tan couch, which was positioned in front of a large window partially covered by a curtain.
The video taken outside the room shows what was left of the front door of Paddock's room after officers used an explosive to break in. Crime scene tape is stretched across the double doors, another long gun can be seen inside. One bullet-ridden door is knocked on its side.
The video shows a room-service food cart in the hallway outside his room. There appears to still be food on the cart, which is draped with white linen.
Lombardo said Paddock set up multiple cameras inside and outside his room so that he would be alerted to the approach of law enforcement. One camera was placed on the cart, Lombardo said.
The Las Vegas Metropolitan Police Department declined to comment on the photos or whether a note was found, citing the ongoing investigation.