Photos of Melania Trump in Asia Visiting Gugu the Giant Panda and the Great Wall of China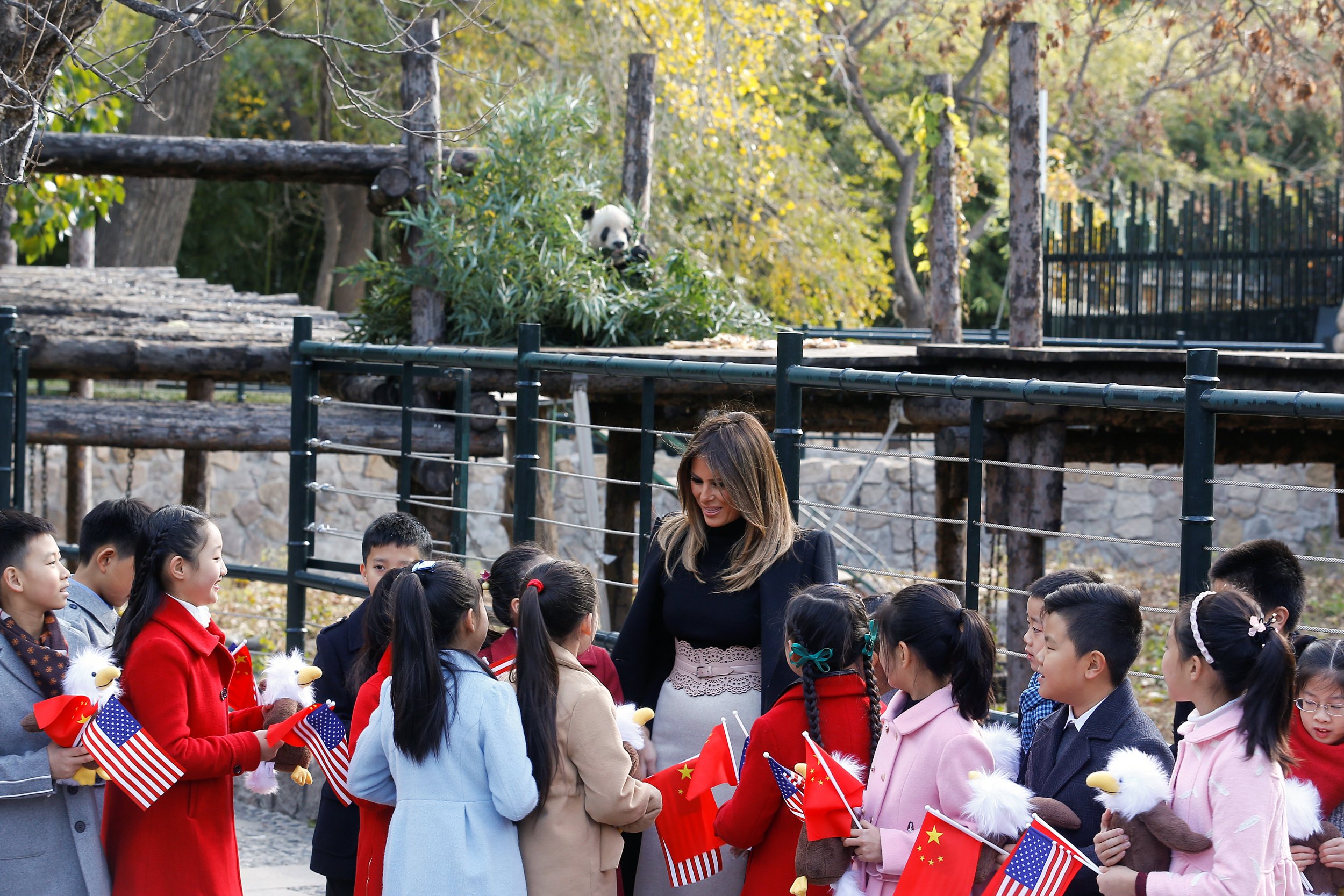 UPDATED | First Lady Melania Trump befriended a beloved 240-pound panda named Gu Gu on her final days in China.
While President Donald Trump departed Asia, the first lady remained behind to tour the Bejing Zoo and the Great Wall of China. She was reportedly greeted by children waving models of Chinese and American flags and singing. She handed out stuffed eagles to the children at the zoo and posed for pictures near the enclosure of Gu Gu the giant panda, a 17-year-old famous fixture at the zoo, which houses several giant pandas.
Gu Gu is known for his aggressive behavior—including repeatedly biting legs—toward humans who enter his enclosure. He's affectionately known as a "panda with attitude" and has a sign in English and Chinese outside his cage that declares his isolationist status, reading: "I'm a loner and I have teeth that bite." Fewer than 2,000 giant pandas live in the wild in China.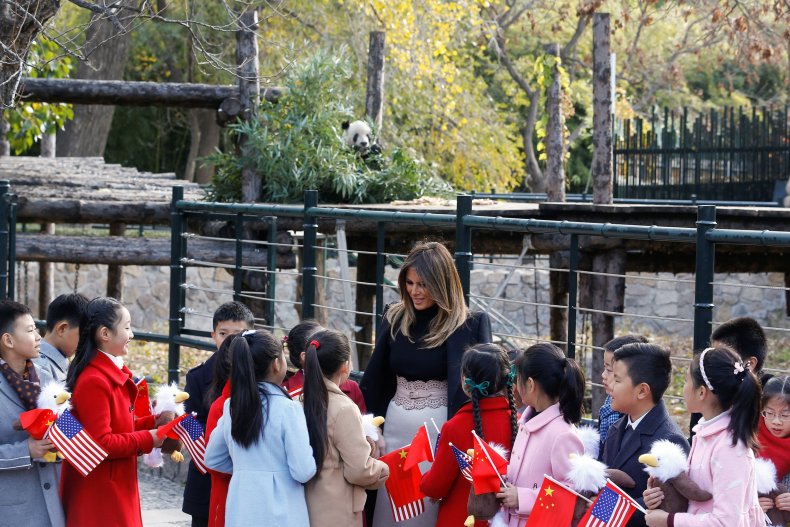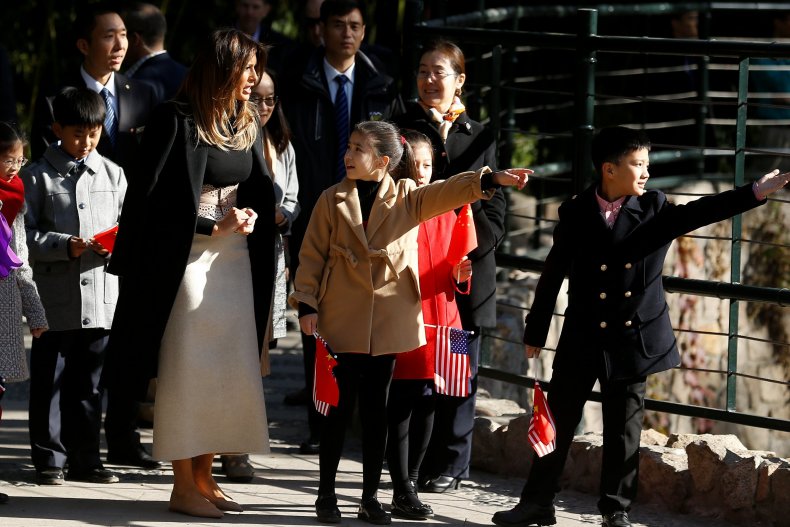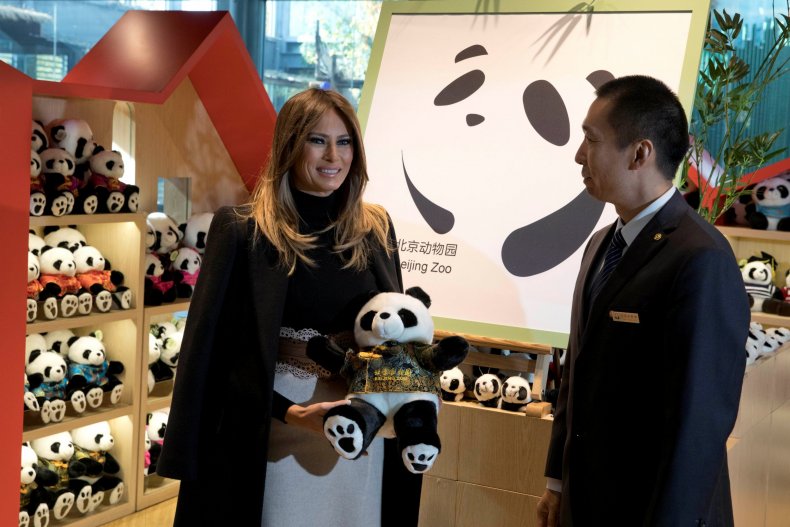 At the Panda House gift shop, Trump signed a picture of a giant panda and wrote, "Thank you to the Beijing Zoo! Wonderful to meet Gugu." She posted photos on Twitter on Saturday of her feeding Gu Gu and touching the panda's paw. Several other first ladies, including Nancy Reagan and Michelle Obama, have visited the giant pandas in Bejing, engaging in what is dubbed "panda diplomacy," which essentially refers to China gifting panda memorabilia and showing off the rare animals to high-level and influential world leaders.
Trump also toured the Great Wall of China, where she rode a cable car, signed a guest book at the iconic stop and walked along a stretch of the wall for about half an hour with a small group of aides and security officers, reported the Associated Press. She posted on Twitter photos with the caption, "unforgettable memories!"
She received a scroll as a gift before leaving China for Alaska, where she will greet troops. POTUS traveled to Vietnam, where he will attend meetings for the Asia-Pacific Economic Cooperation.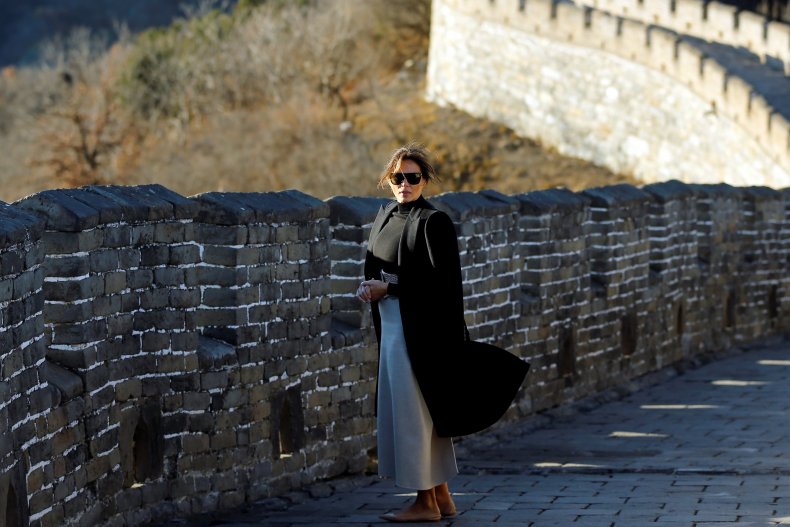 The Trumps visited Japan and South Korea before landing in China. During tea with Chinese President Xi Jinping, the U.S. president reportedly shared videos of his granddaughter Arabella Kushner, the 6-year-old daughter of Ivanka Trump and Jared Kushner, showing off her Mandarin-speaking skills, which Xi said deserved "an A-plus" grade.
This article has been updated to include photos and statements posted Saturday on the First Lady's Twitter account.