Photos: For Refugees in Greece, Safe Landing in Europe Provides Short-Lived Relief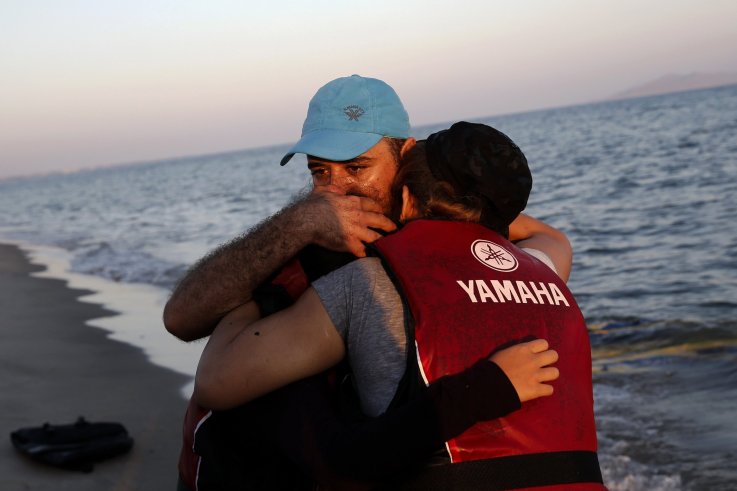 Over the past few weeks the Greek island of Kos, a popular and picturesque holiday destination closer to Turkey than mainland Greece, has seen record numbers of refugees and migrants arrive on its shores.
These photos, taken moments after men, women and children arrive on the shores of Kos, capture their reactions after making it safely across the Mediterranean Sea from war-torn countries like Syria, Iraq and Afghanistan.
Their relief may be short-lived. Many of the refugees, fleeing from conflict and poverty, face horrific, unhygienic conditions at reception centers, with human rights group Amnesty International reporting examples of overcrowding, lack of medical care and soiled bedding. Last month, medical humanitarian organization Doctors Without Borders called on the United Nations refugee agency (UNHCR) to step up its response to refugees in Greece, on the mainland and the islands.
On Tuesday, the UNHCR said the "dramatic increase" in the number of arrivals to Greece over recent weeks meant "the reception infrastructure, services and registration procedures both on the islands and on the mainland need to be strengthened urgently." In an effort to help authorities in Kos deal with the enormous influx of people, Greek authorities moved hundreds of Syrian refugees to the mainland to be processed and housed. Earlier this week, refugees boarded a car ferry, the Eleftherios Venizelos, which can accommodate up to 2,500 people, Reuters reports. Other ferries have been reported fully booked due to the large number of refugees attempting to reach mainland Greece from the outlying islands.
More than 50,000 refugees and migrants arrived in Greece in July—including 7,000 in Kos—compared to 43,500 over the whole of 2014, according to UNHCR. Last week alone, 21,000 refugees arrived in Greece, the vast majority—87 percent—from Syria, UNHCR spokesperson William Spindler said in a statement on Monday. Those numbers confirm "that the overwhelming majority of arrivals are likely to qualify for refugee status," he said.
Despite the thousands of refugees and migrants landing safely on Greece's shores each week, the seabound voyage to Europe is often deadly. Forty-nine migrants who died from asphyxiation during a crossing last weekend, believed to have been killed after inhaling fumes, the International Organization for Migration (IOM) said on Monday. The dead, who were found below deck in a small fishing vessel off the coast of Libya, were believed to be from Pakistan, Bangladesh and Sub-Saharan Africa. More than 300 migrants, including those from Syria, Morocco and Pakistan, were rescued.
So far this year, more than 2,400 people have died or gone missing at sea while attempting to flee their countries, according to UNHCR. Last year, 3,500 died or went missing.