PHOTOS: New Year's Day Polar Bear Plunges Carry On Despite Bitter Cold Temperatures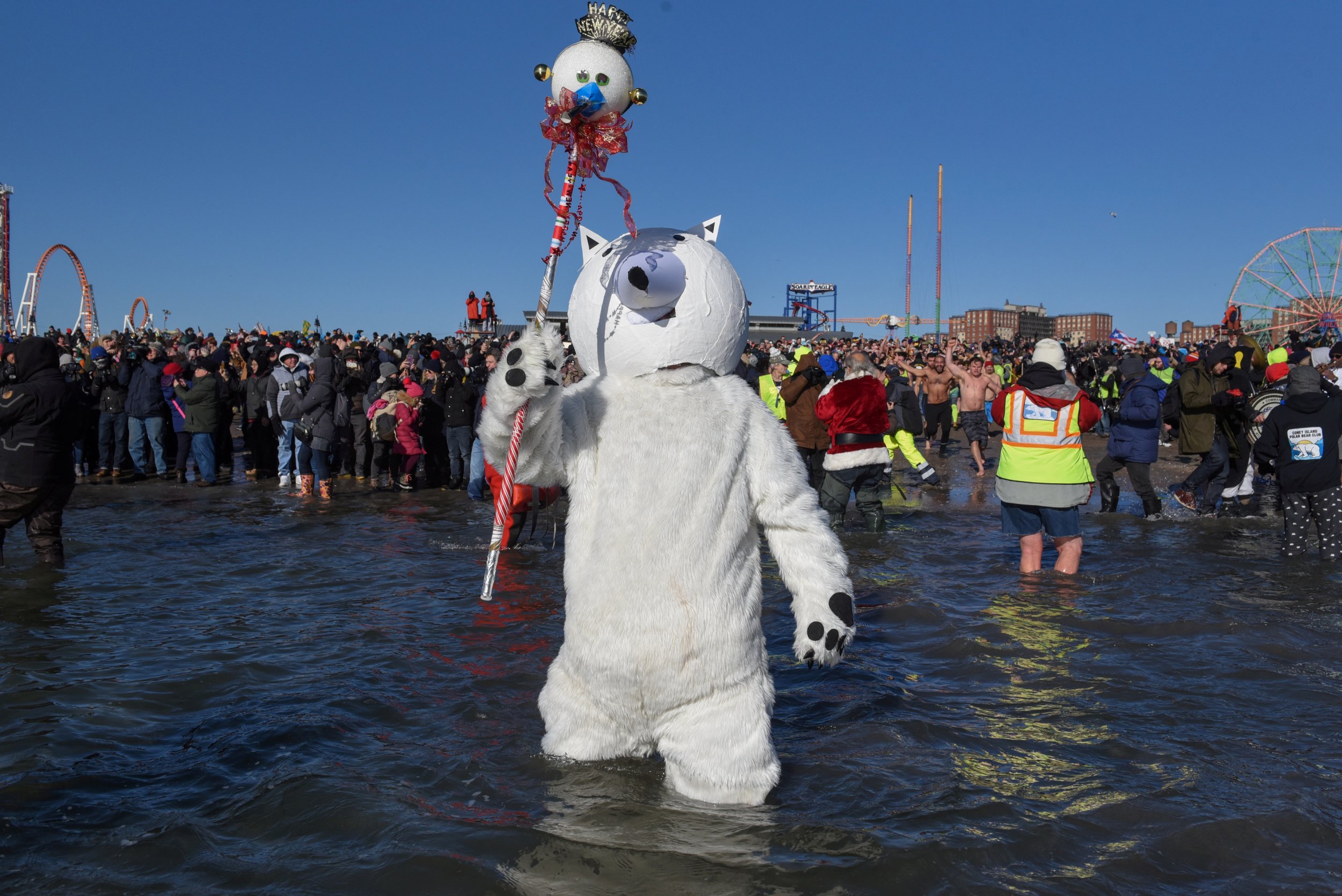 Despite bitterly cold temperatures across the U.S., so cold Niagara Falls froze in place, polar bear plunges across the country carried on. People from even some of the coldest places in the country took part in the annual New Year's Day activity. Though some plunge events were canceled, many communities dove in.
Milwaukee swimmers dove into Lake Michigan as scheduled—with water temperatures around 33 degrees Fahrenheit at noon, reported WISN-TV Channel 12. With wind chills, air temperatures were a brisk negative 22 degrees Fahrenheit at about 11 a.m. One Milwaukee website that updates plungers on the events warned that "if you choose to participate, you are doing so at your own risk" because of the "extreme cold conditions."
Even rescue divers were on the scene, prepared for those who chose to take the risk. For some, it was worth it. Abhinav Mathur told the news channel that it was an amazing, once-in-a-lifetime experience.
Boston's annual "L Street Brownies" New Year's Day Plunge was not canceled, despite the cold. The organizer, Dan Monahan, told the Boston Herald last week that the plunge takes place regardless of temperatures. "It's a go. ... We never give up," he said.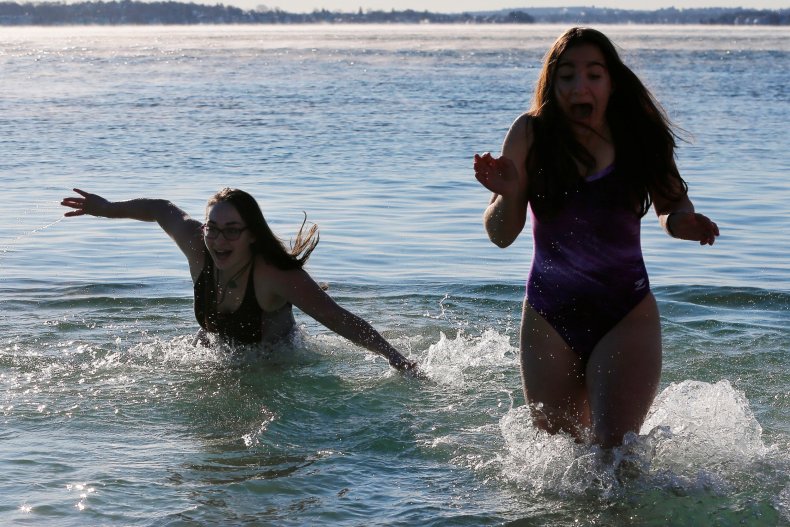 Sure enough, around 600 people jumped in the Boston Harbor on Monday around 9 a.m. in the 114th plunge this polar bear club organized, reported NBC 10 Boston.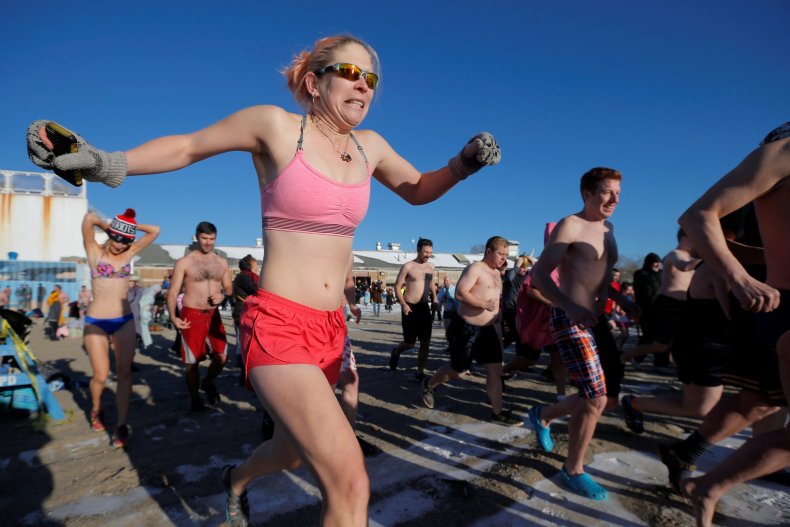 Coney Island held the event despite temperatures, raising money for local organizations including the New York Aquarium and the Alliance for Coney Island, reported amNewYork. Water temperatures were at 37 degrees Fahrenheit.
Even former professional ice hockey player Jeremy Roenick jumped in with hundreds of others at Coney Island, reported NBC Sports.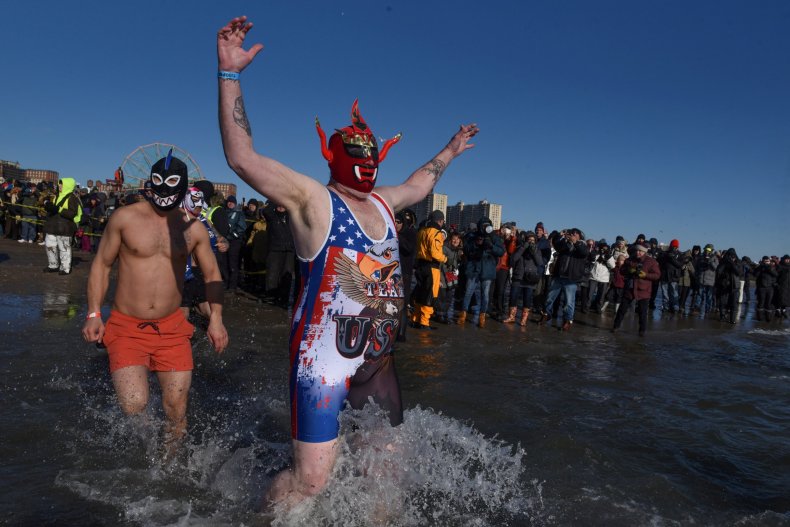 Two Jersey Shore towns canceled their events, but Asbury Park and Atlantic City still went through for the New Year's Day festivities. Asbury Park was forecast to be 18 degrees Fahrenheit at 1 p.m. Monday, reported NJ.com. One participant since 2011, Matt Andras, told NJ.com that "it's actually colder outside the water than inside the water."
Down in North Beach, Maryland, dozens made a run for the 23-degree Fahrenheit waters of Chesapeake Bay.
Bitter cold temperatures have been dipping the country's temperatures below freezing for several days, with New Year's Eve bringing record cold temperatures to five climate sites in New York City, according to the National Weather Service. Cold temperatures, particularly extreme cold temperatures, can cause frostbite and even hypothermia in just minutes, especially when there is wind chill or you are wet. Some polar bear plunges were canceled, including an event in Toronto, Canada. Thick ice conditions caused the event to be canceled for the first time in 13 years, the organizers reported the Toronto Star. Even Cleveland had to cancel, as crew members couldn't cut a hole in the ice of Lake Erie, reported WKYC 3.