Photos: NYC Climate Change March Rallies Over 310,000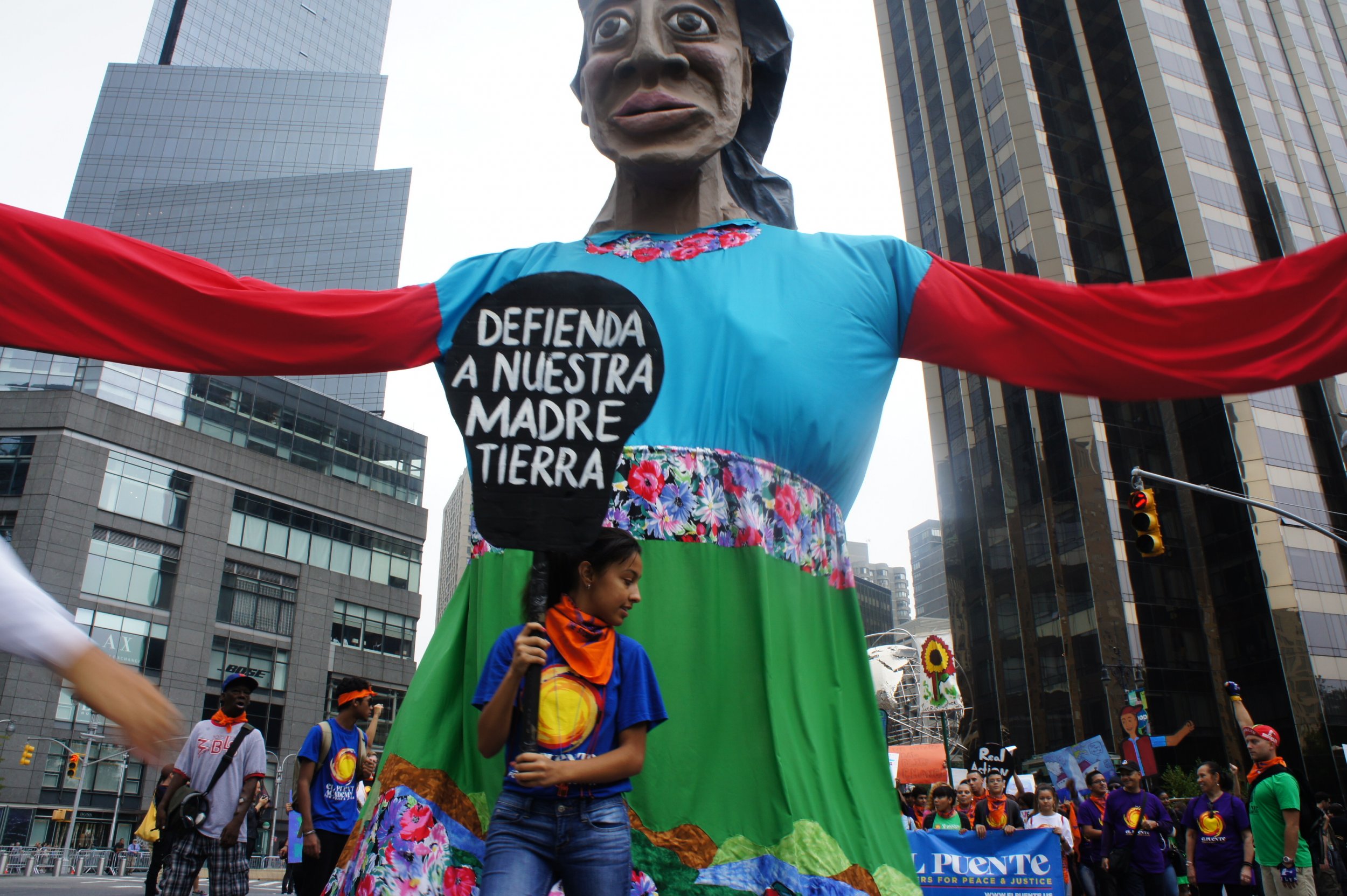 On a cloud-heavy Sunday morning, hundreds of thousands of people snaked down Manhattan's west side for a march calling attention to the impact of climate change. Dozens of marching bands, two-story-tall puppets and banners of all kinds flanked a diverse range of marchers. Indigenous groups, labor unions, beekeepers and students, as well as a smattering of celebrities and politicians clogged the march route for over six hours while police officers mostly looked on.
One man held a placard with "GIVE A S**T" inscribed in black marker. The sentiment proved to be the unofficial demand of the march: specifically that more people, especially the ones who hold political office, begin acting like the future of society depends on how they respond to the immediate climate change threat.
"At the end of the day, we put them in office, and we'll take them out," says Vernell Robinson, a resident of the Far Rockaway, a New York neighborhood devastated by Hurricane Sandy in 2012. She says she's furious with local government. Most of her neighbors still haven't seen the rebuilding that was promised by local officials after the storm.
"We're still suffering. They're leaving us here to rot. And now they're deep into fracking, acting like it's business as usual," Robinson said, referring to the pipeline being built under Rockaway Beach which will carry natural gas from hydraulic fracturing operations in the Marcellus Shale to Brooklyn.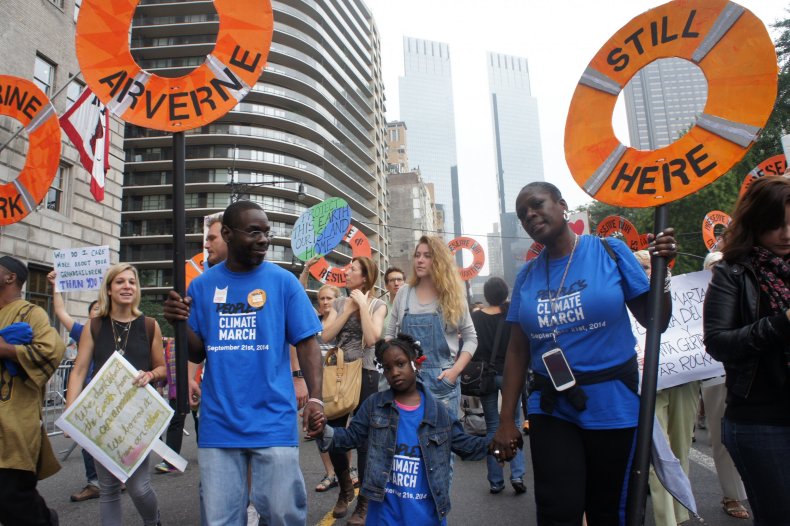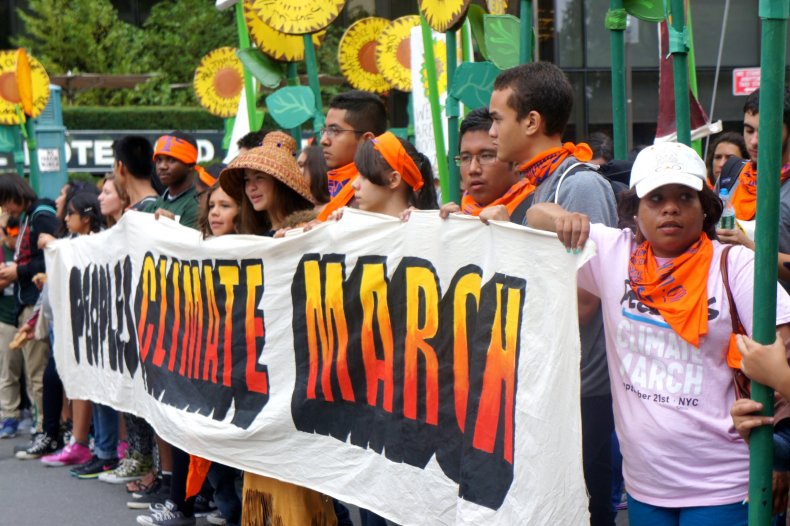 Climate marches stepped off in about 160 countries around the world this weekend, from the U.K. to Afghanistan to Australia, head of a United Nations summit on climate change beginning this week. The New York City march is the largest; an early headcount by organizers put the number of marchers at about 310,000 people.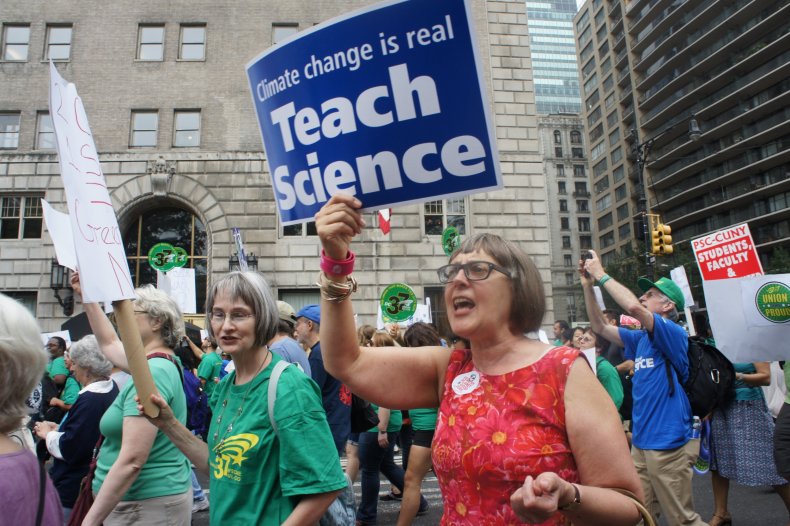 "The clock is running fast towards planetary meltdown. There's a short window to keep it warming less than two degrees," said Sally Long, a financial aid director at several New York City schools. She held a sign that read, "Climate change is real, TEACH SCIENCE."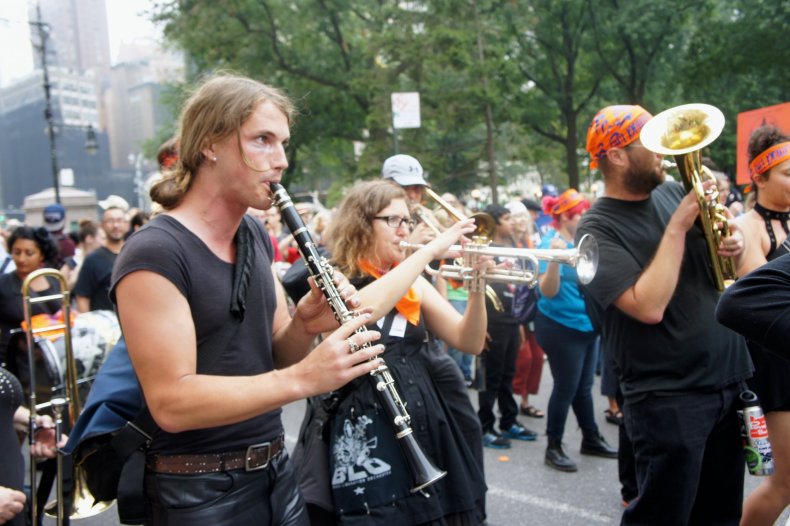 Nearby, students wearing tee shirts from various U.S. universities chanted: "Ooo, it's hot in here/Must be the carbon in the atmosphere." The Brass Liberation Orchestra, a marching band that frequents political events in San Francisco and Oakland, California, blasted loopy, upbeat funk tunes. John Lozier, a West Virginia man with a Tyrannosaurus rex hat and a bass drum, pounded out a beat by himself a few hundred yards away. He said he was at the march to "get in touch with my inner dinosaur," by protesting fossil fuels.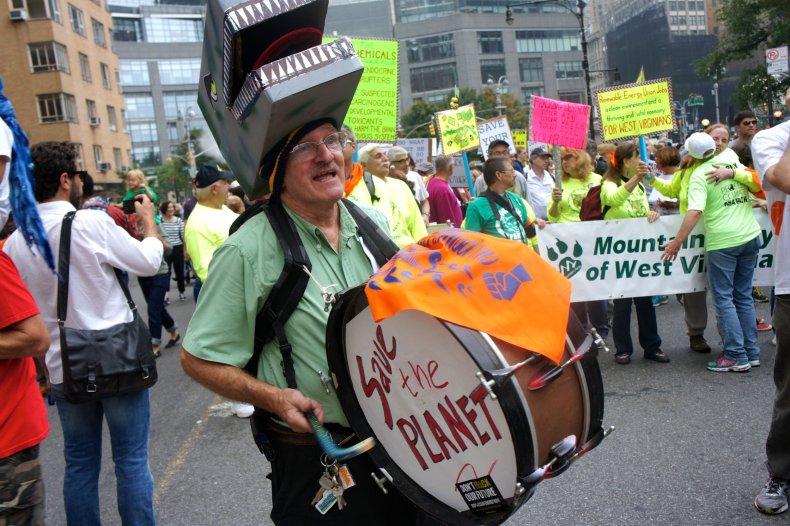 Failed international climate negotiations -- especially the 2009 talks in Copenhagen, Denmark -- hang over hopes for the upcoming U.N. deliberations. But Vandana Shiva, the environmental activist famous for speaking against genetically engineered crops and the brand of industrial agriculture practiced heavily in her home country of India, says she has some hope that this time will be different -- as long as President Obama changes his approach.
"I haven't lost faith in the U.N. [but] I think corporations manipulate some governments too much," Shiva said. "Copenhagen was a disaster not because of the U.N., but because of President Obama trying to separate five governments and say they came to a conclusion while everyone else was still negotiating."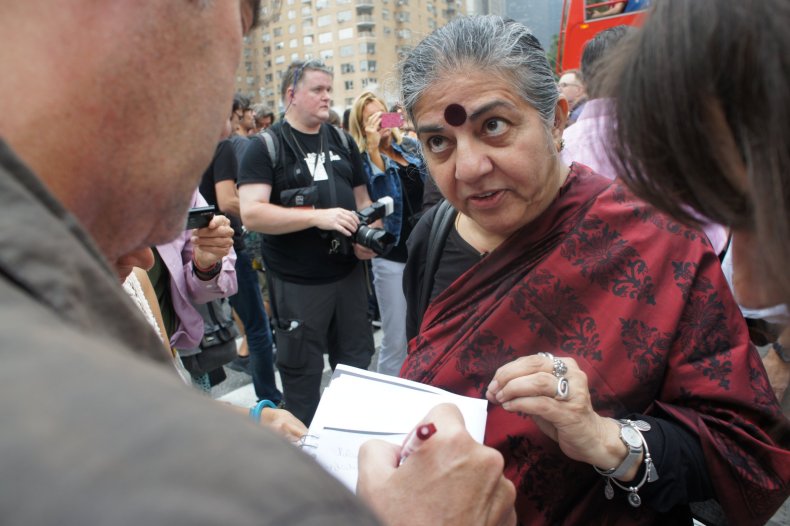 Shiva noted that she is interested to see what will happen at a sit-in planned to take over Wall Street on Monday. The sit-in, unlike the march, is not sanctioned by the NYPD. Organizers are predicting arrests at the event.
"The corporate greed that is giving us climate havoc is also giving us violence and oppression," Shiva said, regarding the possibility that protesters will be arrested.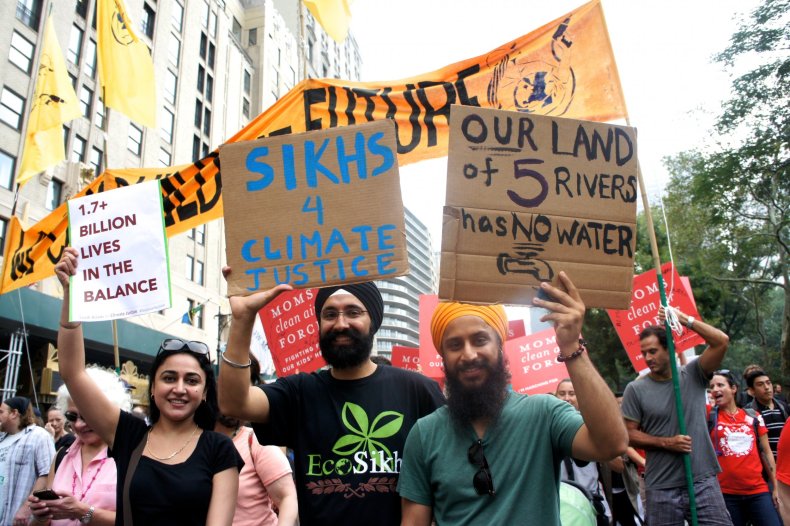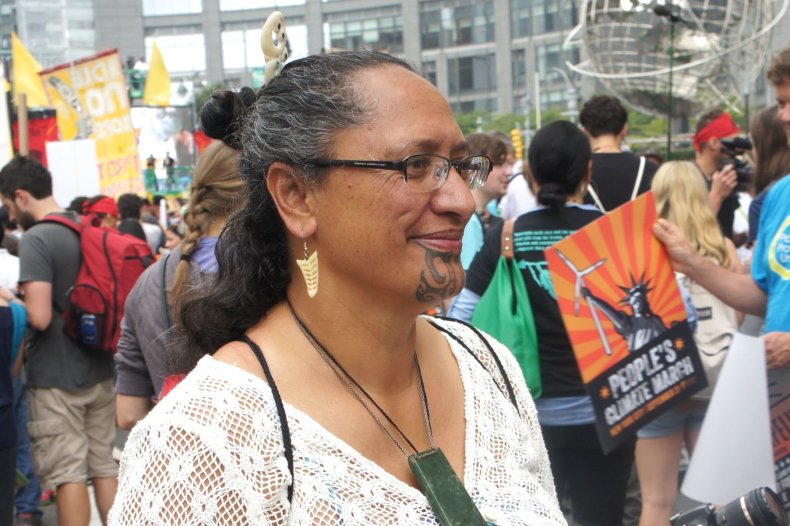 Maikara Ropata, an indigenous Maori woman, traveled from New Zealand for the climate events taking place this week. "When I heard about this march, I thought, 'Wow, this is big,'" she said.
Ropata worries about current deep-sea oil drilling off the coast of New Zealand, and the possibility that a spill analogous to the 2011 BP oil spill in the Gulf of Mexico could happen in those waters. "We get our food out of the sea. If something happens, it'll be like what happened in the Gulf--they won't be able to cap it."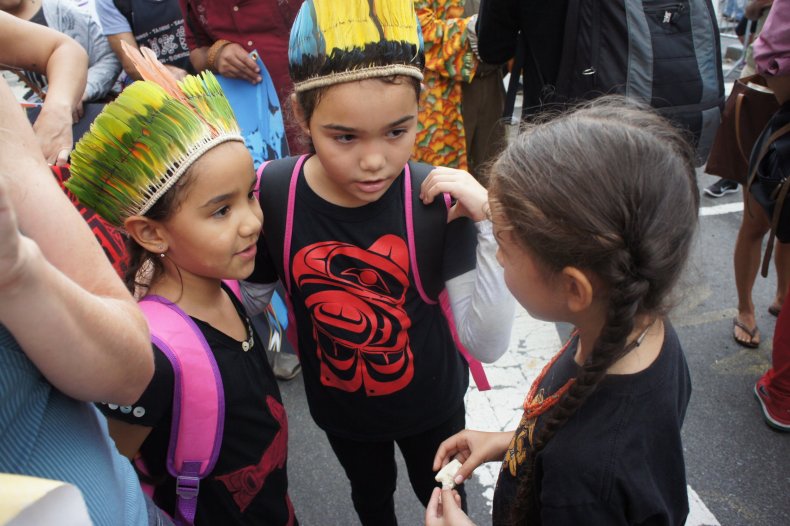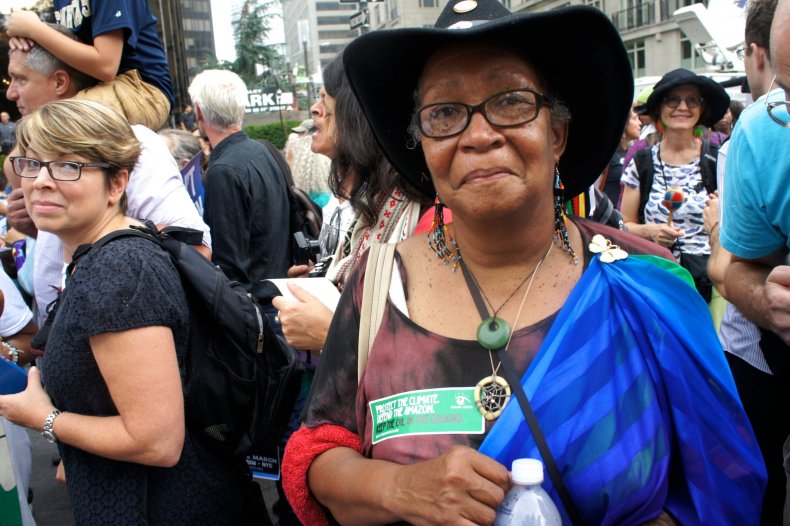 Mountaintop removal mining, tar sands pipelines and overfishing were all targets of protest throughout the march. Maryan Dawn Skyweaver, a 68-year-old woman and with Cherokee, Blackfoot, and African American heritage, says these massive-scale extraction operations are a symptom of forgetting "balance."
"There's a balance of all things, and we have forgotten it. And if we don't remember it soon, we'll be in trouble. But this march speaks to the fact that we're trying to get back on track."
"This is part of the awakening people my age have been pushing for for a long time," Skyweaver said, gestured to the throng of teenagers holding signs nearby. "Now we know that young people are really thinking. This is a glorious day for me."