Paris, My Refuge, Was Changed When I Returned This Time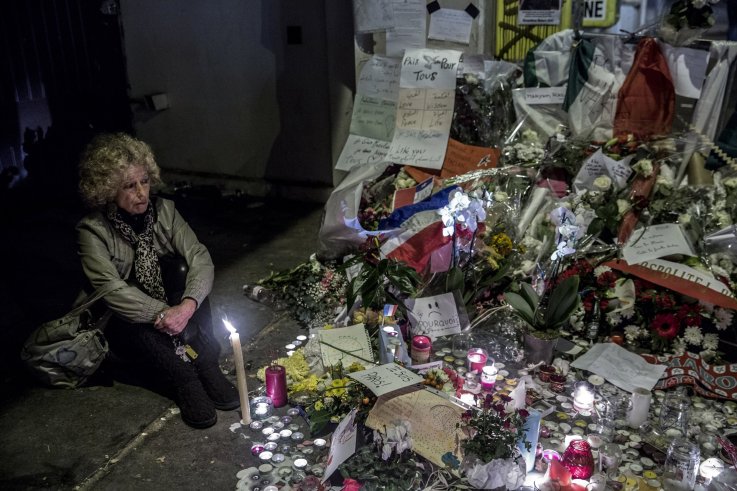 Caron is a Paris-based photojournalist on assignment for Newsweek. Her previous collaborations with Newsweek have included stories on the migrant crisis and Eritrean refugees in Israel, and her work has been acquired by French collections including the National Contemporary Arts Museum Paris and the Museum of History and Immigration Paris. Here, Caron writes about her experience learning about the attacks in Paris on Friday.
I was on assignment for a French magazine in Calais covering the migrant encampment known as the Jungle, when the journalist accompanying me got a call from Paris about the horrendous attacks.
On the way to the hotel, I started calling family like everyone else and scrambled to turn on the TV for any details. French President François Hollande was informing the nation that militants had killed scores of people at six different sites in Paris.
Completely shaken at that moment, I realized the gravity of the situation. I wanted to leave for Paris immediately but France was in a state of emergency and a curfew was in place.
The next day, the train I took was almost empty as were the streets of Paris when I arrived. Despite a prevailing sense of fear and warnings from the authorities against gatherings, Parisians gradually arrived at the scenes of carnage with flowers, candles, objects or personal messages to convey their condolences and pay homage to the victims. As night fell, the grief-stricken silence and anguish at the scenes of massacres became intense. I fought back tears myself.
I drove all over the city. A Saturday night like that in Paris I hadn't even imagined. All the symbolic icons of Paris were either closed or empty. People gathered at the Place de la République, which has been turned into a memorial for the victims. Apart from French security forces, the rest of the city remained almost deserted.
On Sunday morning French flags, which are normally only hoisted on monuments or official buildings, started to appear in the windows as well as the streets, something quite rare in Paris. As a sign of defiance against fear, Parisians started to go out to cafés and bars during the day but a sense of uncertainty still prevailed.
Working in conflict zones like Afghanistan, Pakistan, Gaza and the West Bank for various assignments, each time I landed back in Paris I had a feeling of security, but that has changed, or has it? These attacks were aimed to terrorize the population and instill a sense of insecurity but seeing Parisians defying fear and going out to cafés and bars over the following days, it has given me the belief that we are stronger than those who attacked us. France is mourning today, but as we come together we stand stronger than the fear these attackers hoped to instill.