50 Beautiful Photos of Prince Harry and Meghan Markle's Royal Wedding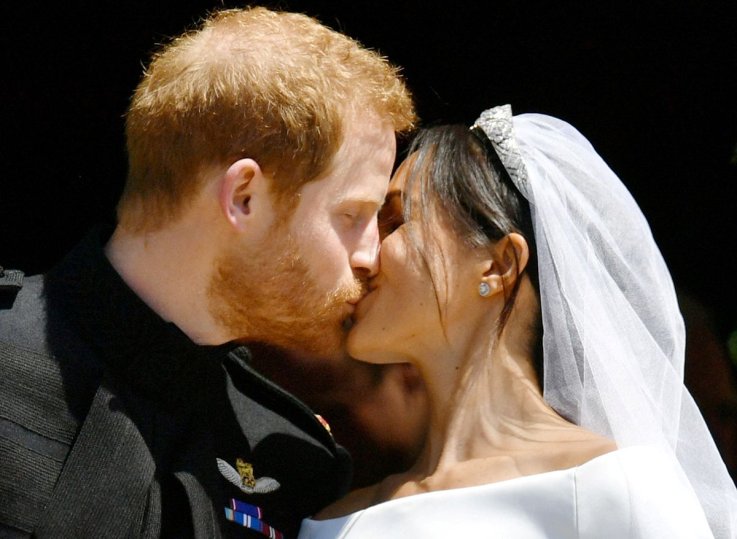 Prince Harry and Meghan Markle married on Saturday May 19 in a ceremony that blended ancient royal tradition with African-American culture, infusing the British monarchy with a blast of modernity.
In a medieval chapel at Windsor Castle that 39 English kings and queens have called home, Harry and Meghan exchanged vows watched up close by royals and celebrities, and from afar by a global TV audience of many millions.
Wearing a veil, diamond tiara and a sleek dress with a long train, the American actress was accompanied down the aisle of St. George's Chapel by Harry's father, Prince Charles, before she and Harry exchanged vows and were proclaimed husband and wife.
The couple kissed on the steps of the 15th-century chapel, before delighting the sea of well-wishers—some of whom had camped for days to witness the spectacular show of pomp and pageantry—before touring Windsor in a horse-drawn carriage.
The union of Harry, 33, a former royal wild child and sixth-in-line to the British throne, and 36-year-old Meghan, a divorcee whose mother is African-American and father is white, was like no other the royal family has seen before. There were significant breaks with tradition, in particular when U.S. Episcopalian bishop Michael Bruce Curry delivered a passionate sermon that was a far cry from the sober tones of the Church of England.
As well as traditional Church of England anthems and delicate English choral music, the ceremony also featured a gospel choir singing "Stand by Me," the 1960s hit by American soul singer Ben E. King.
The newlyweds will be officially known as the Duke and Duchess of Sussex after Queen Elizabeth II bestowed those titles on them.
In this gallery, Newsweek presents 50 beautiful photos of the event.
– Reuters contributed to this report.