Photos: Rare Giant Squid Found Off the Coast of Hawaii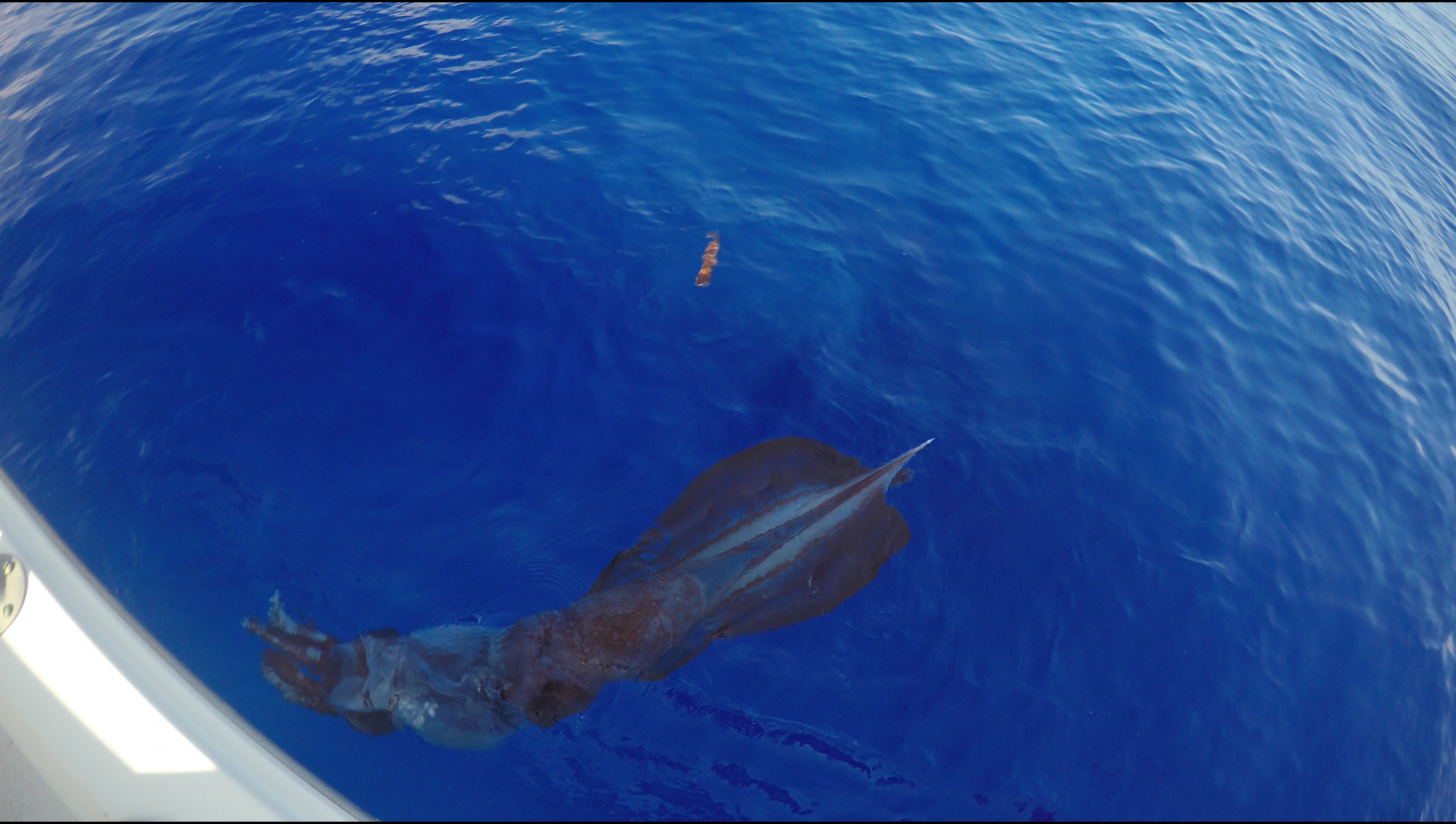 A fishing charter off the coast of Hawaii encountered a rare and beautiful sea creature this week: a 7-foot-long giant squid. The creature was dead, floating motionless with the bulb of its head sticking out of the water.
"It was a fishing charter and we had just released a blue marlin. We were just getting the line set back out and my guest actually said, 'Hey, what is that floating over there?' We got closer to investigate...as we got close I realized it was a giant squid. It was already on the surface. In Hawaii, we have extremely clear water. We could see his entire body," explains boat captain Cyrus Widhalm of Kona Sea Adventures.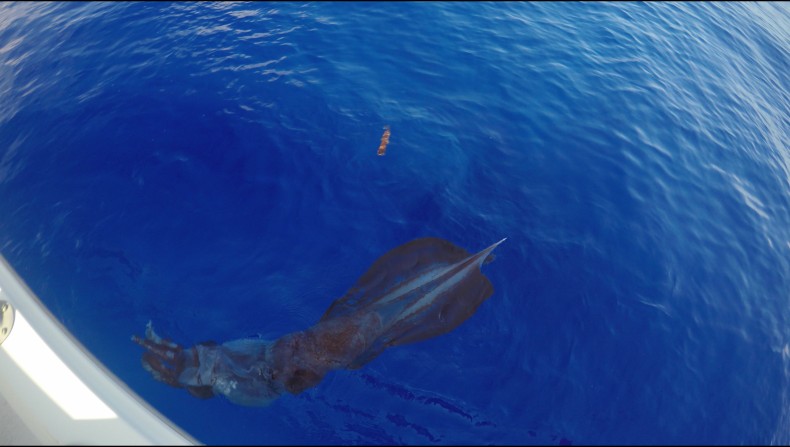 This is the first time in Widhalm's 10-year boating career that he has seen such a creature. He was fishing in extremely deep water when they made the discovery, he says.
Once they were close to the squid, Widhalm called a local marine biologist who recommended the crew pull it on board and bring it back to land if it was, in fact, dead. Widhalm and his crew then had to carefully check that the squid was deceased.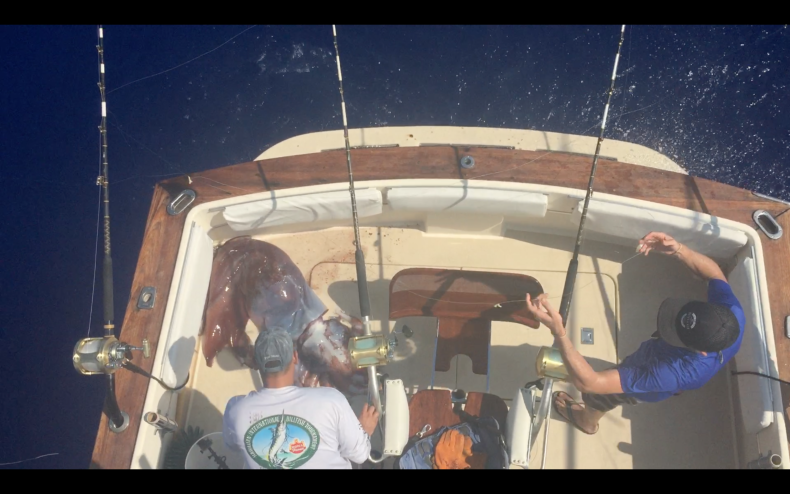 "It appeared dead but we weren't totally sure. My deck hand and I, Manny Billegas II, we reached out over the side of the boat. We didn't realize how heavy it was. I held him in place as he reached down to get it becauser we were worried a tentacle would reach out to grab him. Once we were sure it was dead, I got into the water. I pushed it up and he pulled it out," Widhalm tells Newsweek.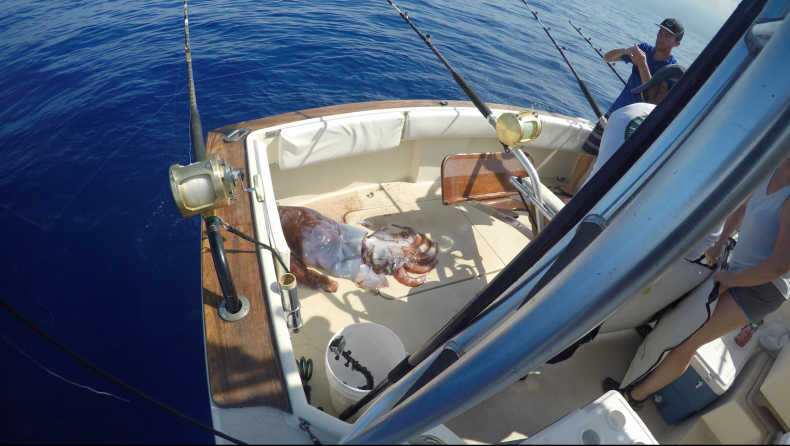 Because of the squid's size, the entire crew became involved in getting it on shore: Ian MacKelvie, also a deckhand, and anglers Mathew and Miriam Fowler helped out.
"I have a 36-foot boat and it took up quite a bit of space. They're very gelatinous so they can compress into a small space or really flatten out," says Widhalm. "My guests were blown away. Everyone was having a lot of fun at that point."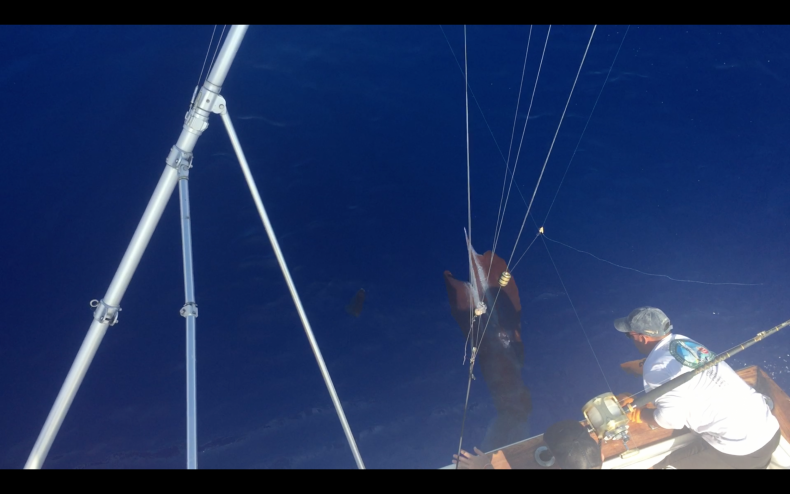 The boat traveled back to a dock in Kailua-Kona and the squid was pulled onto dry land. It was laid on a 72-inch fishing bag and exceeded the size of the bag, leading Widhalm to estimate the squid is at least seven feet long. "It might be the biggest one of that species ever found. There had been another brought in that was half the size," he says.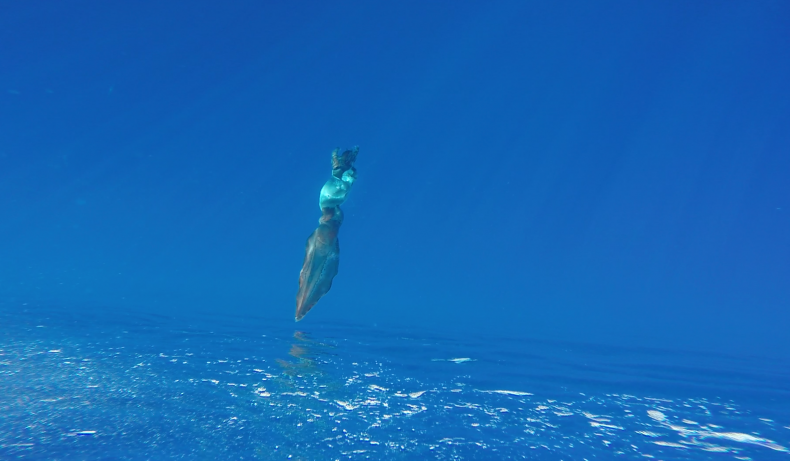 The squid was also weighted, coming in at 52.7 pounds. Afterward, it was placed on ice to prepare it for a long journey to Washington state, where researchers will examine the rare find. The marine biologist Widhalm consulted on the boat said he believes the squid to be a Megalocranchia fisheri.
In addition to being beautiful sea creatures, squid are rather delicious. When asked if Widhalm considered saving it for dinner, he laughed: "They are edible but it seems like it would better serve as a research tool."