Photos of Russia's Huge War Games, with 300,000 Troops, 1,000 Aircraft and 36,000 Tanks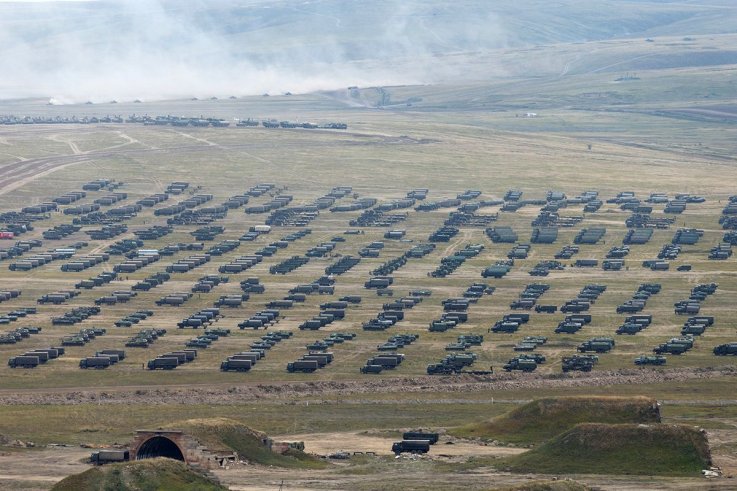 Russia's President Vladimir Putin promised to strengthen the army and supply it with new generation weapons, as he traveled to watch Russia's biggest war games since the fall of the Soviet Union.
The Vostok-2018 (East-2018) drills involve 300,000 Russian troops, over a thousand military aircraft, two Russian naval fleets and up to 36,000 tanks and armored vehicles, in a show of force that includes joint exercises with the Chinese army.
China and Russia have staged joint drills before but not on such a large scale, and the Vostok-2018 exercise signals closer military ties as well as sending an unspoken reminder to Beijing that Moscow is able and ready to defend its sparsely populated far east.
The exercises, taking place in eastern Siberia close to the border with China, come amid tense relations between Russia and the West that have fallen to a post-Cold War low.
Addressing a gathering of the soldiers, Putin said Russia was a peaceful country ready for cooperation with any state interested in partnership, but that it was a soldier's duty to be ready to defend his country and its allies. "Therefore we are going to further strengthen our armed forces, supply them with the latest generations of weapons and equipment, develop international military partnership," Putin said.
Photographs, video footage and satellite images show columns of tanks, armored vehicles and warships on the move, and combat helicopters and fighter aircraft taking off. In one clip, marines from Russia's Northern Fleet and a motorized Arctic brigade were shown disembarking from a large landing ship on a barren shore opposite Alaska.
This exercise runs until September 17.
— Reuters.