Photos Show 'Catastrophic' Flooding in Midland, Michigan, After Sanford Dam Failure
Thousands of Michigan residents were told to evacuate after two dams were breached and caused floodwaters to rise Tuesday in Midland County.
Governor Gretchen Whitmer issued a state of emergency declaration the same day, warning residents in Edenville, Sanford and Midland to evacuate their homes immediately. Those who had friends or family members in other parts of the state were encouraged to find shelter with them, while others were told to seek evacuation centers.
"This is unlike anything we've ever seen before," Whitmer said during a news briefing Tuesday night. "This truly is a historic event that is playing out in the midst of another historic event."
Because of high rain volumes Monday, the National Weather Service issued a flood warning, which was expected to remain in effect through Thursday. According to Whitmer, the amount of flooding caused by the dam breaches could reach record levels. "In the next 12 to 15 hours, downtown Midland could be under approximately 9 feet of water," she said Tuesday evening. "We are anticipating a historic high-water level."
The state's National Guard and Red Cross units were activated Tuesday to assist with evacuation efforts. According to Whitmer, MidMichigan Medical Center was also in the process of evacuating as many as 150 patients Tuesday evening.
Four evacuation centers—at Midland High School, Meridian Junior High School, Bullock Creek High School and West Midland Family Center—were open to residents Tuesday night, and two others—North Midland Family Center and Coleman High School—were added by Wednesday morning.
"To go through this in the midst of a global pandemic is almost unthinkable, but we are here—and to the best of our ability, we are going to navigate this together," Whitmer said.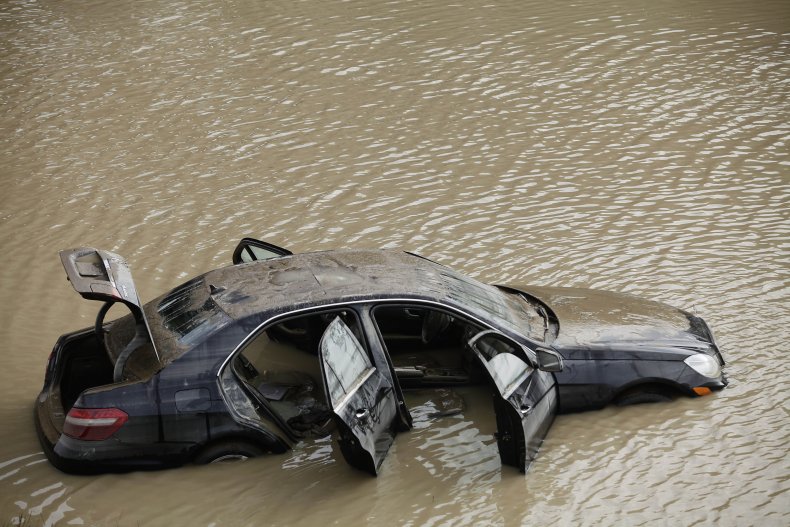 The state of emergency declaration was issued at a time when most of the state remained under stay-at-home orders because of the coronavirus pandemic. While over the past couple of weeks Whitmer has relaxed some of the restrictions to allow qualifying businesses to slowly begin reopening, all residents were still encouraged to avoid large gatherings and stay sheltered at home.
Recognizing the concerns residents might have about leaving their homes while pandemic restrictions are still in effect, Whitmer encouraged those who did need to evacuate to wear masks and practice social distancing at evacuation centers to the best of their abilities.
"The depths of the destruction is unknown yet, but I think it's safe to anticipate there are going to be a lot of people who are going to struggle as a result of this, on top of all of the other stressors we have right now," the governor said.