Several new photos show crowded conditions in one Texas migrant facility as more than 5,000 minors are in Customs and Border Protection (CBP) custody.
The photos, which were shared exclusively to Axios by Representative Henry Cuellar (D-Texas), show the current conditions in a temporary overflow facility in Donna, Texas. In the photos, migrants appear to be experiencing overcrowded conditions in several different "pods" of the overflow facility.
Cuellar told Axios that the each of the eight "pods" in the facility has a 260-person occupancy, but as of Sunday, one pod housed more than 400 unaccompanied male minors. Cuellar did not take the pictures but told Axios that they were taken over the weekend, and show "terrible conditions for the children."
"We have to stop kids and families from making the dangerous trek across Mexico to come to the United States. We have to work with Mexico and Central American countries to have them apply for asylum in their countries," Cuellar told Axios.
Newsweek reached out to Cuellar's office for comment but did not receive a response in time for publication.
The photos come amid new reports of an increasing number of migrants crossing the U.S.-Mexico border, which has been blamed on President Joe Biden's updated immigration policies, by many.
On Sunday, CNN reported that there were more than 5,000 unaccompanied minors in CBP custody as of Saturday, according to government documents.
The government documents obtained by CNN show that over 600 migrant children have been held in CBP custody for more than 10 days, which is over the legally established limit that requires the unaccompanied children to be turned over to the Department of Health and Human Services (HHS) within 72 hours.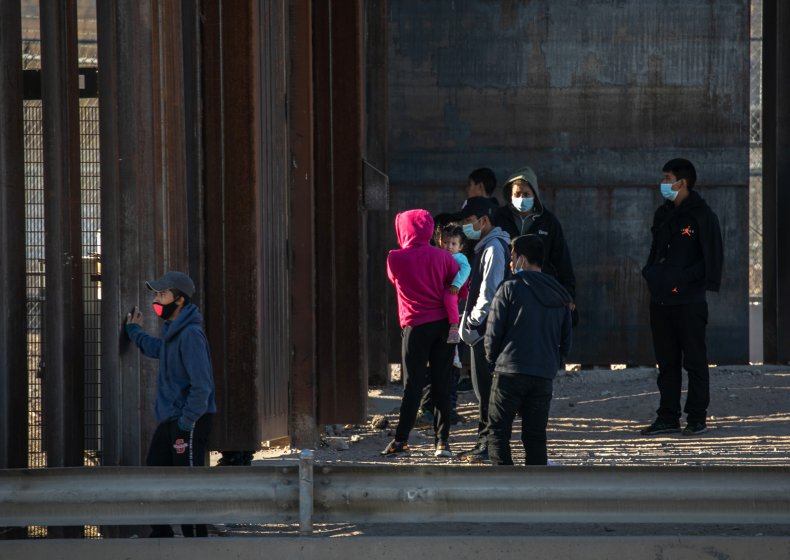 Prior to the report from CNN, Homeland Security Secretary Alejandro Mayorkas spoke to lawmakers on Wednesday, repeating that the border is "not open" despite the increase in unaccompanied minors crossing the border.
While the images shared with Axios and the report from CNN detail crowded conditions in numerous migrant facilities across the border, during an interview with CNN on Sunday, Mayorkas declined to outline a timeline for when the Biden administration will open new facilities to handle the surge of minors crossing the border.
"I have said repeatedly from the very outset that a Border Patrol station is no place for a child and that is why we are working around the clock to move those children out of the Border Patrol facilities, into the care and custody of the Department of Health and Human Services that shelters them," Mayorkas said during the interview while declining to give a timeline for when these shelters will be open and instead saying they'll open "as soon as possible."
Newsweek reached out to CBP for comment but did not receive a response in time for publication.