Photos Show Long Lines in Wuhan as China Aims to Test All 11 Million Residents For Coronavirus in Just 10 Days
The Chinese government has respond fiercely to reports of six new coronavirus cases in Wuhan, where the disease originated. Photos show the nation's ambitious plan in action to try and test 11 million residents in less than two weeks. The main purpose of the aggressive scheme is to collect data on those who are asymptomatic, but could still spread the virus.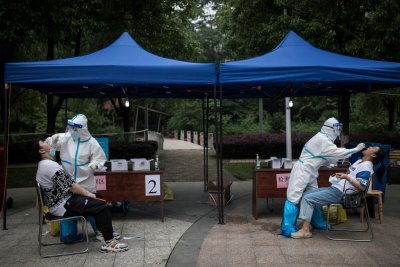 Photos show the grand extent of China's testing capabilities—with enormous lines at places like the AOC computer monitor factory, where medical workers today swabbed hundreds of people.
"Please go home and wait for the news. We will inform you when we have the results ASAP, and then you can come back," said one volunteer, reported The Guardian.
Temporary testing stations have appeared around the city. Simple tents or folding tables and chairs are set up in the open air, as volunteers direct the people traffic. People patiently stand in line six feet apart, waiting to be swabbed by medical workers in protective gear.
Announcements are being made on loudspeakers throughout the city, calling for residents to go and get tested. Flyers have been distributed and notices are put out on social media. The government is using Chinese messaging service WeChat to get residents to register for the tests.
"A nucleic acid test is your responsibility to yourself, your family and society," read a post from the Changqing Garden No. 2 Neighborhood District Committee. "Please support and cooperate," reported the New York Times.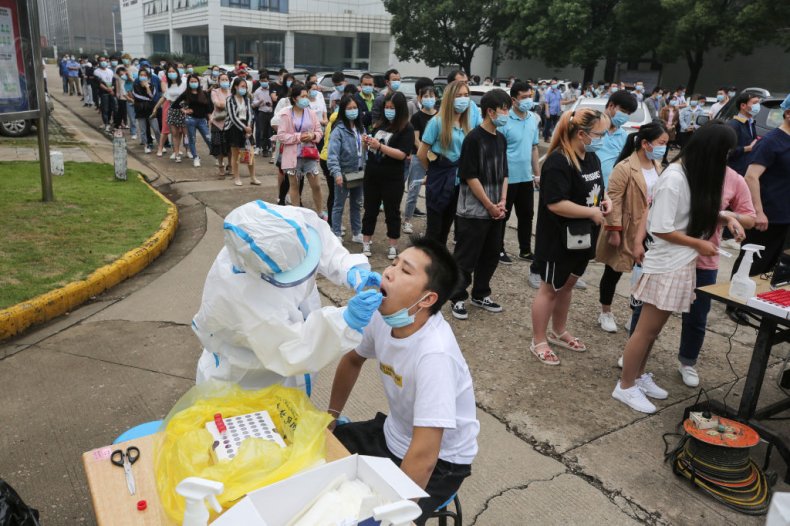 Every district in the city of Wuhan was requested to submit a testing plan, and hundreds of health officials were mobilised to help prevent a second wave of infections, but some say these measures are an overreaction to such a small number of cases.
"In communities without infections, there is no need to screen everyone," said Wu Zunyou, the chief epidemiologist of China's Center for Disease Control and Prevention to Chinese news outlet CCTV.
Some residents believe the recent testing is responsible practice. "This is a good thing. It's a way to be responsible towards others and to yourself," said one man to to Agence France-Presse (AFP) after his COVID-19 test.
Although advice is mixed, it appears that those who have been swabbed in the past week are not required to be tested again, nor are children under six. Priority will be given to those who've not been tested previously, plus older residents, and densely populated neighborhoods. Particularly areas with rural migrants.
Other nations will be watching closely to see how China can at all hope to obtain the vast number of testing kits needed and how quickly they can process test results of this volume, when the Hubei Daily newspaper previously reported that they have capacity for 100,000 tests a day at most, according to the BBC.
Experts say the U.S. should test around three to five million people per week before it is able to reopen safely. Last week the U.S. reported that it was testing about 264,000 people a day for COVID-19. The graphics below, provided by Statista, list the countries with the highest confirmed number of COVID-19 cases in the world.