Photos Show Packed Wisconsin Bars Immediately After Stay-at-Home Order Ended by State's Supreme Court
On Wednesday, customers filled bars in Wisconsin, following the decision to overrule the extension of the state's stay-at-home order.
"45 minutes after the bars open in Wisconsin...," Nick's Bar in Platteville, Wisconsin wrote on its Twitter account, with a picture of the bar filled with customers.
The photo of the packed bar comes after Wisconsin's Supreme Court overruled the extension to the state's stay-at-home order previously proposed by Governor Tony Evers. The order was set to expire on May 26, but the court's ruling stated that the continued lockdown was "unlawful, invalid and unenforceable," allowing a number of businesses to reopen.
Shortly after the ruling, The Tavern League of Wisconsin, a non-profit trade association that represents bars in the state, announced that businesses can "OPEN IMMEDIATELY" and encouraged those opening their doors to follow Wisconsin's Economic Development guidelines, which include requiring social distancing among patrons, limiting groups to six people at a table, requiring employees to wear gloves and not allowing customers to refill their own drinks or for items, such as condiments, to be shared between tables.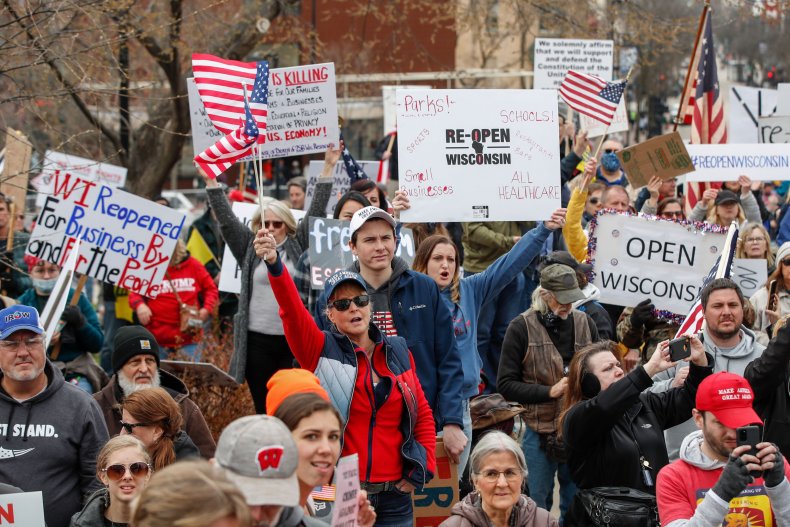 According to USA Today, dozens of Wisconsinites flocked to the State Street Pub in Green Bay, Wisconsin. The newspaper also reported that Lenny's Tap, another bar in Green Bay, served at least 20 guests and the bar's owner, Marty Leonhard said that the bar's beer distributor had already delivered two shipments by 8 p.m. CT.
While speaking to News 18 in Eau Claire, Wisconsin, Peter Gruetzmacher, owner of Jake's Supper Club in Menomonie, said that they had "about 20 regulars in here," shortly after opening. Gruetzmacher suggested that keeping customers socially distant, one of the guidelines businesses must follow when reopening, showed to be somewhat challenging.
"Because our regulars here, they all kind of consider themselves family. Well, part of the rules that came out last week said, if you're part of the same group you can sit together, but then you have to have two bar stools away from the next group. So, we've got that going on," he told News 18.
Despite the decision by the state Supreme Court, some other bars and businesses across Wisconsin decided to continue their lockdown.
"Highbury Pub will not be opening anytime soon. Not even close bud....Please wear a face covering," Highbury Pub in Milwaukee wrote on their Facebook page.
In Wisconsin, the new coronavirus, which causes the respiratory disease COVID-19, continues to spread. According to the state's department of health services, there have been at least 2,001 new cases in the past seven days, bringing the state's total number of cases to at least 10,902. There have also been at least 421 coronavirus-related deaths in the state.