Photos Show Scale of Black Trans Lives Matter Protest as Thousands Rally in Brooklyn
Thousands of people gathered in Brooklyn on Sunday to rally in support of the black transgender community.
"This is what community looks like," protesters sang out in unison as they marched in peaceful protest.
As noted by CNN, the majority of demonstrators were dressed in white, invoking the memory of the NAACP's Silent Protest Parade in 1917, which saw thousands of people march along Fifth Avenue in one of the first public civil rights demonstrations organized by black Americans.
The demonstration came as the LGBTQ+ community marked the four-year anniversary of the Pulse nightclub shooting in Orlando—which killed 49 people on June 12, 2016—and in the wake of the deaths of two black trans women, Dominique "Rem'Mie" Fells, who was 27, and Riah Milton, who was 25.
Police are still investigating Fells' brutal murder after the 27-year-old's remains were found last week along the Schuylkill River in the Bartam's Garden area in Philadelphia, where she lived. In the same week, Milton was shot several times during an attempted robbery in Liberty Township, Ohio.
Following Fells' death, Philadelphia's Office of LGBT Affairs released a statement asserting that her killing was part of a wider "epidemic."
"The murder of transgender people—especially those of color—is truly an epidemic, and a crisis that we cannot afford to allow to persist any further," the LGBT Affairs office said.
On Sunday, protesters demanded justice for Fells and Milton, as well as for other black trans community members who have faced violence and discrimination in the U.S.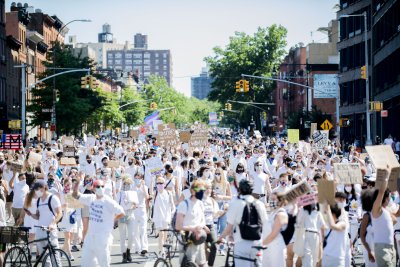 In 2019 alone, the Human Rights Campaign (HRC) identified at least 26 deaths of transgender or gender non-confirming people in the U.S. due to fatal violence.
The majority of the attacks, HRC said in a recent report, were perpetrated against black transgender women.
"These victims were killed by acquaintances, partners or strangers, some of whom have been arrested and charged, while others have yet to be identified," the HRC said. "Some of these cases involve clear anti-transgender bias. In others, the victim's transgender status may have put them at risk in other ways, such as forcing them into unemployment, poverty, homelessness and/or survival sex work."
In a statement mourning the deaths of Wells and Milton, Tori Cooper, HRC director of community engagement for the Transgender Justice Initiative said it was important for communities across the U.S. to rally behind the message of "Black Trans Lives Matter."
"In the same week countless people across the globe stand up for racial injustice, in the same week we honor the 49 victims of the Pulse massacre in Orlando, in the same week a billionaire author spouts transphobic rhetoric to millions—in this same week, we have lost two more Black transgender women to the same fate most of us worry about every day," Cooper said.
"Say their names. Dominique 'Rem'mie' Fells. Dominique 'Rem'mie' Fells. Dominique 'Rem'mie' Fells. Riah Milton. Riah Milton. Riah Milton," Cooper said. "Continue to say the names of every transgender and gender non-conforming person stolen from this Earth. Don't wait until we are all gone to speak up. This fight belongs to us all."